Is Scarlett Johansson the Next Angelina Jolie?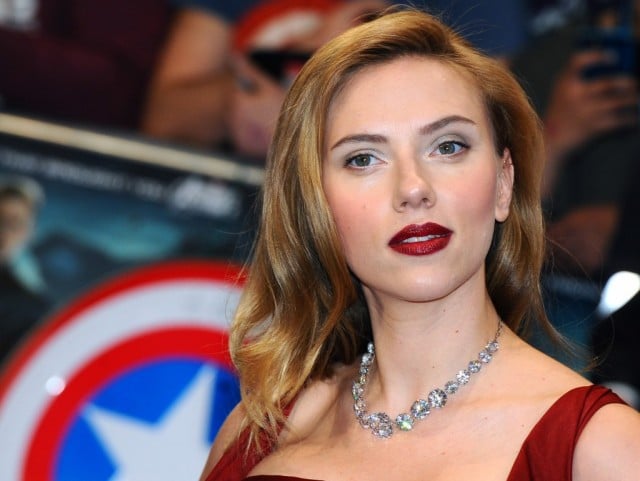 Aside from being beautiful actresses with formidable pouts, Angelina Jolie and Scarlett Johansson have much in common in terms of their careers in Hollywood. Both women are strong box office draws, have split their time between smaller artsy films and big-budget action movies, and now both will be able to call themselves directors, as well. Johansson has just launched sales for her first directorial effort, an adaptation of Truman Capote's unpublished first novel, Summer Crossing, Variety reports. The film will begin production in New York City later this year and cast announcements are promised soon, the publication said.
Johansson's plans to direct the film were first announced at Cannes in 2013. Summer Crossing is about a young debutante living in New York in 1945 who foregoes a planned trip to Paris to romance a Jewish valet during the heatwave of that year's summer. "I am so excited to bring Summer Crossing off the page and onto the screen as my directorial debut," said Johansson in an announcement, per Variety. "As a story that follows a love story for the lost generation of a post-war America, I feel Truman's words are more relevant today than ever before."
Making the decision to direct is another way that Johansson's career is mimicking Jolie's. Jolie has reinvented herself as a philanthropist and film director in recent years, and stepped away from the camera to focus on those pursuits. Her first film, the love story set during the Balkan war In the Land of Blood and Honey, earned decent reviews though it wasn't very widely watched. Her second and most recent directorial effort, the epic Louis Zamperini biopic Unbroken, earned raves, awards, and money. The fact that Unbroken was largely overlooked by the Academy was considered one of the biggest Oscar snubs of this year. Her next film, By the Sea, was written by Jolie and stars herself and husband Brad Pitt as a couple desperately attempting to save a marriage on its last legs.
Jolie and Johansson both began their careers with well-received performances in more serious, independent-leaning films. Jolie began to be taken seriously as an actress for her take on the heroin-addicted and AIDS-infected supermodel Gia in the HBO movie of that name, for which she won a Golden Globe. She then took home an Oscar for her portrayal of the sociopath Lisa in Girl, Interrupted. Johansson began appearing in Hollywood movies at a very young age, but Sofia Coppola's Lost in Translation provided her breakout role as a young newly married woman suffering an identity crisis in Tokyo. She followed that film with the period piece Girl With a Pearl Earring and several movies as the newest muse to director Woody Allen.
As their careers progressed, both actresses took on projects that ended up reinventing them as sexy action stars. While this may seem like a step backwards from the arguably higher art they were making before, the move for both women resulted in them driving giant blockbuster franchises and helping prove that audiences will pay to see movies with female leads.
Jolie did this with the Lara Croft: Tomb Raider movies and continued the trend with films like Mr. and Mrs. Smith, Wanted, and Salt. Johansson was thought to be a surprising choice to play the Marvel heroine Black Widow. Though she hasn't yet gotten her own standalone film, she contributed greatly to the interest in the Iron Man 2, The Avengers, and the Captain America films. She went on to show that she can draw a crowd as an action star even outside the Marvel empire with last summer's surprise hit Lucy. Johansson will continue the action streak with the upcoming live-action adaptation of the classic manga Ghost in the Shell.
One major difference between the two women is that while Johansson has maintained a high volume of film work in the independent sphere as well as with her commercial action movies, Jolie has slowly been stepping away from the camera for years and has said she plans to quit acting completely in favor of directing in the future. Perhaps Johansson's decision to begin directing is a signal that she'll begin taking on fewer film roles, as well. Or maybe the thesp will manage to maintain an interest in directing alongside her vibrant film career. Many will certainly be curious to see how she does with her movie of Capote's book.
Follow Jacqueline on Twitter @Jacqui_WSCS
More from Entertainment Cheat Sheet:
Want more great content like this? Sign up here to receive the best of Cheat Sheet delivered daily. No spam; just tailored content straight to your inbox.