Is 'Seinfeld' Getting a Reboot?
In an age when seemingly every beloved property is being rebooted, revived or reimagined in some way or other, surely Seinfeld would be up for the treatment.
Not if the show's namesake has anything to say about it.
During a recent interview, Jerry Seinfeld didn't specifically say a reboot or some kind of follow-up would never happen, but he made it seem as unlikely as soup from the Nazi.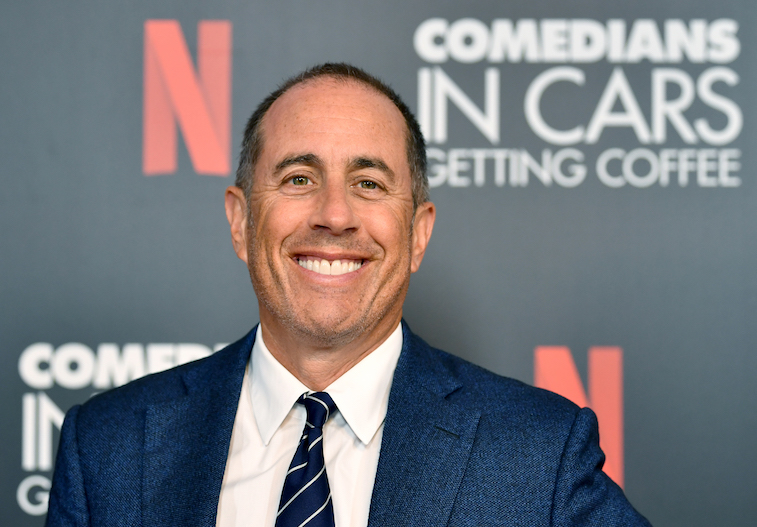 Jerry Seinfeld can't picture a reboot
Asked directly by Extra if his show would get a reboot, Seinfeld replied, "I cannot imagine that.'
The interviewer wondered if maybe some sort of spinoff was possible, like a show revolving around Elaine or George. The response was the same.
"I always explain to people the characters are created by the writing staff, and without the writing staff, you don't have that person," he said.
In other words, Seinfeld himself won't consider it, and if he won't do it, no one else with the show is likely to try it either. But those remarks do run counter to statements Seinfeld has made previously. He told Ellen DeGeneres last year a reboot was possible but didn't elaborate on the idea.
Knowing the comedian's way with wordplay, he might mean that sure, a reboot is technically possible, but possible does not mean probable.
The closest 'Seinfeld' probably got to returning
The sitcom kind of did return in the final episodes of the seventh season of Curb Your Enthusiasm. That HBO show featured Larry David, the other key creative force of Seinfeld besides Jerry himself.
Written by David, the series of five episodes was about a fictional Seinfeld reunion, including all the key players of the original cast: Julia Louis-Dreyfus, Jason Alexander, Michael Richards, and Wayne Knight.
On Curb, David's character had split from his wife (Cheryl Hines), so he agrees to the Seinfeld reunion, promising his wife a role on the special.
The reunion show centered on George Costanza, who married a woman named Amanda and got rich devising an app called iToilet, which showed the user the nearest decent public restroom. This was based on an actual Seinfeld episode called "The Busboy," where George bragged about being able to find the best public bathroom anywhere in New York.
In the Curb show, Jerry Seinfeld makes a joke about having already screwed up one finale, a reference to the idea that the final episode of Seinfeld was poorly received.
On the final episode of The Late Show with David Letterman, there was a mini-reunion. Seinfeld and Julia Louis-Dreyfus appeared in the Top 10 List segment entitled "Things I've always wanted to say to Dave." Seinfeld's joke was "I have no idea what I'll do when you go off the air … You know, I just thought of something–I'll be fine."
But Louis-Dreyfus was the talk of the night when she gave her joke: "Thanks for letting me take part in another hugely disappointing series finale."
Where you can watch 'Seinfeld' now
Disappointing finale or no, Seinfeld remains one of the best-loved sitcoms of all time. It ran for nine seasons with a total of 180 episodes from 1989 to 1998. Although the "show about nothing" was slow to take off, by 1993 it was one of the top three shows on the air.
The best way to stream the show is on Hulu, which carries the entire run of Seinfeld, from the pilot to that "hugely disappointing" finale.
Netflix doesn't have it, but you can get it from several other streaming outlets, either by paying for individual shows or full seasons. If you like physical media that will be yours forever, Amazon has the complete series for $115.
You can also watch Seinfeld the old-fashioned way with reruns on TBS. Not that there's anything wrong with that.