Is Shawn Mendes and Camila Cabello's Relationship a PR Stunt? Fans Think So
Shawn Mendes and Camila Cabello appear to be super into each other. Fans and the paparazzi have recently spotted them enjoying romantic lunch dates, engaging in make-out sessions, supporting each other at their shows and so much more.
But that's the thing — the fact that they've been doing all of this in front of cameras has some fans convinced that Mendes and Cabello's relationship is nothing more than a stunt to drum up more publicity.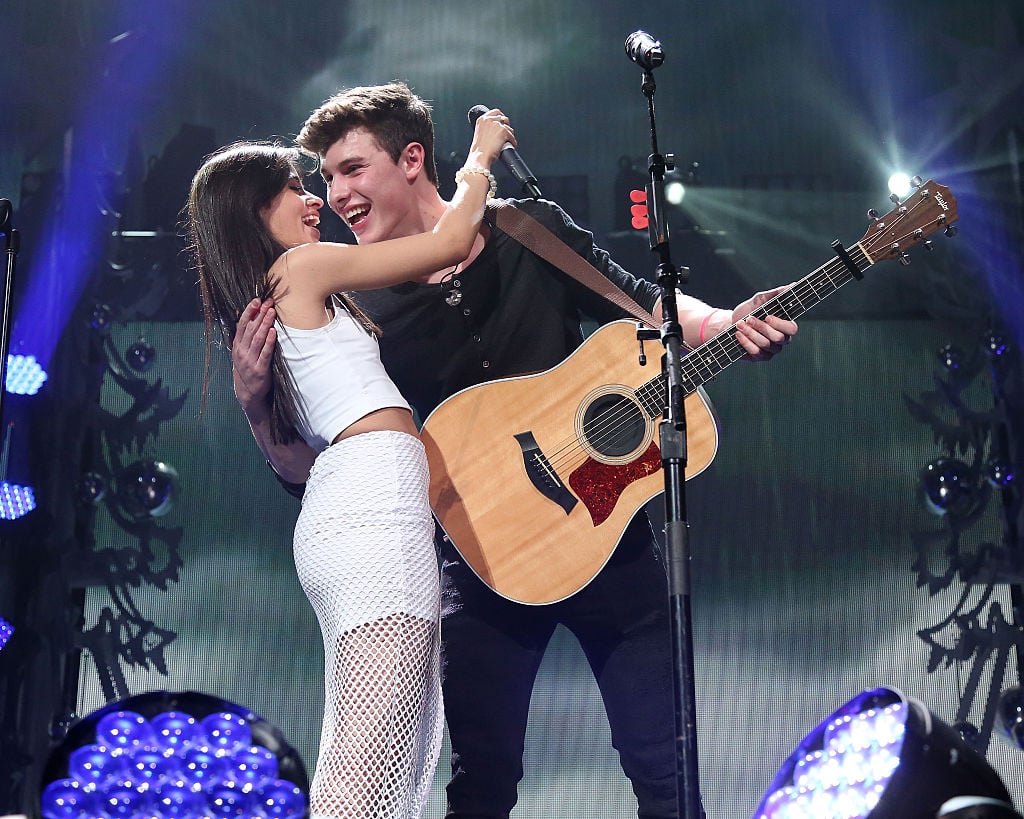 Inside Mendes and Cabello's relationship
The singers sparked romance rumors in early July — just days after dropping a steamy video for a song called "Señorita." The song has earned more than 300 million views on YouTube over the past few weeks.
The speculation started spreading around July 4 when reports said that Mendes and Cabello spent Independence Day together by attending a party at Nobu, "[looking] intimate" and "holding hands." A source told E! News, "They were telling people they were a couple."
However, Mendes pushed back on the rumors. He shook his head when asked at a July 6 event whether he and the "Havana" singer are a new item.
But they continued to spark dating rumors with several PDA-filled outings.
On July 13, they were spotted making out at a San Francisco cafe. "They looked very into each other. Shawn and Camila were splitting pancakes," a source revealed to Us Weekly. "Then, after, they started kissing. He had his arm around her a lot of the meal, and they were chatting. … They looked in love."
Weeks later, on July 29, they spent a day at the beach, where they got close and kissed in the water. Judging from the photos, Mendes and Cabello didn't mind the cameras at all.
Sure, this could mean that they're just a couple of lovey-dovey people who don't mind being affectionate in front of others. But fans aren't convinced that the romance is the real deal.
These tweets calling their relationship fake are wild
Fans are not at all convinced that the relationship is 100 percent legit. One person claimed that the singers are putting on an Oscar-worthy performance.
"Camila Cabello and Shawn Mendes are rumored to be nominees for 'Best Actor in a PR Stunt' and 'Best Actress in a PR Stunt' at the upcoming Oscar Award Show. Congrats to the pair!" they tweeted.
Someone else wrote, "Which was the worst attempt at a fake relationship PR stunt to promote a collaboration? Zedd dating Selena Gomez or Shawn Mendes dating Camila Cabello?"
"this whole PR stunt is so tacky. they really are falling off," another woman added.
But some are defending the entertainers.
"I remember when Shawn Mendes released his third album and everyone was saying all the songs were about Camila, and now they're dating and everyone's saying it's a pr stunt. Get it together, people," Twitter user @ChildofTyche wrote.
This could just be the right time for Mendes and Cabello
Fans might have concerns about whether or not this fling is genuine, but Mendes and Cabello hinted that they liked each other years ago. During a 2015 appearance on The Late Late Show with James Corden, Mendes admitted that he had tried to make a "move" on the former Fifth Harmony member at least once.
"Every time I try and make a move, she swerves me off," he told the host. Cabello quickly chimed in, saying, "He friend-zones me. He calls me 'Kid!'"
Now that the two are fresh out of relationships, maybe they are just taking advantage of the moment and have decided to give it a shot.
But only time will tell.