Is 'Sons of Anarchy' Creator Kurt Sutter Hinting at a Reunion With Charlie Hunnam?
Ever since his exit from Mayans MC, Kurt Sutter has been sharing throwback pics of Sons of Anarchy star Charlie Hunnam. The shots are usually behind-the-scenes images of Hunnam on the set of the hit biker drama and fans cannot get enough of them. While the photos are deeply nostalgic for Sons of Anarchy fans, some are convinced that Sutter is teasing a big reunion with Hunnam on a future project.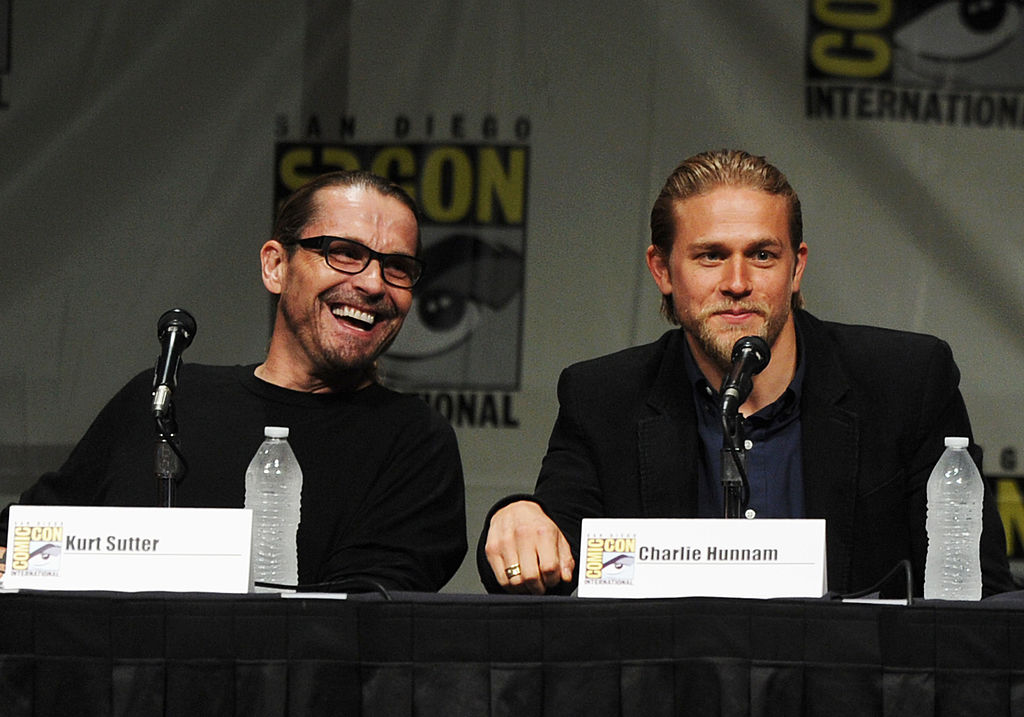 Sutter reflects on working with Hunnam
Sutter has shared numerous photos of Hunnam on the set of Sons of Anarchy over the past month. Viewers are absolutely loving the throwback pics, which offer an interesting look at some of the work in-between scenes.
In his latest post, shared on December 4, Sutter included a photo of him and Hunnam discussing a scene for the season 4 finale of Sons of Anarchy, titled "To Be, Act 2."
"Season 4 finale. 'To Be pt.2' Charlie and I discussing how Jax dethrones Clay," Sutter wrote alongside the pic.
Season 4 of Sons of Anarchy proved to be a pivotal juncture in Jax Teller's (Hunnam) journey. Jax took over as president of SAMCRO and the club's former boss, Clay Morrow (Ron Perlman), was stripped of his leadership role.
Sutter has not elaborated on why he has been sharing photos of Hunnam's days on the set of Sons of Anarchy. But it is interesting that he began to grow more nostalgic towards the original series following his exit from Mayans MC.
Fans react to Sutter's throwbacks
Fans have reacted positively to Sutter's Sons of Anarchy photos, which is not that surprising given the franchise's loyal following.
A few weeks ago, for instance, fans loved it when Sutter shared a throwback image of Hunnam and himself talking with Sonny Barger between takes. As fans will recall, Barger played the part of Lenny "The Pimp" Janowitz on the show.
The image garnered over 17,000 likes in the days after it was posted, and many fans expressed how much they miss the original series, which wrapped up back in 2014.
"Man I miss this show like crazy I've watched the entire series three times," one fan wrote. "This pic makes me wanna watch a 4th"
A few fans also said they hope that Sutter eventually acquires the rights to Sons of Anarchy so that he can continue the story on a different platform. Disney currently owns the intellectual property of the franchise and is unlikely to give it up anytime soon.
Sutter gets fired from 'Mayans MC'
Sutter's Sons of Anarchy posts started days after he was fired from the show's first spin-off, Mayans MC. Sutter had been butting heads with Disney executives ever since the studio bought Fox, the show's original parent company.
In a recent interview, Sutter opened up about losing his job and revealed that he was let go because of a joke he put in the script that offended Disney.
Sutter explained how the scene in question was during the season 2 premiere and featured EZ (JD Pardo) and Coco (Richard Cabral) walking through a playground that is completely in ruins.
"As they exited, Coco sees EZ's distracted and says: 'Lighten up Boy Scout,' and gesturing to the playground, says, 'We're going to Disneyland.' EZ replies: 'Yeah? Guess this is where Walt buried all the Jews he had killed.' Coco comments: 'That's dark man…' And exits," he shared.
Although Sutter is no longer involved in Mayans MC, Disney has already renewed the show for a third season. The upcoming season will be piloted by Sutter's co-creator, Elgin James.
Will Sutter reboot 'Sons of Anarchy'?
There is no telling what Sutter will do now that he is no longer a part of Mayans MC. The Sons of Anarchy creator is still under a contract with FX, so it remains to be seen what becomes of him over the next year or so.
Fans, of course, would love to see Sutter reboot Sons of Anarchy on a different network. The only problem with that is Disney still owns the rights to the franchise, so Sutter cannot move it even if he wanted to.
In the meantime, Sutter made sure to inform fans that the season 2 finale of Mayans MC was not what he envisioned for the series. Taking to social media, Sutter revealed that the ending was changed without his knowledge in order to make it "safe" for the general public.
"I feel obliged to tell fans that after I was let go, days before it aired, without my knowledge, the S/N changed the ending of the S2 finale," Sutter stated. "Beyond the disrespect and WGA violation, the change is dishearteningly indicative of the new regime — they dumbed it down and made it safe."
Disney has not commented on Sutter's behavior on social media. Prior to his dismissal, Sutter had plans for at least one Sons of Anarchy prequel and another spin-off set after the events in the original series.