Is Tana Mongeau Dating Fellow YouTuber, David Dobrik?
It hasn't even been a week since Tana Mongeau split from Jake Paul and people are already trying to ship her with another guy.
After making a so called joke about "crushing" on fellow YouTuber, David Dobrik, fans completely lost their minds and started speculated that these two actually do have the hots for one another.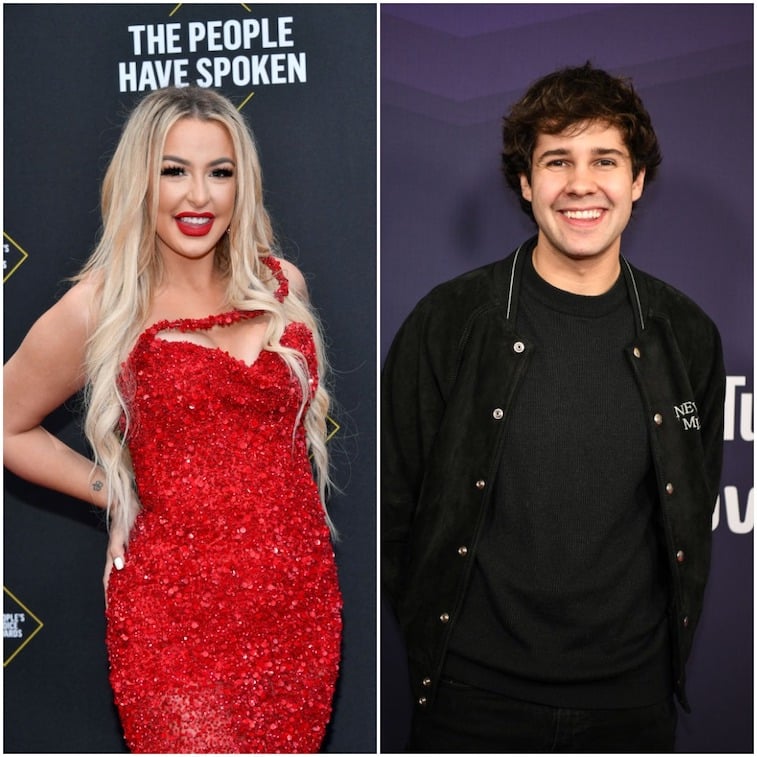 Dobrik has been trying to shoot his shot with Mongeau these last few days
If you've been following Mongeau for a while now, then you know that her love life is practically all over the place.
After splitting from Bella Thorne early last year, Mongeau started getting cozy with Team 10 creator, Jake Paul.
A few months later, Paul and Mongeau tied the knot in very messy yet unique wedding ceremony in Las Vegas.
Following a five month marriage, the couple recently called it quits and revealed that though they're no longer together, they continue to be best friends.
With her relationship from Paul JUST ending, many of us thought it would be a while before we heard any new installments surrounding Mongeau's love life.
Well, it turns out we were wrong and she's once again at the center of romance rumors, but this time, with Dobrik.
The idea that these two were possibly dating comes shortly after Mongeau tweeted that Dobrik has been low-key flirting with her.
"For the past two days I've been coincidentally napping when David texted me 'what are you doing,'" so i just changed his text tone to an alarm tone because 2020 is not a year of f**king up my bag," she tweeted out on January 5.
Though this tweet didn't seem like a big deal to some, others interrupted it as Dobrik's way of hinting he wants to date Mongeau, especially now that she's single again.
After the post was shared, fans quickly began speculating that Mongeau and Dobrik are actually seeing each other on the down-low and are finally acting on their feelings.
From flirting back and forth to the evident spark between them in past videos, fans are certain something is going on between these two.
Not only that, but Mongeau and Dobrik just recorded themselves using the Instagram filter that 'predicts your future' and both happened to get the 'in love' prediction.
In the words of the Mongeau, "coincidence, I think not."
Dobrik and Paul just shut down these rumors, hard
Though fans were patiently waiting for Mongeau and Dobrik to confirm their budding relationship, the vlogger went ahead and burst fans' bubbles by denying all romance rumors.
After Life & Style Magazine tweeted the pair asking, "So are y'all dating or what?" Dobrik didn't waste time giving a very telling response.
"R y'all on crack?" he wrote. That alone shattered any hope of these two one day becoming a couple and fans' hearts are now broken.
While Mongeau and Dobrik shippers got the hint that nothing's going on between these two, Paul's latest comment on this situation further proved this to be true.
"I think it's funny," he recently told Seventeen. "I know it's not true, but people love to gossip so if they want to gossip, let them gossip."
We now know that Mongeau and Dobrik are nothing more than just friends and are simply just two people who like flirting with each other from time to time.