Celebrity / Movies / Music
Is Taylor Swift Ready to Talk About Joe Alwyn?
Taylor Swift and Joe Alwyn have been together for years. Is she ready to talk about their relationship for the press? Here's why we think she might be.
The relationship between Taylor Swift and Joe Alwyn is different from many of her past ones. For one thing, it's been going on for years, and it's clearly very serious. So is Swift ready to take the next step and speak publicly about her and Alwyn? Let's find out.
Taylor Swift's relationship history
First, let's take a trip down memory lane. Swift has dated quite a few famous men, starting with Joe Jonas back in 2008. She then spent a few months with Taylor Lautner (of Twilight fame) in 2009, and the two even appeared in a movie together, Valentine's Day.
She dated Jake Gyllenhaal from late 2010-early 2011. In the summer of 2012, Swift was linked to Conor Kennedy, great-nephew of John F. Kennedy. She also very briefly but famously dated Harry Styles of One Direction in December of 2012.
Then, for a couple of years there, there was little to go on in regards to Swift's love life. However, in 2015, she began dating Calvin Harris. They were together for over a year before they broke up, and she started dating Tom Hiddleston. That relationship only lasted a month or so, and ever since, she's been with Alwyn.
She references her past boyfriends in songs
Though Swift rarely addresses her relationships publicly, she does sing about them. In fact, each of the guys mentioned above has inspired at least a song or two. And even if she doesn't confirm which is about who, fans have taken to deducing this on their own.
"Back to December" is famously about Lautner, while one of her most beloved songs, "All Too Well," has been deemed to be referring to Gyllenhaal. " "Dear John" was about her brief tryst with John Mayer, while a number of the songs on Reputation, like "Dancing With Our Hands Tied" and "Getaway Car" seem to be referencing Harris and Hiddleston, respectively.
When did Swift and Alwyn start dating?
The timeline of Alwyn and Swift's relationship was fairly hazy — that is, until the release of her new album, Lover. In it, she alludes to the timeline so frequently that it's all become very clear for fans who listen closely.
In "Cruel Summer," we learn that Swift and Alwyn began dating in the summer of 2016, which is referenced again in the title track lyrics, "I've loved you three summer now honey, but I want 'em all." However, they kept things quiet at first, sneaking around, before making it official in the fall.
They've been spotted together infrequently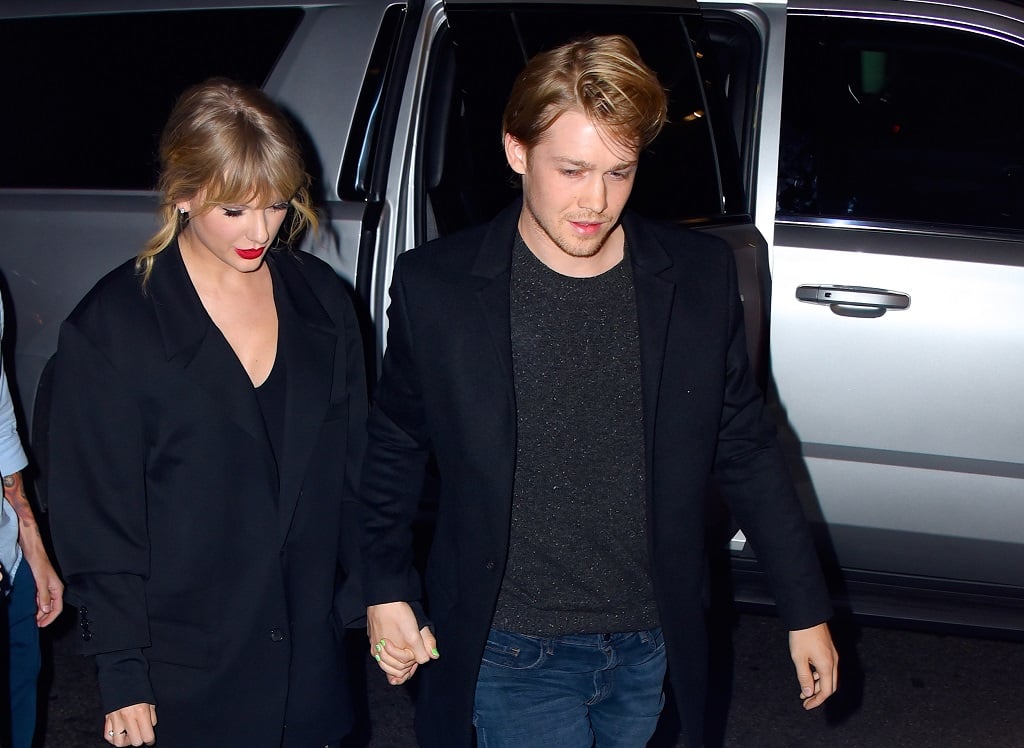 If Swift's verbal confirmation about the relationship is lacking, then the number of photos taken of them is even more so. The couple has maintained the privacy as much as humanly possible, rarely attending events together and leaving separately when they're able.
However, both have acknowledged that they're in a relationship — in their own way. In a 2018 Esquire profile, he spoke about how he has "a very clear line" as to what he shares about his personal life (essentially nothing). Swift, meanwhile, has talked about how she's happy, but also saying "our relationship isn't up for discussion."
So what makes us think she may change her mind? We don't think we're going to be getting any juicy details — however, if this recent photo of them is any indication, we think it's possible they could attend the upcoming premiere of Swift's film Cats together, which would open up the table for at least some discussion.