Is Taylor Swift's Reign of the Charts Over?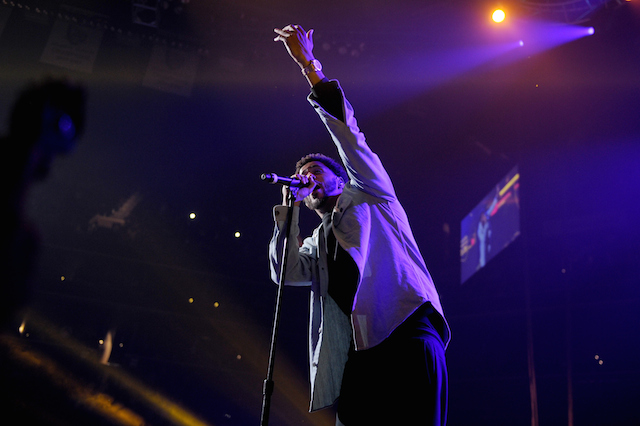 Taylor Swift has been at the top of the Billboard charts since her latest album, 1989, was released at the end of October, racking up the biggest sales of the year while she spurned streaming services in the hopes that fans would purchase her record rather than listen to it on Spotify. This week she finally was pushed down from the top spot by rapper J. Cole, whose third record, 2014 Forest Hills Drive, sold 375,000 copies and became his third consecutive No. 1 album, according to Billboard.
While that number pales in comparison to Swift's 1.29 million albums sold during 1989's first week on sale, it is the fifth biggest debut for a record in 2014 and the biggest hip-hop debut in more than a year, since Eminem's last record, The Marshall Mathers 2 LP.
J. Cole is a rapper from Fayetteville, North Carolina, on Jay Z's label Roc Nation. When Cole's debut record Cole World: The Sideline Story came out in 2011, the rapper was nominated for a Best New Artist Grammy. Each of his records has proceeded to sell more copies than the last, as collaborations with Drake, Missy Elliot, Kendrick Lamar, and TLC have boosted his reputation.
2014 Forest Hills Drive takes its name from Cole's address in Fayetteville and has been receiving warm reviews from critics. The record has a 69 Metascore on review aggregator Metacritic. Pitchfork said that Cole is a serious student of the hip-hop canon, and this record is chock-full of references to classics including Kanye West's Graduation, Tupac's All Eyez on Me, and Eminem's Marshall Mathers LP.
"J. Cole is a workmanlike MC, a good-natured populist grappling with the ridiculousness of sudden celebrity. He makes passable albums with memorable singles. He's great at synthesizing everyman relationship woes into terse pop nuggets," said Pitchfork in the publication's review of the record. Pitchfork ultimately concluded that "2014 Forest Hills Drive is a decent album selling itself as great. It wraps itself in the garments of a classic, but you can see that the tailoring is off."
Swift had been at the top of the charts for five consecutive weeks with 1989, which was the first straightforward pop album from the singer, who got her start in country music. She's still at the top of the Hot 100 with the latest single from the record, "Blank Space," which has benefited from a tongue-in-cheek video that pokes fun at Swift's tabloid image as a crazy ex-girlfriend.
As record sales continue to slide, Nielsen SoundScan has recently begun accounting for streaming services in the data that goes into compiling the Billboard 200 charts. Swift and her record label decided to exclude her album from streaming services like Spotify in order to encourage people to buy the record. Swift has argued that streaming services don't properly compensate artists for their work, and her tactic seems to have worked, given that the record became the only one of 2014 to sell more than a million copies in its first week on sale.
At the moment, it's too soon to tell if Swift's decision to spurn streaming really helped her sell more albums or if she's the rare artist who's huge enough to still sell records in the current landscape. It also remains to be seen if she can rise back to the top again after J. Cole's premiere week, or if his knocking her out of the top spot will finally signal 1989's downward slope, allowing other records their time at the top of the charts.
Follow Jacqueline on Twitter @Jacqui_WSCS
More from Entertainment Cheat Sheet:
Want more great content like this? Sign up here to receive the best of Cheat Sheet delivered daily. No spam; just tailored content straight to your inbox.