Is the '90210' Reboot Going to Be a Reality Show?
Beverly Hills 90210 fans celebrated when they learned their beloved 90s drama would return to the small screen. Better yet, most of the OG cast would be featured too.
The show is extremely nostalgic to fans who grew up with the show. Beverly Hills, 90120 made a huge splash, running from 1990 through 2000 on Fox, E News reports. The CW network wanted to tap into the same magic of the series, so a sequel series, 90210 was created. That series, which did not feature any of the original cast ran from 2009 through 2013.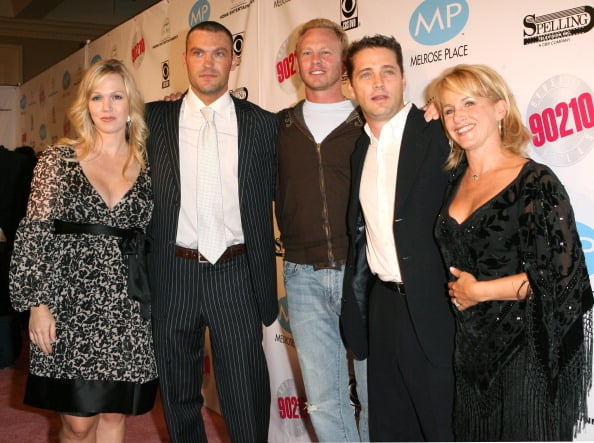 The sequel line was very similar to the original series but didn't resonate the same way the 90s series did with viewers. Even though the old "reboot" idea has been tried, the old gang still decided to reunite, but with "a twist." Press about this "twist" has people wondering if maybe the show is going to be a reality series.
This is how Fox describes the series
The network announced the show will return with a twist. "90210  comes with a big twist: Priestley, Garth, Ziering, Carteris, Green and Spelling will play heightened versions of themselves in a brand-new serialized drama – with a healthy dose of irreverence – that is inspired by their real lives and relationships," according to a Fox news release.
"Having gone their separate ways since the original series ended 19 years ago, Jason, Jennie, Ian, Gabrielle, Brian and Tori reunite when one of them suggests it's time to get a "Beverly Hills, 90210" reboot up and running.  But getting it going may make for an even more delicious soap than the reboot itself.  What will happen when first loves, old romances, friends and frenemies come back together, as this iconic cast – whom the whole world watched grow up together – attempts to continue from where they left off?"
These huge characters are clearly missing
Another "twist" is the noticeable absence of the show's Romeo and Juliet, Brenda and Dylan. Shannen Doherty, who played Brenda Walsh had an explosive departure from the show back in the 90s. Doherty reportedly butted heads with several cast members and eventually made a few enemies.
Cast member Tori Spelling admits she ultimately called her father. Aaron Spelling was the producer of the show and fired Doherty. "I felt like I was a part of something, a movement, that cost someone their livelihood," Spelling said through her tears. "Was she a horrible person? No. She was one of the best friends I ever had." Doherty battled breast cancer in recent years and is a health advocate.
Although Luke Perry who played the elusive Dylan McKay maintained a positive relationship with the cast, he simply isn't available at this time. Perry currently has a regular gig on Riverdale. A source told Entertainment Tonight, "at this time, due to his current deal with Riverdale, Luke Perry could only guest star on a potential 90210 reboot, and could not be a series regular."
Reality show? Not entirely
Many fans and even reporters seemed a little confused with Fox's description of how the show will play out. However, Spelling applied this description that may clear up the show's direction.
She explained the show is more of a "mockumentary," much like the HBO hit, Curb Your Enthusiasm. "It's not technically a reboot, because I feel like everyone has seen the reboot," she said, E News reports. "We don't want to be the last ones like doing the reboot thing, and no one wants to see like old versions of ourselves, but they do want to see us playing our characters, so what we're doing is the entire cast is playing heightened versions of themselves."
"Think Curb Your Enthusiasm episodes, in an hour long show, and we're all playing heightened versions, so it could be fictional, it could be non-fictional, people will have to guess," she adds. "And then we will have pop-ins, because we're behind the scenes trying to do the reboot."
Check out The Cheat Sheet on Facebook!