Is 'The Rise of Skywalker' the Last Star Wars Movie From Disney?
Anyone who's followed the Star Wars saga from the beginning should expect an emotional wallop in December when The Rise of Skywalker releases to theaters. It's going to tie up 42 years of movie history that also makes up a massive chunk of personal lives. Having this also occur at the end of a decade feels like a grand finale for many things, including the production team.
If you thought the Star Wars movies are going to move on from Disney, think again. Not everyone is clearly happy about Disney owning the franchise now, but the Mouse House does have a lot of plans. Those of you following the news about Disney+ alone will know Star Wars will be thriving there.
What about the movies? There's only going to be a three-year wait for a new trilogy filled with perplexing unknowns.
From all indications, 'Rise of Skywalker' is just going to be a stepping stone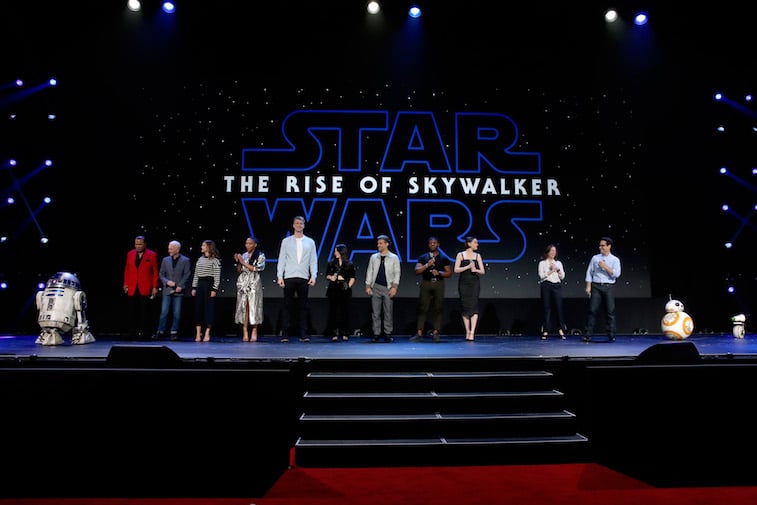 We can probably expect Disney to hold onto Star Wars for decades to come, unless they ever run out of gas and start to lose box office momentum. There could be a reality to that considering there seems to be a murky picture of Star Wars' cinematic future. All of the exciting things are going to be on Disney+ over the next three years.
For the movies, things are a bit up in the air. Based on what's been reported, we'll see the start of a new trilogy starting December 2022. What nobody knows yet is whether this is the proposed trilogy written and produced by former Games of Thrones showrunners David Benioff and D.B. Weiss.
Some media analysts think the Rian Johnson trilogy taking place in a different time and place will end up being the next series of movies. There's good reason to believe this because some rumors had gone around that Benioff and Weiss had creative disagreements with Lucasfilm's Kathleen Kennedy, hence limiting the producers to just one standalone Star Wars movie.
Having this happen to them might be a bit disappointing since they seemed to place some recent Star Wars allusions in Game of Thrones.
Why is Disney so quiet about what the next trilogy will be?
There shouldn't be any assumption Disney is staying quiet because they have no idea what to do next for the big-screen efforts. They're probably waiting for The Rise of Skywalker to release so everyone can see how it sets up the next trilogy.
No doubt we'll see some kind of setup for it, no matter if it takes place in an earlier era. What we all hope for is that there are still some references to the classic characters in the next trilogy. Not having any relation to the original story will feel a little too distant for the older fans who are still very relevant and make up the current box office.
Even just allusions to the classic trilogy would be enough to keep it within the same familiar wheelhouse. It's almost inevitable Disney/Lucasfilm will do this to some extent to keep everything tied together in an emotional way.
Nevertheless, you have to wonder if the big-screen efforts might gradually wither away to the streaming universe where cinematic experiences are becoming integrated.
With the standalone films on hold, the streaming universe might dominate
Having Rian Johnson heading the next trilogy might not make everyone happy either since he's still receiving flak over The Last Jedi. We'll still have three years before fans restart their griping, or about the lack of standalone films. In the interim, Disney+ may engross so many Star Wars fans first, Disney might ultimately decide to focus on those properties long-term.
The Mandalorian alone is going to bring cinematic-level entertainment to the Star Wars universe, making the future movies look unnecessary in comparison.
Maybe the real future plan for Disney is to do Star Wars crossovers between Disney+ and theaters, much like we're already going to be seeing with Netflix/theater films Marriage Story and The Irishman.