Is the Spice Girls Reunion Tour Canceled?
When Mel B dropped the insider news that she and Geri Halliwell hooked up during their Spice Girls heyday, many wondered if her "bombshell" would impact the upcoming tour. Is the 2019 Spice Girls reunion tour canceled?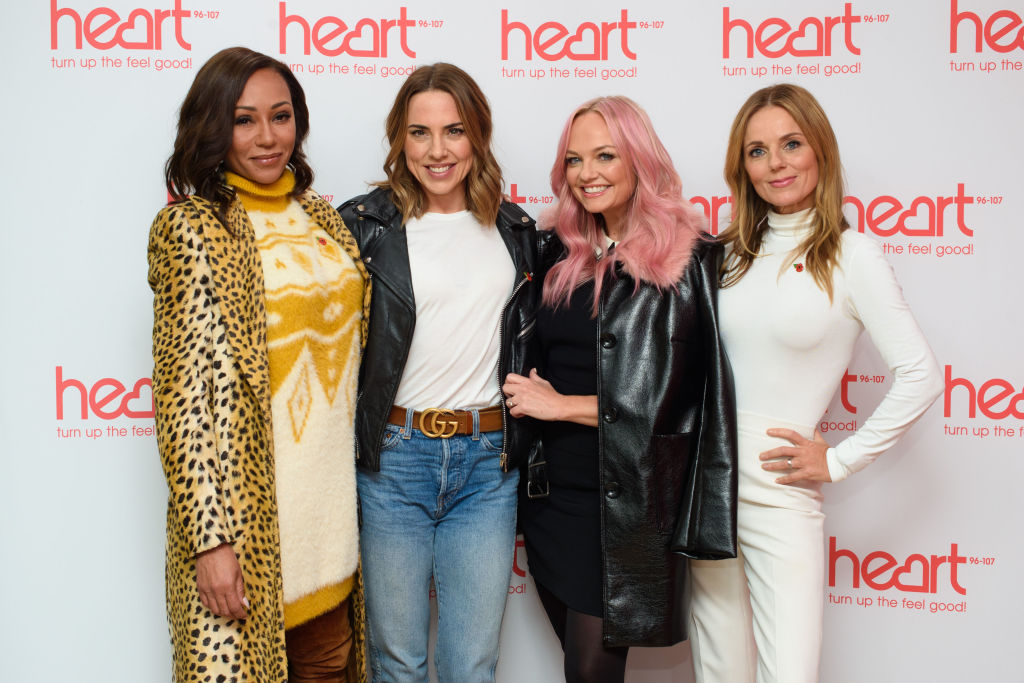 Mel B spilled the tea
During an interview with Piers Morgan, for his show Life Stories, Mel B admitted that she and Halliwell hooked up, an admission that Morgan called "a bombshell."
Morgan had asked about rumors that the bandmates were "more than just good friends," questioning her specifically, "Did you or didn't you with Geri Halliwell… did you sleep with her?"
Mel B admitted: "Yeah, we all slept in a bed together but not 'like that' all of us."
When Morgan continued, however, asking: "Did you sleep with Geri 'like that'?," she smiled and answered: "She's going to hate me for this because she's all posh in her country house and her husband. But it's a fact. It just happened and we just giggled at it and that was it."
Mel B added, "It was just that once. And hopefully when Geri gets asked that, which hopefully she will after this, she won't deny it. Because it was just a fun thing."
Geri Halliwell denied it happened
Though Mel B hoped she would admit it happened, Haliwell did, in fact, deny that the bandmates had sex back in the day. In a statement to E! News, her rep noted that what Mel B said was "hurtful," noting: "It has been very disappointing to read about all these rumours again, especially on Mother's Day of all days… She would like you to know that what has been reported recently is simply not true and has been very hurtful to her family."
The rep added: "Moving forward, Geri can't wait to see the girls and all the fans on the tour, have an amazing time with everyone, and make some new memories. Geri is really grateful for your support and loyalty for so many years. She loves the Spice Girls: Emma, Melanie, Melanie and Victoria."
Mel B backtracked on her claim
When asked about the hookup with Halliwell on Australian radio show 2Day 104.1, she clarified what she meant, noting: "All five of us [slept in a bed together], we were on tour, we had all of our own hotel rooms booked but we all ended up bunking in together. That's what girls do. It wasn't like a big deal, we've known each other 20 plus years, it was just one thing that happened one night. I didn't go into detail about it, at all."
A source close to the situation told PEOPLE that "nothing actually happened" and chalked the singer's claims up to "a classic case of Mel B being Mel B, she got carried away and Piers was clearly egging her on."
Is the Spice Girls tour canceled?
In the wake of Mel B's claims about Halliwell, it's been rumored that the Spice Girls are pulling the plug on their 2019 world tour. A source told The Mail on Sunday that the tour has been on shaky ground, noting: "It has been a hugely dramatic week. At one point last Sunday, the tour wasn't happening."
The insider added: "They agreed that they had to do the British dates because they are under contract and they don't want to let their fans down, but there won't be any more. There had been plans to keep it going but no more."
A representative for the Spice Girls told the Evening Standard these rumors are "inaccurate and factually untrue." The Spice Girls are set to kick off the tour on May 29 in Manchester.