Is There a 'Hocus Pocus' Sequel?
Everyone loves a Halloween movie from the 1990s. Throw in Sarah Jessica Parker, Bette Midler, and director Kenny Ortega, and you have a Disney classic, adored by fans for generations. How can fans watch this film in time for Halloween? Is there a Hocus Pocus sequel? Here's what we know about Disney's original movie.
'Hocus Pocus' premiered in 1993
Who says Halloween movies have to be scary? Hocus Pocus premiered in 1993 and told viewers the story of three witches from Salem, Massachusetts. Centuries after the witch trials, the new-kid-in-town, Max, lights a candle and awakens three witches with a taste for revenge. It's up to Max, his sister Dani, and his crush Allison to return the witches to where they came from without getting killed along the way. (Don't worry, it's a lot more lighthearted then it sounds.)
This movie also has a star-studded cast. Sex and the City actress, Sarah Jessica Parker, portrays the witch named Sarah. The First Wives Club's Bette Midler portrays the leader of the Sanderson Sisters, Winifred Sanderson. Of course, the director behind iconic Disney Channel movies like High School Musical, Descendants, and The Cheetah Girls 2, Kenny Ortega, worked on Hocus Pocus. Now, over two decades since its premiere, fans still go back to Hocus Pocus to watch the Sanderson Sisters and their antics.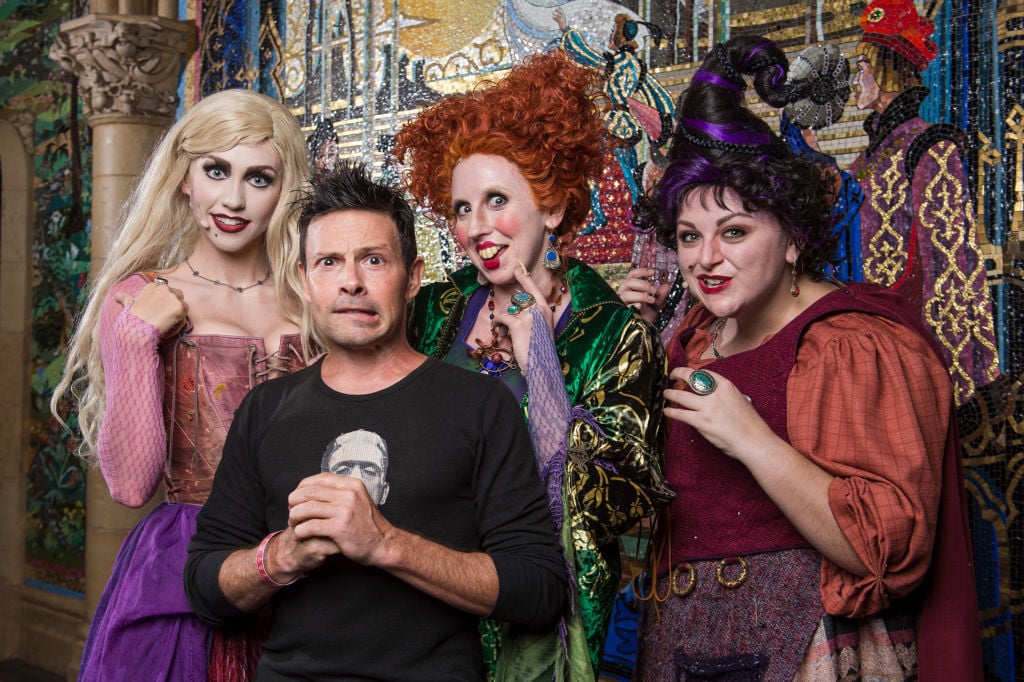 The Sanderson Sisters cast spells and sing songs at the "Hocus Pocus Villain Spelltacular" at Mickey's Not So Scary Halloween Party
The characters of this Disney movie even come to life at Walt Disney World in Orlando, Florida. In the weeks leading up to Halloween, Winifred, Sarah, and Mary star in the nighttime show, "Hocus Pocus Villain Spelltacular" alongside characters like Oogie Boogie from The Nightmare Before Christmas and Dr. Facilier from Princess and the Frog. Fans can also watch the Hocus Pocus characters all October long, thanks to Freeform.
We don't know what's worse — a world with the Sanderson Sisters or a world without them. Fans will be able to watch these kooky witches all October long, thanks to Freeform's "31 Nights of Halloween." Throughout this month, some of Disney's most beloved Halloween movies will play on the television network, including The Nightmare Before Christmas, The Haunted Mansion, and Hocus Pocus. If only Winifred could put a spell on Disney Channel to make a Hocus Pocus sequel.
Is there a Hocus Pocus sequel?
With Halloween just around the corner, some fans wonder when the Sanderson sisters will reappear in another movie. We've got some bad news for Hocus Pocus lovers, and we're not talking about candles with black flames and talking cats. As of September 2019, there's no Hocus Pocus sequel. However, there may be some good news for fans of the Disney original. Some reported in February 2019 that a potential spin-off movie is in the works.
According to Screenrant, "a Hocus Pocus 2 is in development that will have a new cast and is expected to release on Freeform (or possibly on Disney's new streaming service, Disney Plus)." This is just a rumor, as Disney has not confirmed the potential movie.
Hocus Pocus is playing throughout the month of October, for Freeform's "31 Nights of Halloween."