Is This Proof That The Kardashian-Jordyn Woods Drama Was Staged?
It was the biggest celebrity story of the spring, and it looks to be still unfolding. In February, the news broke that Jordyn Woods, Kylie Jenner's longtime best friend, had been accused of cheating with Khloe Kardashian's boyfriend, Tristan Thompson.
Over the next several weeks, the drama unfolded for all the world to see, and when the dust settled, it looked as though Jenner and Woods' relationship was unsalvageable. However, a new report seems to indicate that the two former best friends might actually be looking to reconnect.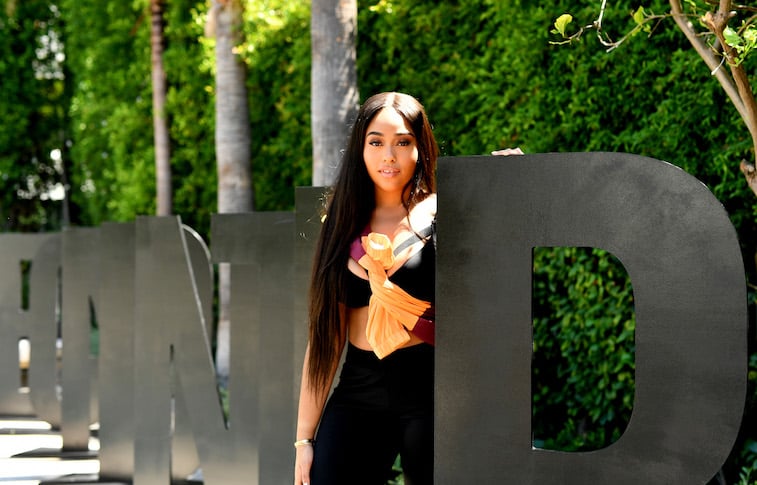 The Kardashian-Woods cheating scandal
When news of the scandal first broke, fans thought it had to be fake. After all, Jordyn Woods and Kylie Jenner had been friends for years – Woods even lived in Jenner's palatial California home.
The two had just released their makeup line collaboration and Woods even modeled for Khloe Kardashian's denim line. Therefore, it seemed unthinkable that Woods could betray the family by getting involved with Kardashian's boyfriend.
However, Woods herself spoke out about a week after the news first hit, seemingly confirming everything by sitting down with Jada Pinkett Smith and saying that while some stories were exaggerated, there had been impropriety with Thompson.
She admitted to kissing him although she claims that it went no further than that. Khloe Kardashian blasted Woods on Twitter following the interview and the reactivation from the rest of the Kardashian family was swift and decisive – they cut Woods out of their business deals, and Woods was moved out of Jenner's home.
Ever since then, it seems as though Woods has had no contact with Jenner, the girl that was once her best friend.
Are Jordyn Woods and Kylie Jenner talking to each other?
For all intents and purposes, it seemed as though Kylie Jenner wanted to remain loyal to her sister by cutting off communication with Woods. Still, certain sources claim that Jenner has struggled with her decision, and still misses talking to Woods.
For her part, Woods has publicly praised Jenner after the scandal, even telling tabloids that she will "always" love Jenner.
Even stranger, a new report says that Jenner and Woods are in contact and working on their fractured relationship. The source claims that the two are close to being friends again, even after everything that has happened. For viewers who maintain that the whole scandal was staged for the family's reality show, the report seems to confirm their suspicions.
Was the scandal staged for reality television?
After the Kardashian-Woods story first came to light, a large faction of fans started pointing out that the whole thing seemed almost too dramatic be to be true. After all, the Kardashian-Jenner family make their living on reality television, so it's very possible that the entire business was set up to boost ratings for Keeping Up with the Kardashians. Woods has even appeared on the show several times over the years.
Woods has gone on the record to say that the scandal is absolutely not a publicity stunt, but fans still aren't convinced. The latest season of Keeping Up with the Kardashians has been teasing the Woods storyline for weeks, so whether or not the story is true, they are certainly trying to profit from how it played out.
If the latest report is true, and Kylie Jenner is still talking to Woods, that lends credence to the theory.
While the only people who know for sure whether the drama is real or staged are the members of the Kardashian family and Jordyn Woods, fans might be able to get additional insight over the next few weeks, as more and more details are revealed from new episodes of the family's reality show.