Is Tom Holland Dating Anyone?
The Marvel Comic Universe introduced us to the sexy British actor that plays Spider-Man, Tom Holland.
Peter Parker has always had eyes for Mary Jane, and it appears that Holland may feel the same about his MJ (which stands for Michelle Jones– not Mary Jane) co-star in real life.
Except, that he's frustratingly private about it. Who is Holland dating? Let's take a look at this young actor's life and see if we can get some insight.
Tom Holland's career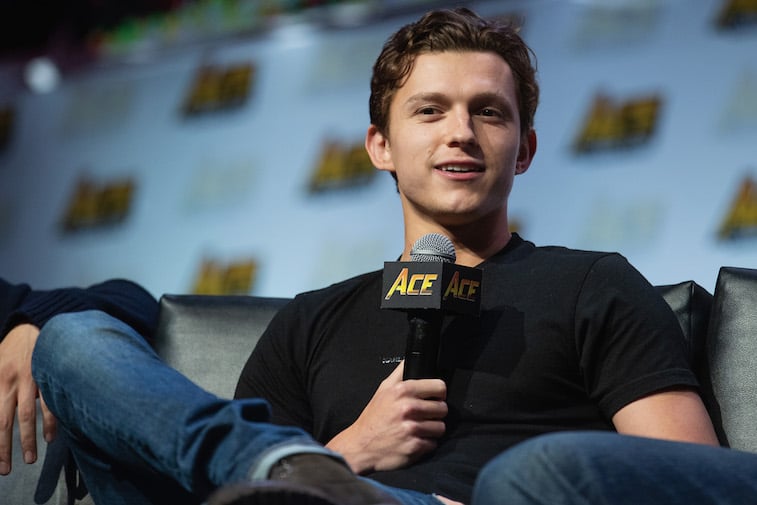 Holland began his career as a dancer at the Wimbledon dance studio, Nifty Feet. Choreographer Lynne Page spotted his talent and introduced him to her associate, Peter Darling. This led to a role in Billy Elliot the Musical on West End, for which Darling was the choreographer. Billy Elliot brought Holland his first taste of success and a bit of fame. He was even invited to Ten Downing Street, to meet the Prime Minister, when he was only 13 years old.
From there, Holland was able to secure several other roles on television, and on films. Most notable being a role with Naomi Watts in The Impossible. But it wasn't until 2015, when he was cast as teenage Peter Parker in Spider-Man, that he experienced real fame. Since that time, he has played the role of Spider-Man in several Marvel Comic Universe films, including Captain America: Civil War, Spider-Man: Homecoming, and Avengers: Endgame.
Tom Holland loves his privacy, but we know he's dating someone
Holland is notoriously private about his personal life. But as is the case with anyone living in the public eye, details slip out.
When he was 16, Holland told the Evening Standard, "I have a friend who is more than a friend, but we are not officially girlfriend and boyfriend. On Billy Elliot we had girlfriends but I've never had a serious relationship."
A couple of years later, in 2015, Holland was rumored to be dating Elle Lotherington, although it was never confirmed. According to OK! Magazine, during this time period there are many photos of the pair together, proving they were, at least, hanging out a lot.
In 2017, Holland had a brief fling with actress Ella Purnell, from Miss Peregrine's Home for Peculiar Children. They attended the EE Bafta awards, where Holland took home the Rising Star award, and then hit an after party together.
According to a source for The Sun, "Tom and Ella were very close inside the Weinstein party and it looked really obvious that he was taken by her."
Is Tom Holland dating Zendaya?
The is one woman that Holland has been linked to repeatedly. His Spider-Man co-star, actress Zendaya, who plays MJ. The pair met on the set of Spider-Man: Homecoming and have been confirmed friends ever since.
The pair show up in each other's Instagram feeds and are spotting by paparazzi hanging out on a regular basis. Although the two are definitely close, they have always denied rumors that they are dating.
When they're seen together, they never have more than just an arm around the other. They've never been caught kissing or any other display of affection. But, could they just be keeping their romantic relationship private?
A source told People:
"The started dating each other while they were filming Spider-Man. They've been super careful to keep it private and out of the public eye, but they've gone on vacations with each other and try and spend as much time as possible with one another."
However, Holland and Zendaya were quick to deny this. Zendaya commented on the story on Instagram, "Wait, wait… my favorite is when it says we go on vacations together HA! I haven't been on a vacation in years!"
For now, it looks like we're going to have to stick to speculation, because neither Holland or Zendaya seem like they're going to admit that there's anything romantic between them.
Although, we do know for sure that they're friends. And the cutest pair of friends you ever saw. Holland even posted a photo of Zendaya on the red carpet at the 2018 Met Gala, and he commented, "All hail the queen. Killing it mate." Isn't that the sweetest?