Is Vicki Gunvalson Leaving 'RHOC'? Demoted Star Reveals Her Future Is 'Uncertain'
Real Housewives of Orange County fans were shocked to learn that Bravo demoted Vicki Gunvalson for Season 14. Inside sources have since revealed that Gunvalson was disappointed when she got the news that she was not going to return as a full-time cast member this season. Now that she has had some time to think about the demotion, Gunvalson recently admitted that her future on the hit reality show is uncertain.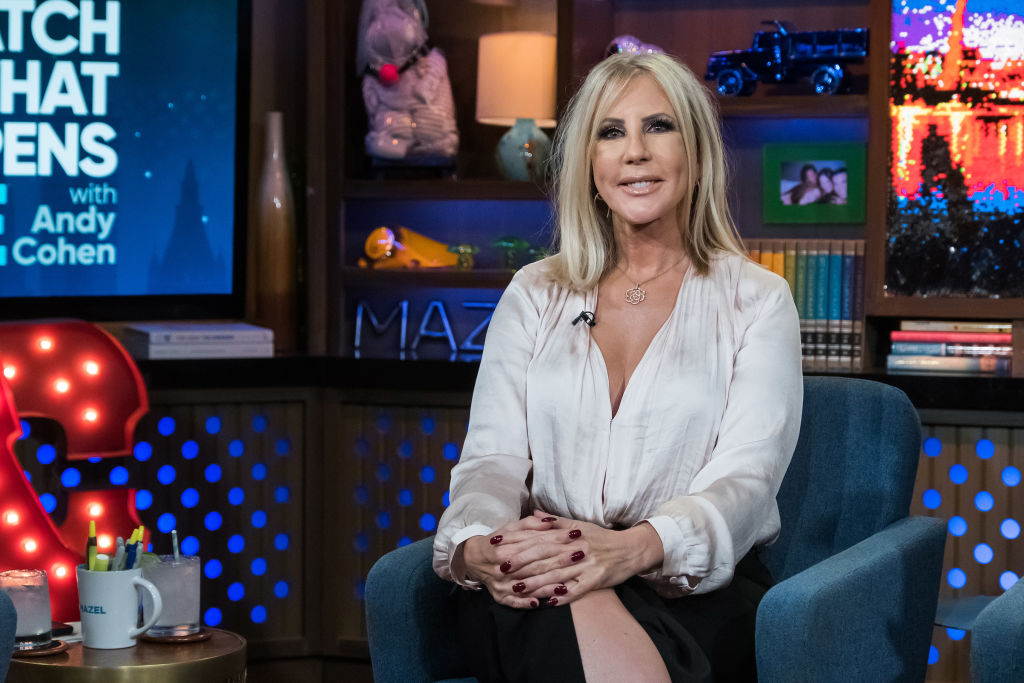 Will Vicki Gunvalson leave RHOC after Season 14?
Gunvalson opened up about her time on the RHOC late last week. Taking to Instagram, the reality star posted a video of her and Tamra Judge having a fun time back in the day. Fans took the opportunity to ask Gunvalson about appearing on future seasons, and she sounded very uncertain about returning to the series after Season 14.
Are you leaving the show?" a fan asked Gunvalson, to which she replied, "I hope not."
Bravo only recently announced Gunvalson's demotion in Season 14. According to OK Magazine, newcomer Braunwyn Windham-Burke is replacing Gunvalson. The rest of the cast from Season 13 is expected to appear in the new season, including Judge, Gina Kirschenheiter, Kelly Dodd, Shannon Beador, and Emily Simpson.
It is unclear how many episodes Vicki Gunvalson will appear in, but she definitely will not be in the majority of them as a friend. Gunvalson has been on the show since the very beginning and is the longest-running Housewife across all of Bravo's franchises.
Gunvalson is sad about her demotion
Inside sources claim that Gunvalson was saddened to hear about her demotion. The RHOC star expected to return as a full-time cast member and was reportedly offended when Bravo gave her the news. Although she calls herself the OG of the OC, Gunvalson understands that the demotion was nothing personal and that the show is trying to move in a new direction.
Even still, it sounds like it pains Gunvalson to appear on the show as a friend, especially given all of the time she has put in.
The insider noted that Gunvalson will do everything in her power to get her orange back. The source also revealed that the decision to demote Gunvalson was taken very seriously and was not something that happened on a whim. Gunvalson also knew about her status on the show long before Bravo released the Season 14 trailer, despite earlier reports to the contrary.
How will Vicki Gunvalson's co-stars handle her absence?
The source claims that Gunvalson's friends on the RHOC, Judge and Beador, were disheartened by the news. While Gunvalson is expected to appear more often than a typical friend of the show, her involvement will still be minimal. It will also be strange for fans not to see Gunvalson a lot as she has been a staple on the show since the very beginning.
A few cast members will not be missing Vicki Gunvalson's presence this season. That notably includes Kelly Dodd, who used to be close friends with the OG of the OC before they experienced a major falling out. Last season, Gunvalson and Dodd butted heads during the reunion, and their feud spilled out onto Twitter in the subsequent weeks. Considering their history, Dodd was probably thrilled when she found out that Gunvalson had been demoted, and fans are sure to hear more on that front during the Season 14 reunion.
Gunvalson receives big pay cut
As part of her demotion to friend status, Gunvalson took a huge pay cut in Season 14 of RHOC. In previous seasons, Gunvalson was earning over a million dollars, which equates to around $60,000 for every episode.
This season, however, Gunvalson will only be paid about half as much for her time, though she will be appearing less frequently as well.
Vicki Gunvalson confirmed her demotion with a quick post on social media. The reality star told fans that she will be appearing at some point in the season and that her role will be different this year. She has not said anything more about her future on the show, but it sounds like she will do everything she can to return as a full-time cast member next season.