Isabela Moner Says This One Thing Made Her Truly Feel Like Dora the Explorer
Isabela Moner played Dora the Explorer all grown up in Dora and the Lost City of Gold. In the movie, Dora had to attend a normal high school when her parents (Eva Longoria and Michael Pena) went on a jungle expedition. Fortunately, Dora and her friends (Jeff Wahlberg, Madeleine Madden, Nicolas Coombe) ended up on a jungle adventure (along with Eugenio Derbez) where she's much more comfortable. You can watch Dora and the Lost City of Gold on digital formats now, and explore more behind the scenes when Dora arrives on DVD, Blu-ray and 4K UHD on Tuesday, November 19.
Showbiz Cheat Sheet got an early copy of the Dora and the Lost City of Gold Blu-ray so we could find out even more. Here are a few things star Isabela Moner revealed in the Blu-ray bonus features. You can hear more from her, her costars and director James Bobin when you get the DVD, Blu-ray or 4K yourself.
Isabela Moner talks about Dora the Explorer's personality
Even though she's a teenager in the film, Dora the Explorer has not lost her childlike enthusiasm.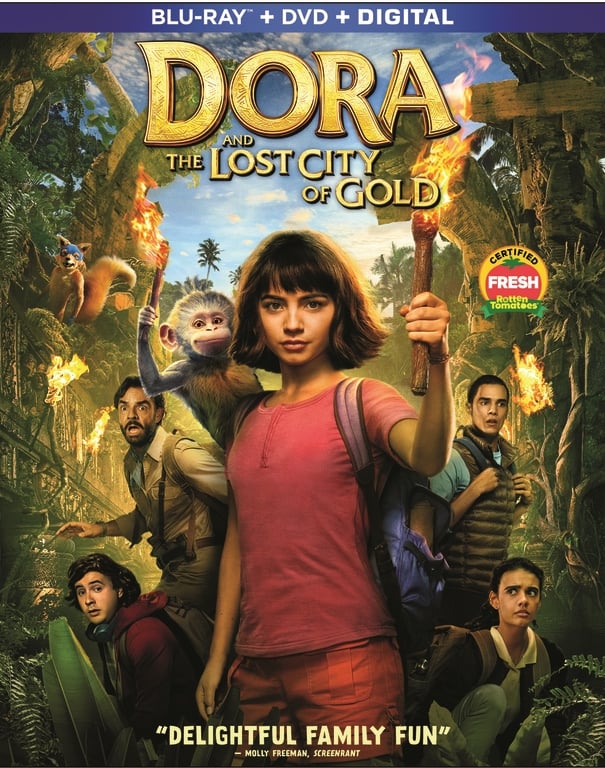 "I decided to give her a little bit more life and make her more drastically different from everyday characters and people that you see in your life," Moner said. "Dora to me is like seeing an adult skipping. Go ahead. Try to skip today. It's fun."
The physical attribute that finally turned Isabela Moner into Dora the Explorer
You can see Isabela Moner keeping her Dora the Explorer energy and enthusiasm behind the scenes in the jungle. There's just no getting her down, but in the end it was her hair that truly transformed Isabela Moner into Dora.
"I just felt like her and everyone who saw [my performance] just started smiling and laughing," Moner said. "Then when the bangs came on, dude, the bangs, it was crazy."
Dora the Explorer is still a role model to girls and boys
Dora the Explorer always showed kids that they could have their own adventures and mysteries. That was when she was only six years old in the cartoon! A teenaged Dora still embodies all that, as well as all the struggles teenagers face in high school.
"It isn't written in a way where it's like strong feminist character," Moner said. "It is just the way that she is because that's Dora. She's not just a joke. She is a really strong and educated character."
Moner admits she was concerned about how Dora and the Lost City of Gold would portray Dora the Explorer. The fact that they were considering her when she was 17 years old meant that it would be a different Dora, but she was excited to see how she could maintain the heart of Dora in a new live-action film.
"I had no idea how Dora was going to be," Moner said. "I was terrified. I had a few ideas in mind of what they would show her as considering she's a teenager now."