'iZombie' Eats Up Void Left by 'Veronica Mars'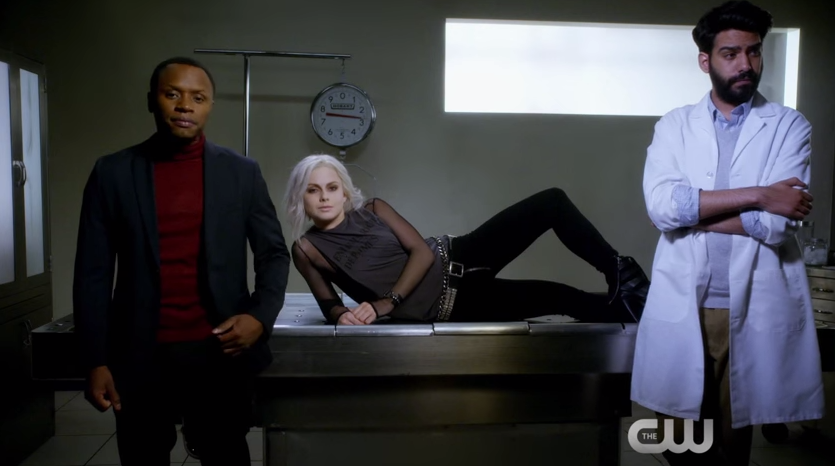 It was easy to feel skeptical about the premise when the CW first began promoting its new show iZombie, but now that the show is premiering tonight and critics have gotten a taste, it seems Veronica Mars creator Rob Thomas has made another smart, funny series with a strong female lead. Fans of the cult favorite Veronica Mars may not think to come to a zombie show to fill the void of the fast-talking teenage sleuth, but iZombie offers similar joys with its female lead, sassy voiceover narration, and strong cast of likeable supporting characters.
The show is based on a graphic novel that tells the tale of Liv Moore, played by Rose McIver, a medical student who gets turned into a zombie while attending a party on a houseboat. Determined to try and make the best of her circumstances post-death, she takes a job at the morgue where she can secretly eat the brains she needs as fuel. There she discovers a strange aspect of her transformation; when she eats a deceased person's brain she ingests some of their memories and personalities as well. This lends itself to making her a pretty great crime solver, and here we have a similarity to Veronica Mars. Moore poses as a psychic and teams up with a local cop to help solve murders.
This whole premise does seem a bit ridiculous, especially given how tapped-out the whole zombie schtick feels at this point. Between the uber-popular show Walking Dead and comedic takes on the monsters like Zombieland or last year's Life After Beth, it feels like it's all been done before. Zombies are the new vampires in more ways than one. They're suffering from oversaturation and the concept of turning them sexy is even more outrageous than it is with vampires. It was pretty easy to predict this show would be terrible, which is why the great reviews pouring in are so surprising.
The New York Times called it "ridiculously likeable" and said "it carves out a space in the crowded landscape of Undead Entertainment by lightening up." Many drew parallels between iZombie and predecessors Veronica Mars and Buffy the Vampire Slayer, but most of those comparisons were in a positive light, saying that the show is filling a void those shows left in female-led genre television. "While iZombie, which hails from the same creative team as VM [Veronica Mars], is indeed similar to the teen noir in a lot of ways, it's its own successful endeavor, too," said Vulture. The show currently has a 69 Metascore on review aggregator Metacritic, indicating generally favorable reviews.
Thomas told TVGuide that he was approached to adapt the iZombie comic book several times, but it took some convincing to get him to take on the zombie material. The CW convinced him by saying that the network needed him to create its next great heroine. "I'd say more than an overriding desire to do zombies, it was this idea of filling this vacuum for The CW," Thomas told the publication.
Liv now joins Jane of the network's critical darling Jane the Virgin in targeting the CW's female audience with a strong female lead character. More impressive, though, is the show's ability to overcome its genre trappings to make an enjoyable and original television series amidst the glut of zombie comedies and dramas that have plagued the entertainment world in recent years.
Follow Jacqueline on Twitter @Jacqui_WSCS
More from Entertainment Cheat Sheet:
Want more great content like this? Sign up here to receive the best of Cheat Sheet delivered daily. No spam; just tailored content straight to your inbox.