Ja Rule Addresses Rumors Ashanti Sang Jennifer Lopez's 'I'm Real' Vocals: 'I'm Not 100 Percent Sure'
Jennifer Lopez knows how to make a hit. Her collaborative efforts with chart-topping rappers and singers have pushed her to platinum status. Among those, Ja Rule, wrote one of J. Lo's biggest hits to date, "I'm Real." Rumors of the song have circulated for years. Ja Rule finally sets the record straight.
Why did the rumor Ashanti sang Jennifer Lopez's vocals begin?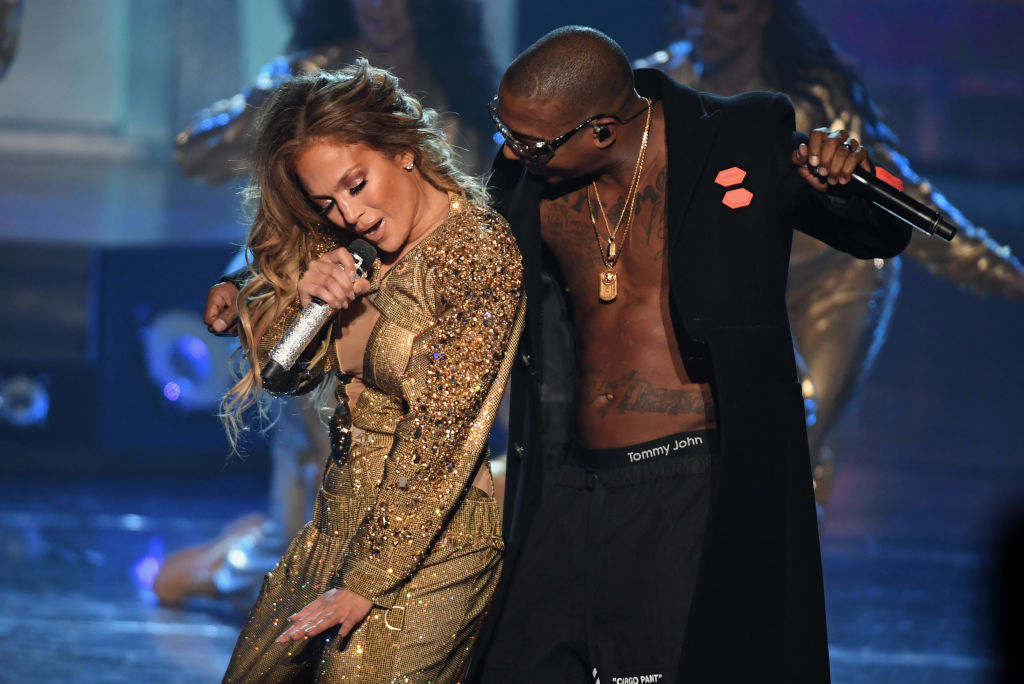 For almost 20 years, rumors that Lopez didn't sing the vocals on her hit single, "I'm Real," have gone around.  Longtime fans and critics alike give credit to the singer, Ashanti, for dubbing the 2001 vocals instead.
Ashanti was the songwriter and lead vocalist on the track, as well as other hits from Lopez's catalog. Songs like "Ain't It Funny (Murder Remix) made their way onto the radio, climbing the charts, with Lopez's name on the records.
In a 2014 interview with No Judgement Zone's BlogXilla about her latest project, as well as the single "I'm Real," Ashanti revealed how she really felt about the so-called rumor and her part in it.
She said: "It was bittersweet because I was really excited because it was J. Lo, you know what I mean? But I was so mad at Irv, cause I was like 'You know I wanted that record!'"
She explained she'd demo'ed the track for Lopez and the Murder Inc. label used Ashanti's vocals for the hook, background, and adlibs — not Lopez's. We're not sure how to feel about this one.
Ja Rule cleared up the rumor — sort of
During an appearance on Sunday's Watch What Happens Live, host, Andy Cohen asked Ja Rule about the rumor.
"Let me clear this story up because it is a rumor going around," the rapper said. "So, here's what happened: I wrote 'I'm Real' for Jennifer Lopez. And I sung the original version of it as a reference, but I sound terrible, of course, on the reference, so Ashanti then sung the reference for Jennifer Lopez."
That sounds reasonable enough until Ja Rule continued his explanation.
"When they mixed down the record, producer, Irv Gotti, left some of the vocals underneath." 
Cohen, understandably confused, wondered if Ashanti appeared on the finished track. "She's got some vocals underneath, I believe," Ja Rule said. "That is the rumor. I don't even know if it's really true."
If you're still confused, welcome to the club.
What does Jennifer Lopez say about her part in 'I'm Real'?
So far, Lopez has yet to respond to any of this. However, she has her hands full with news she's being sued for copyright infringement over a photo she posted to her Instagram Story in 2017. 
The court documents were filed by Splash News and Picture Agency. E! News obtained the information which stated, "Plaintiff never licensed the Photograph to defendant. Nevertheless, Lopez used it without authorization or permission from plaintiff to do so."
It continued: "Specifically, Lopez or someone acting on her behalf copied the Photograph and distributed it on Instagram, via the @jlo account, on a story posted November 7, 2017."
E! News claimed, "the company is seeking $150,000 and an injunction against Lopez and her team, stopping them from posting the photo again." That said, who sang what on "I'm Real" is likely the last thing on J. Lo's mind, but thanks anyway, Ja Rule.