Jack White Discusses His Musical 'Cabinet of Wonders'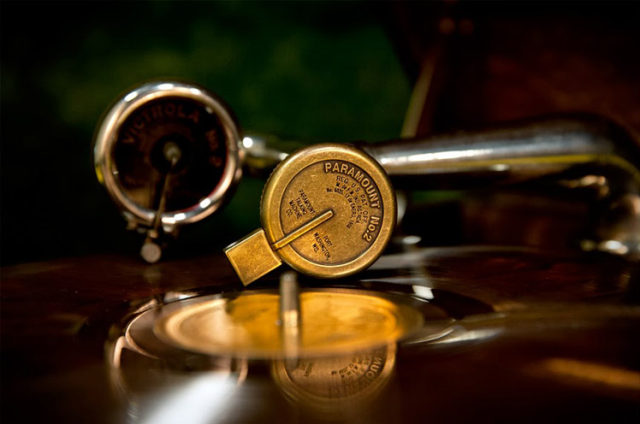 Jack White appeared on Charlie Rose on Sunday to promote Third Man Records' release of the ambitious and enormous The Rise and Fall of Paramount Records 1917-1932, Volume 1 boxed set — a huge archival project that White's label took on in conjunction with Dean Blackwell of Revenant Records. Blackwell also appeared on the show to discuss the project.
The $400, 6-LP, two-book, 22-pound boxed set was named the Best New Reissue by Pitchfork. Third Man calls the set a "cabinet-of-wonder." For the lover of vinyl and early recording history, the set is a veritable jungle of treasures that may have been lost to the ages if not for White and his maniacal obsession with blues music. "You could spend months delving into this material," White said.
The company is only producing 5,000 of the expensive sets, the number that Third Man and Revenant need to sell to break even on the money put into researching and producing the monstrous collection, Blackwell says in the liner notes. White has spoken in the past about how he uses Third Man as an avenue to pursue weird and unprofitable projects that appeal to him (including releasing an exclusive 7-inch via helium balloon and lots of colored vinyl), and this falls towards the scholarly end of Jack White's weirdness spectrum. After releasing and touring in support of his first solo album, Blunderbuss, in 2012, White took some time to focus on Third Man in general and reissues in particular. "This year I took off from touring and wanted to find archival projects that we could get involved with," he said.
Paramount appealed to White in part due to the incredible list of musicians that recorded on the label during its short time in business between 1917 and 1932. Charlie Patton, Blind Lemon Jefferson, Ma Rainey, and Louis Armstrong are just a few of the names that made records on the label before they became famous. Paramount's original start in furniture as Wisconsin Chair Company also tickled White's fancy for coincidence — real or invented. Third Man Records' name and aesthetics take inspiration from White's Third Man Upholstery company he began in Detroit before starting the White Stripes. The Paramount label was actually formed as a way for the company to sell phonograph cabinets in a contract with Edison Records, after an Edison factory in Orange, New Jersey burned down.
With the motivation of selling as many record cabinets as possible, the company set out to record any and all artists that it believed could sell even just a dozen records and push a dozen more people towards buying phonographs. The result was a colossal body of blues, folk, country, and religious music recorded quickly and on the cheap. The label became widely known for making what were known at the time as 'race records' and selling music sung by black musicians back to the black community, along with one of Paramount's record players.
"Their records were notorious for sounding terrible," Blackwell said in the interview. While the Third Man and Revenant crews worked to provide the best sound they could, Paramount used cheap shellac that made for poor sound quality even back when the records were new. The result is a boxed set full of recordings that feel like listening to fossils as your ear digs for the song within the static. The result is a boxed set not made for those looking for easy listening.
The 6 LP's included in the set are pressed on burled chestnut colored vinyl with hand-engraved, blind-embossed gold-leaf labels. The rest of the 800 songs, representing 172 artists, are packed onto a thumb drive that's shaped like a record player's needle. Like most Third Man releases, the recordings are only available in digital or vinyl formats. Also included are two large books, one hardcover art book showing Paramount advertisements and chronicling the label's history, and one 360-page catalog that attempts for the first time to provide a full discography of the label along with artist biographies.
All that comes packaged in a beautiful oak box designed to look like a portable record player and bearing Paramount's iconic eagle insignia. "Let's do everything Paramount didn't have the money to do, didn't have the care to do," White told Rose was the reasoning behind the extravagant approach.
While all parties involved know that copies of the boxed set aren't exactly going to fly off the shelves, White's effort has lead to the reissue and preservation of recordings that compose the backbone of American popular music and haven't been easily available for listening since their release. Keep in mind to save up, kids, because Volume 2 of the compilation, including the inimitable Charlie Patton hasn't even come out yet.
More From Wall St. Cheat Sheet:
Follow Jacqueline on Twitter @Jacqui_WSCS