Jake Paul and Tana Mongeau Don't Know How Marriage Works
Jake Paul and Tana Mongeau are clueless when it comes to marriage. However, as YouTube vloggers and internet influencers they are not. Paul became famous after posting videos on the now-defunct Vine, a short form looping video platform.
When Vine shuttered the doors, Paul had 5.3 million followers and his videos had 2 billion plays. Mongeau rocketed to fame after launching her YouTube channel in 2015 which has grown into a phenomenally successful platform.
When did Paul ask Mongeau to marry him?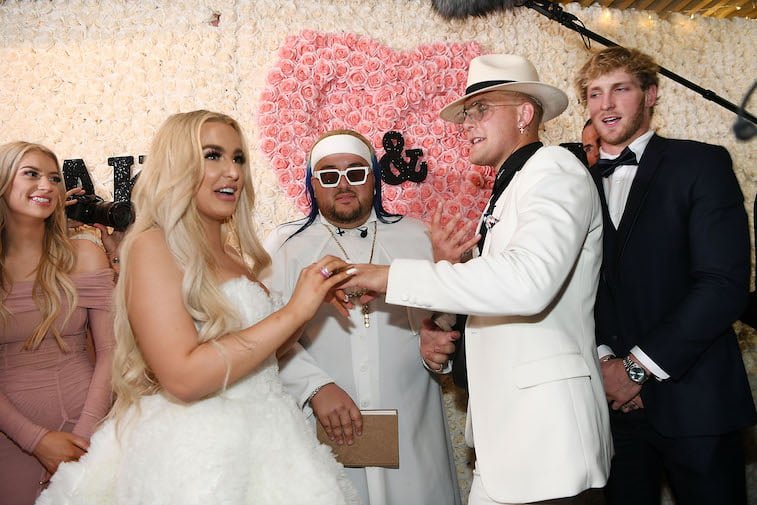 After meeting at a party in April, then spending seven weeks as a couple, the pair got matching tattoos. Step one for getting on the road to wedded bliss. Mongeau turned 21 on June 24, 2019, and Paul gifted her a $124,000 Mercedes-Benz G-Wagon, even though she does not know how to drive. Step two.
Step three was giving her a "massive ring" and uttering the words, "Will you marry me?" Some people question if he was at all serious about the last step because the "massive ring" is a $125 cubic zirconia.
So, did Paul and Mongeau really get married?
According to Paul and Mongeau they did get married and to prove it they taped and then posted to Paul's YouTube channel the entire wedding day.
Mongeau gave the opportunity to her fans to watch a live stream of the wedding for $50 each and MTV filmed the entire event which will become an episode on her new reality show, No Filter: Tana Turns 21.
There is a lot of proof that they attempted to get married but is it legal?
Why do some people think that Paul and Mongeau are not legally married?
Never mind that the wedding turned into an all-out brawl. According to those in the know, the social media influencers in attendance and other internet personalities started the fight by throwing champagne at each other.
This forced Armani Izadi, Paul's best friend and owner of the Vegas venue where they got married, to ban these charlatan champagne throwers from the party.
Many skeptics believe that this mess of an engagement and wedding cannot be legal. Add to this, Page Six reported, that as of the wedding day "there were no marriage license applications or registrations under either Jake Paul or Tana Mongeau's names in Las Vegas." Sounds suspicious.
Why would Paul and Mongeau fake a marriage?
Why do most people who are famous for being on YouTube do what they do? Notoriety and money of course.
While we are not sure if the wedding was legit or just one big publicity stunt, there are some reasons to be skeptical. First, it happened so quickly. Mongeau had barely distanced herself from ex Bella Thorne before she agreed to marry Paul.
Paul previously faked a wedding to Erika Costell so maybe fake marriages are part of his act.
There is also the ring. Would she really accept a "fake diamond" as an expression of his undying love?
Will Paul and Mongeau stay married?
Real marriage or not, this couple is working it. The morning of their wedding Mongeau posted a video to her 5 million followers titled "I love you, Jake Paul."
No Filter: Tana Turns 21 is now available to watch, and fans have scoured the first episode looking for clues about their marriage. Some of the most telling facts are: Best friend Ashley and manager Jordan "assumed her marriage would be fake."
Paul and Mongeau planned and cancelled the wedding twice before. And when Mongeau asks Paul, "Will the wedding be 100 percent legal?" he replies, "I don't know if we should talk about that, because we should make it seem like it is."
All we can say is good luck Jake and Tana and here's to a long happy marriage.