Jameela Jamil On Simone Biles' Triple Double: 'It's Exciting to Be Alive When She's Alive'
Every once in a while, someone does something so awe-inspiring that the whole world can't help but stop and take notice. We had one of those events this month at the U.S. Gymnastic Championships.
Simone Biles nailed a triple-double for the first time in history, and everyone, including celebrities, were inspired. Here are some of the best reactions to this historic event.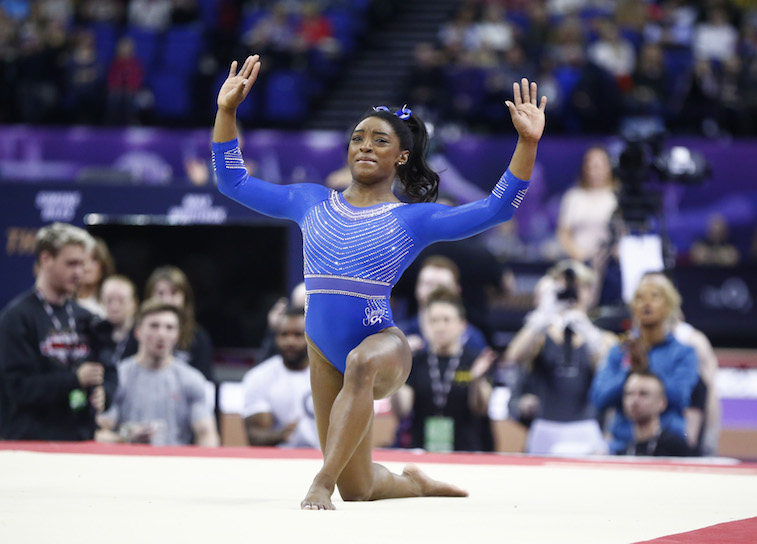 Simone Biles impressed the world- along with celebrities and politicians
Years from now, we'll probably have powerful women giving interviews and when they're asked what inspired them as a child, they'll describe seeing Biles nail the triple-double on TV. It's hard not to imagine little girls sitting at home watching her and thinking, "If she can do that, I can make my dream come true."
We may be overreacting a little, but it was seriously impressive and definitely awe-inspiring. Even celebrities, who live a pretty cool life of their own, were spellbound by Bile's performance. Social media, especially Twitter, was ambushed by all the responses.
Jameela Jamil from The Good Place thought it was amazing. She acknowledged our luck at even being able to witness the fantastic gymnast. "It's exciting to be alive when she's alive so we get to witness her," Jamil tweeted.
Bring The Funny judge Chrissy Teigen expressed her love and made sure the world knew what a powerful woman Biles is. She tweeted, "Look at this! Suuuuuch a f**king bada**. Love this woman."
Senator, Kamala Harris acknowledged the history-making event and congratulated Biles. "Making history again. Congratulations to the incredible @Simone_Biles on nailing that triple-double!"
The governor of Texas, Greg Abbott, even chimed in to express his pride in her origins. "Just when you thought Simone Biles couldn't get any better… she does. What an amazing athlete. Proud that she's a Texan," he tweeted.
Simone Biles even impressed other gymnasts
Bile's performance didn't just impress people who are unfamiliar with the details of gymnastics. She also received plenty of praise from other professionals.
Commentator, and former gymnast, Nastia Liukin said at the end of her performance, "Simone's got enough gold medals at home, someone give this girl a crown." Fantastic idea.
Madison Kocian, who competed alongside Biles at the 2016 Olympics, complimented both Bile's triple double and her personality. Kocian tweeted, "Amazing on the competition floor, but has an even more amazing heart. Proud of you." She even accented her praise with a red heart emoji.
Biles also received praise in 2016
This isn't the first time Biles has prompted celebrity responses to her incredible achievements. In the 2016 Rio Olympic games, Biles took home two gold medals, and celebrities couldn't get enough of her on Twitter then either.
Actress, Elizabeth Banks expressed her amazement in this 2016 tweet. "@Simone_Biles you amazed me today, thank you for your heart and talents. Congrats!"
Gabrielle Union tweeted a simple, "Yesssssss!!!!!" and Kim Kardashian West admitted her feelings, "LOW-KEY CRUSH: SIMONE BILES"
Biles, along with her teammate Aly Raisman, even received congrats from a presidential hopeful. Hillary Clinton tweeted, "Congrats on bring home the gold and silver, Simone and Aly. We're all so proud of you! -H"
How does Biles feel about the reaction to her performance?
With all these important people noticing Biles, it's bound to get a little nerve wracking for her. She told the Olympic Channel that she was astounded at the attention. "Wow, they actually notice me," she said. But mostly, Biles expressed happiness at just landing her triple double, and her success at the championships.
For only being 22 years old, Biles had made some incredible achievements. She still has so much time left. It's amazing to imagine what she'll do in the future.