Jameela Jamil Presents Taylor Swift With Billboard's Woman of the Decade Award, Calls Her 'A Superstar'
Actress Jameela Jamil channeled her The Good Place counterpart and introduced her "best friend" Taylor Swift at the Billboard Women in Music Awards. Here's what she had to say about the Golden Globe-nominated pop star.
Jameela Jamil stars in 'The Good Place'
You're likely familiar with Jamil from her only acting role thus far: As Tahani Al-Jamil in The Good Place. She stars as the wealthy Brit who, alongside three other humans, dies and has a very strange afterlife experience, to say the least.
Jamil is also well-known for using her platform to speak out on various issues. Specifically the weightloss industry. She has called out everyone from the Kardashians to various Instagram influencers for promoting appetite suppressants and more. Jamil even started her own platform, I Weigh, based on her ideals.
Taylor Swift has spoken about Jamil in interviews
Jamil speaks loudly and proudly. And while this has rubbed some the wrong way, Swift is an avid supporter of hers. The singer-songwriter mentioned Jamil in her Beats 1 interview months back, calling her one of the "amazing women" helping to spread what she calls "body neutrality."
As 2019 wraps up, Swift has been on numerous end-of-the-year/decade lists. In her interview as one of People Magazine's People of the Year, she confessed that when she's feeling "stress-y" she "read[s] some of Jameela Jamil's quotes about body image and health and normal body weight."
Jamil has responded
Jamil, who has received quite a bit of attention herself as someone who has a pretty great year, was touched to receive the praise. After the Beats 1 interview, she wrote of Swift, "It's nice to know my words reach even the most scrutinized and harassed people, and help in any way. I can't imagine being under her microscope since I was 12."
After the People article, Jamil responded again. She noted that she had met Swift "back when she was a teenager." She also thanked her for the multiple "shout out[s]." Some found Jamil's response to be maybe a bit sarcastic, but she assured them it was not.
She presented Swift with the Billboard Woman of the Decade Award
It's likely that Jamil knew at this point that she would be introducing Swift at the Billboard Women in Music Awards on Dec. 12, 2019. Swift received the incredible award for Woman of the Decade just one day before her 30th birthday. Jamil mentioned on Twitter that she would be presenting, in a tweet with a couple of other notable name drops.
Jamil took to the stage to introduce Swift and all of her accomplishments over the past decade. "Taylor Swift has become someone who looks the industry and the world in the eye and demands that she and the rest of us artists deserve the right to make the art that we are making," she finished.
Swift's speech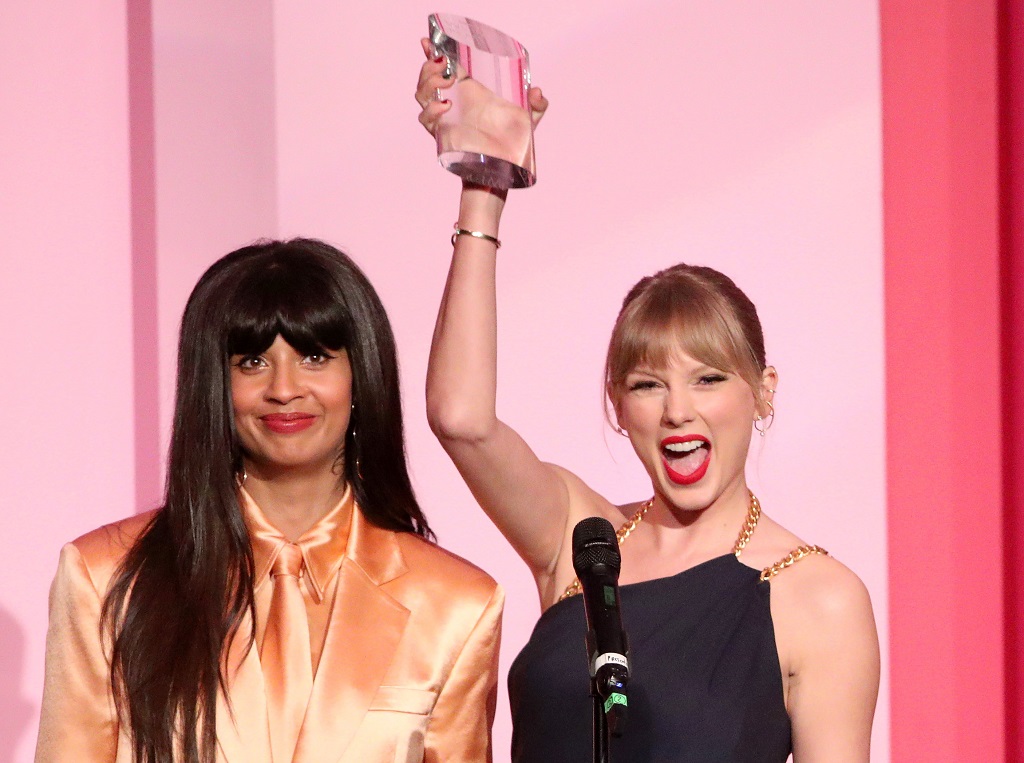 Swift then took the stage to give an incredibly moving speech, opening up about her career more than ever before. She explained how she was constantly doubted as a female artist. Swift said that every time she was criticized, she changed something, and the cycle began again.
Her speech continued to address her feud with Scooter Braun and Big Machine Records, as well as the issues with revenue in streaming. Swift ended things by bringing the conversation full circle. She explained why she plans to focus "less on doing what they say I can't do and more on doing whatever the hell I want." What a beautiful sentiment.