Former 'The Chi' Star Jason Mitchell Denied Misconduct Allegations and Explained Why He Got Fired
After Jason Mitchell's incredible portrayal as Eazy-E in Straight Outta Compton, he instantly became a household name. Writer Lena Waithe referred to him as the "black Tom Hanks," and he led her Showtime series, The Chi, as struggling cook, Brandon.
However, after only two seasons, Mitchell was fired from the series. The young actor went on The Breakfast Club to address why he got fired and if the misconduct allegations are true.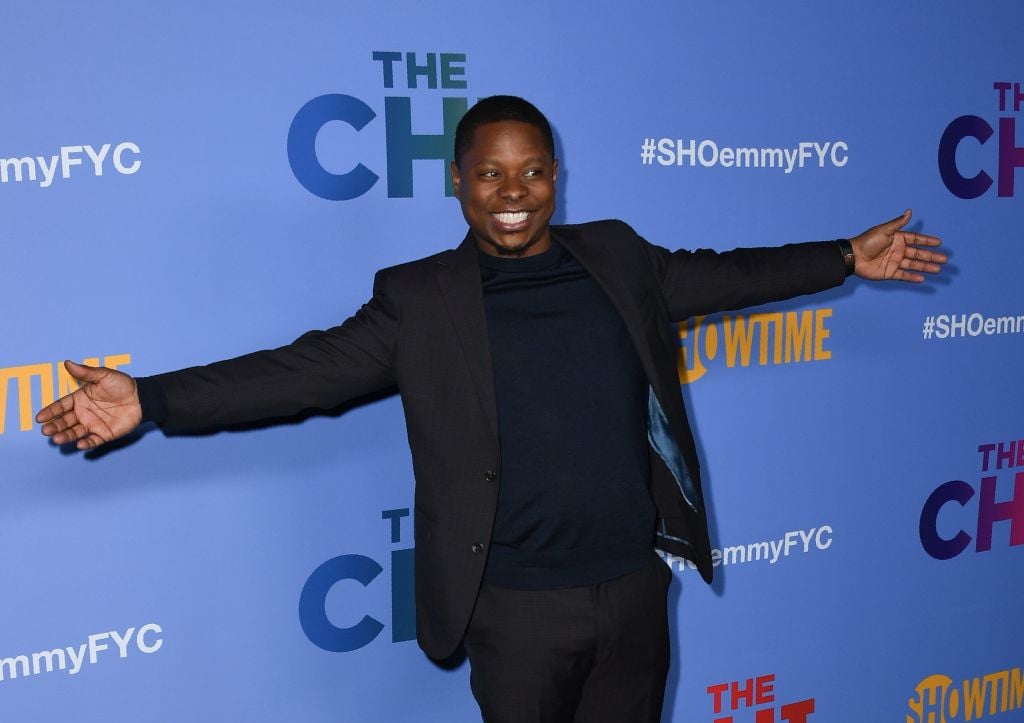 Jason Mitchell fired from 'The Chi' and 'Desperados' over misconduct allegations
In April 2019, seemingly out of nowhere, Mitchell was cut from upcoming Netflix film, Desperados, and fired as the lead character in The Chi. He was also dropped by his agent, management, and lawyer.
According to second-season showrunner Ayanna Floyd Davis and Tiffany Boone, who played Mitchell's on-screen girlfriend, both filed complaints to the HR department regarding his conduct.
Allegedly, Lena Waithe knew about Mitchell's behavior after the first season but didn't take action even though she's an activist for on-set safety. Davis released a statement accusing Waithe of covering for Mitchell and allowing him to work regardless of the multiple complaints.
She also said Boone was leaving the series as a direct result of Mitchell's alleged sexual harassment.
In a May 2019 interview with The Breakfast Club, Waithe acknowledged something inappropriate happened between Boone and Mitchell, saying, "Tiffany and I did have a conversation, and out of respect for her privacy, I will keep that conversation private, but we did discuss that stuff wasn't appropriate. And I remember looking at her – because we were Facetiming – and I was like, 'Yo, this is not cool. I feel awful that you had an experience on my set that was not pleasant.'"
Jason Mitchell explained why he got fired from 'Desperados'
Mitchell claimed he had no idea what the allegations were that resulted in his firing from Desperados. According to the young actor, he had drinks with a female co-worker and then made sure she got home safely.
However, when he came to film the next day, production had shut down, and instead, they talked to Mitchell about his interactions with the female co-worker.
He said they never told him what the allegations were but paid him in full and then fired him to avoid any uncomfortable situations between him and the female.
Because Disney now also owns Showtime, Mitchell believes they heard about the situation on Desperados and chose not to renew his contract.
Jason Mitchell explained why he got fired from 'The Chi'
On October 29, 2018, Mitchell's childhood friend, New Orleans rapper Young Greatness, was shot and killed. According to the actor, showrunner Davis pulled him aside and asked if he was doing alright. Mitchell admitted he was having a hard time dealing with the death of his friend, and Davis allegedly responded by saying, "I wanted to make sure you're okay, so you don't go home and self-medicate."
The response offended Mitchell because he felt like she didn't know him and judged him when he was dealing with a death, so the actor told Waithe about the situation.
He claimed the writer went to HR, and then Davis approached Mitchell about why he filed the complaint against her. The actor said the two then got into a heated discussion, which resulted in her firing.
However, during the argument, Davis accused Mitchell of being aggressive and threatening, which he admitted on the radio show. However, when it comes to Boone, the actor said she never lodged a complaint against him, and claimed Davis made up those accusations.
While he admitted they were not good friends, had different views, and were "very opinionated people," Mitchell said he and Boone agreed only to be co-workers and had no beef between them.
The actor also claimed Boone left the show because she received a "better job." Even though the actor denies the allegations against him, he is not taking any legal actions because he's "taking an L for putting himself in those situations."
After taking mental health classes, Mitchell noted he has "healed" from what happened, but is hurt that Waithe said she would never work with him again.