Jay-Z Reportedly Told This Celeb to Turn Down Similar NFL Deal
Last week, Jay-Z and Roger Goodell made a surprise announcement that Roc Nation would be partnering with the NFL. Since then, a spotlight has been placed on Jay-Z and his decision to team up with an organization that he's publicly criticized for its treatment of former San Francisco 49ers player, Colin Kaepernick.
Everyone from the general public to sports figures, to celebs have been debating on whether or not Jay-Z is acting in the interest of social justice or his own self interests. While he's stating his position is one with the intention to affect change from within the NFL, some are doubtful after hearing the latest news about another hip-hop artist who was approached by the league. What gives?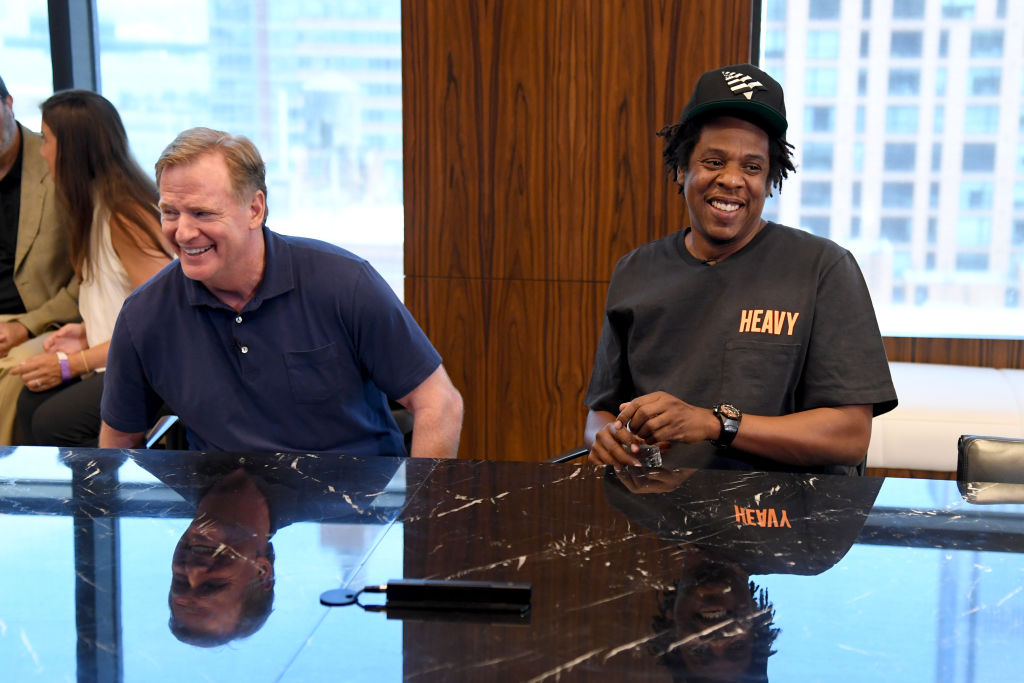 The background on Jay-Z's deal with the NFL
When the New York Times leaked the story early about the union, it was reported that Jay-Z would be an entertainment consultant for the NFL as well as helm the league's efforts for its social justice campaign, Inspire Change, which was launched in response to the controversy surrounding Kaepernick and other players who were kneeling during the national anthem.
Roc Nation is on board with its entertainment roster, and Jay-Z is to help guide that ship as well as the Inspire Change mission. The Associated Press quoted the rapper mogul as saying:
"I think we've moved past kneeling and I think it's time to go into actionable items. No, I don't want people to stop protesting at all. Kneeling — I know we're stuck on it because it's a real thing — but kneeling is a form of protest. I support protest across the board. We need to bring light to the issue. I think everyone knows what the issue is — we're done with that. But now that we all know what's going on, what are we going to do? How are we going to stop it? Because the kneeling was not about a job, it was about injustice."
While there are people who are angered and feel that Jay-Z is flipping his support for Kaepernick in favor of NFL money, others see it as an opportunity for the rapper/mogul to do some good. But now, his allegiance is once again being called into question after news hit that he's poised to become a team owner and he told a fellow musician to stay away from the NFL.
One celeb said he received a call from Jay-Z with advice
Musician Bryan-Michael Cox shared a story about Jay-Z and Jermaine Dupri, saying that the rapper advised Dupri not to go into a partnership with the NFL, Uproxx reports. Cox stated, "We're also talking about a guy who single-handedly picked up the phone and called Jermaine to tell him not to do it."
While that raised an eyebrow or two, the legendary DJ Funkmaster Flex weighed in on the story and confirmed it. He posted a lengthy message on Instagram stating that he spoke to Dupri directly who verified that last year, he was in the process of ironing out a partnership with the NFL when Jay-Z called. Jay advised Dupri to back off, saying it was a bad idea.
Jay-Z's hip-hop peers are divided
Killer Mike and 2 Live Crew's Uncle Luke are defending Jay-Z's position, and view it as a platform for the rapper to impart a socially-minded influence on the NFL, make money, and perhaps create jobs–even for Kaepernick.
Funkmaster Flex is unsure about Jay-Z's true intentions with the partnership, but wants to keep an open mind and wait to see what the billionaire rapper does with the NFL. According to BET, he took issue with Jay-Z saying that "we're past kneeling" and feels that the Kaepernick situation shouldn't be downplayed or dismissed. Like others, he's watching and thinking that only time will tell.