Jedidiah Duggar of 'Counting On' Will Earn $40,000 a Year If He Wins Election to the Arkansas House
Would you cast a vote for a Duggar? People in Arkansas House District 89 will get to decide if they'd like to give a Counting On cast member a chance to represent them in the Arkansas state legislature on March 3, when Jedidiah "Jed" Duggar, 20, will be on the ballot during the state's primary election. 
If Jed Duggar advances to the November 3, 2020, general election, he will likely face incumbent Democrat Megan Godfrey, who was elected in 2018. 
Jed Duggar is following in his dad's footsteps 
By venturing into politics, Jed is following in his father's footsteps. Jim Bob Duggar served in the Arkansas House of Representatives from 1999 to 2002. Later, he launched unsuccessful bids for the U.S. Senate and Arkansas State Senate. 
Though Jed is just 20 years old, he does have some political experience, according to his bio on his campaign website. He was the 2018 campaign manager for Arkansas State Senator Bob Ballinger and served as a legislative assistant at the Arkansas State Capitol in 2017.  
Jed Duggar could earn $40,000 a year if he wins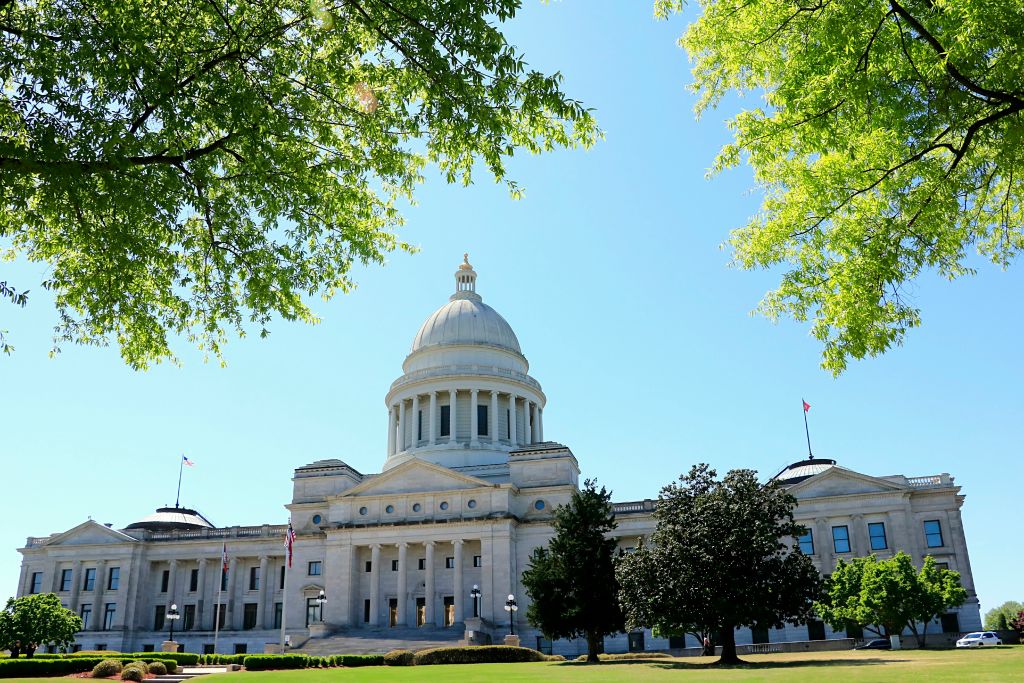 Currently, Jed is the owner of a used car business in Springdale, Arkansas. Used car dealers earn an average of $46,000 per year, according to PayScale.com. But if Jed wins the election, his income will nearly double. 
Legislators in Arkansas earn $40,188 per year, per Ballotpedia. Those who live more than 50 miles from the state capital of Little Rock also receive a $155 per diem on days the legislature is in session. The combined per diem and reimbursements for mileage and other expenses can total tens of thousands of dollars for some legislators, according to a report from the Arkansas Democrat Gazette.
Jed's political platform 
Jed's political platform is conservative, which is hardly a surprise given what we know about his family's values. On his website, he describes himself as "pro-life, pro-business, pro-family" and says that he "is committed to putting Springdale's conservative values first." 
In addition to being anti-choice and anti-tax, Jed also highlights his support for gun rights, saying that he "will defend our right to keep and bear arms and I will take a stand against liberal judges who trample on our God-given constitutional rights." He adds that he will support policies that will help veterans, will work to combat the opioid crisis, and fight for religious liberty. 
'Counting On' fans react to Jed's candidacy
Jed announced his candidacy on November 3. His big sister Jana was quick to voice her support for his campaign, writing on Instagram that she was "so proud of the man he is and the heart he has for serving the community of Springdale!"
Commenters on her Instagram has a largely positive reaction to Jed's move into politics. 
"Best of luck Jed, I hope you WIN!" wrote one.
"Good luck Jed!" commented another. 
On Jed's own Instagram, which he launched a few days before entering the race, the reaction was more mixed. While many people commented that they planned to vote for the young candidate (or would if they lived in his district), others asked some pointed questions about his positions, especially when it came to religious liberty. 
"Religious liberty for all, or just Christians?" wondered one commenter. 
"Would you care to outline what "religious liberties" means to you? Does this apply to ALL religions?" another asked. 
Others pointed out that the Duggar family home is actually in a different district than the one Jed is running in, leading them to wonder if he was even eligible for the seat. However, the address listed on the candidate information he filed with the Arkansas Secretary of State is within District 89.