What Is Beauty Guru Jeffree Star's Net Worth in 2019?
As one of the most popular beauty YouTubers, it's no secret that Jeffree Star is doing very well for himself. He owns several custom made pinball machines, a closet full of Birkin bags, a bumblebee yellow Lamborghini Urus SUV, and recently surprised his boyfriend, Nate Schwandt, with his dream James Bond car, a lime green Aston Martin Vantage worth around $155,000.
Currently, Star and Shane Dawson fans are glued to the YouTube documentary series, The Beautiful World of Jeffree Star, which revolves around the YouTube stars as they are showing the creation of their palette from an idea to the actual product.
In the documentary, the beauty mogul revealed he made around $20 million on his last launch. What is Jeffree Star's 2019 net worth?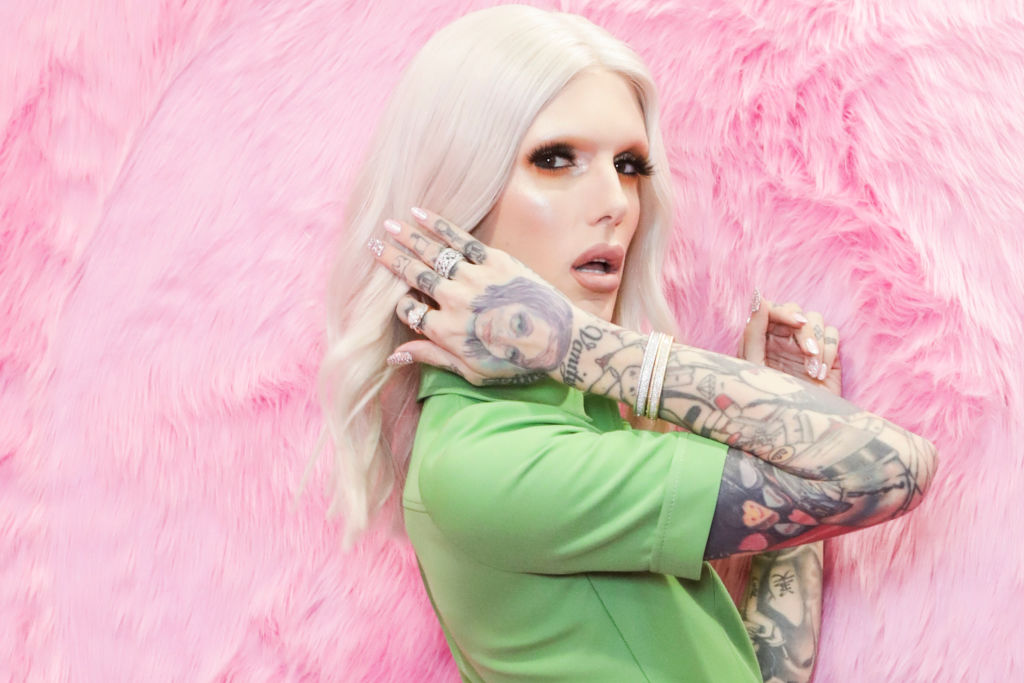 Before Jeffree Star became famous
Born Jeffrey Lynn Steininger Jr. on November 15, 1985, in Orange County, California, his father, of the same name, died by suicide when he was six-years-old.
Therefore, his mother raised him, and as an only child, they became very close. Star started experimenting with her makeup as a young child and then convinced his mom to let him wear it to school when he was around 6th or 7th grade.
He continued wearing makeup throughout school and immediately moved to Los Angeles after graduation to start a music and fashion career. He supported himself by working several different makeup, music, and modeling jobs, even using fake IDs to get into clubs and meet celebrities who would hire him to do their makeup at their house before events.
Still wanting to be an artist and fashionista, Star began using several websites to promote himself. After being convinced to join MySpace, he started blogging on the then-popular social media site, providing social commentary, and posting signature photo shoots along with his music.
His activity and enigmatic personality resonated with hundreds of thousands and fans, and he became the most followed person on MySpace in 2006.
Jeffree Star's controversial and successful rise to fame
In 2007, Star became friends with Peaches' drummer Samantha Maloney who encouraged the makeup artist to try his hand at music. He began performing as an electronica and pop vocalist, and released his debut album, Beauty Killer in 2009, which included a feature from Nicki Minaj and peaked at number seven on the US Billboard Top Electronic Albums chart.
The independent artist embarked on numerous world tours to promote his album and then landed a deal with rapper Akon's label, Konvict Muzik, in 2010.
Even though the rapper called Star "the next Lady Gaga," Star's second album was never released, and he abruptly left the music industry altogether in 2013, citing the signing as "the biggest mistake I've ever made."
Getting back to his love for makeup, the beauty guru used his life savings to start Jeffree Star Cosmetics and began promoting his brand by making YouTube videos in 2014.
His cosmetics line skyrocketed, and he became a prominent YouTuber, amassing over 16 million subscribers. Even though he's known for his public feuds with Kat Von D, Kylie Jenner, Manny Gutierrez (or Manny MUA), and James Charles, the beauty influencer is loved for his incredible makeup skills and provocative personality.
Star has also gotten into trouble a few times with fans who claim he's a racist after he was caught saying the "n-word" on camera and stated he wanted to throw battery acid on a black woman to lighten her skin.
Star has since apologized several times for his reckless comments. Additionally, Star suffered a minor setback in March 2019, when a crew, believed to be "professionals" who were "tipped off" by a previous employee, broke into his warehouse and stole more than $2.5 million worth of product including his unreleased Magic Star concealer.
What is Jeffree Star's 2019 net worth?
As one of the most successful beauty YouTubers, it is estimated that Star is pulling in at least $40,000 a week from his videos alone.
According to the beauty guru, his independent cosmetics line is earning him around $150 million a year, and he also owns an entire shipment and fulfillment center, a merchandise company, a few real estate properties, and has invested in the marijuana industry. Jeffree Star's 2019 net worth is an estimated $50 million.