David Eason Could Cost Jenelle Evans Permanent Custody of Her Children
MTV Teen Mom 2 star, Jenelle Evans, married David Eason in September 2017. Their relationship has been tumultuous from the start because of Eason's violent past and his controversial views. Eason went on a Twitter rant calling transgender and gay people "abominations" which resulted in his dismissal from Teen Mom 2. However, Evans chose to remain loyal to him and it cost her a job with MTV. Now, it may cost her custody of her children, too.
Fans have been fearing for Evan's and her children's safety since December 2018 when TMZ released a 911 call. On the call, we hear a scared Evans claiming Eason drunkenly pushed her down, hurting her collarbone. During a Teen Mom 2 scene, she brushed it off as a drunk fight and a "huge misunderstanding." Now, they are involved in another scandal which resulted in CPS removing all of Evans' children from her care.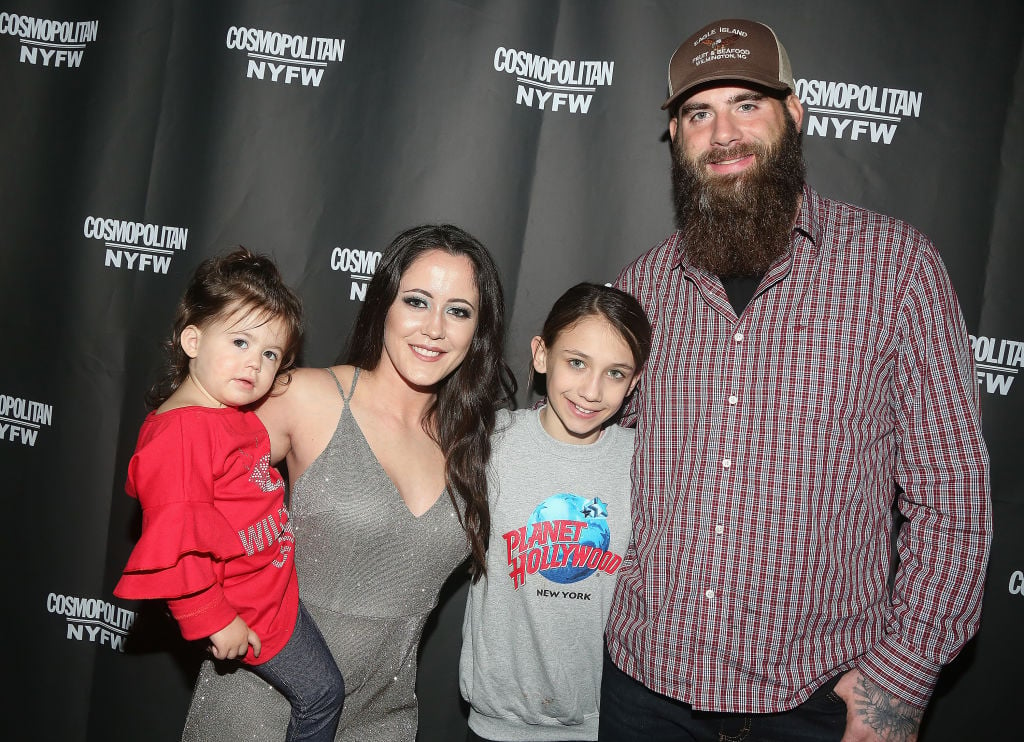 Evans has three children: Ensley Jolie Eason age 2, Kaiser Orion Griffith age 4, and Jace Vahn Evans, age 9. David Eason has two children: Maryssa Rose Eason, age 11 and Kaden David Eason, age 5.
Why are Jenelle Evans' children no longer in her care?
In May 2019, Eason posted a video of their two-year-old daughter, Ensley, playing with the family dog, Nugget. In the video, it shows the french bulldog barely nipping at Ensley. However, the nip left a red mark on Ensley's cheek, causing Eason to beat the dog and then shoot and kill Nugget. There was a public outrage from other Teen Mom 2 stars and even PETA weighing in on the scandal. Instagram has since deleted Eason's account.
Were all children taken away from Jenelle Evans?
Child Protective Services (CPS) got involved when Evans's ex (and father of her son, Kaiser), Nathan Griffith called 911. Griffith claimed their son was home when Eason killed the dog. Therefore, CPS allowed Griffith's mother, Doris, to pick Kaiser up from daycare. Evans told Us Weekly that "CPS told Doris to take Kaiser without my consent." She claims she is "fighting" to get Kaiser back as he remains in the custody of Griffith and his mother.
The authorities initially had a difficult time reaching the other children because the agencies were afraid to go on Evans and Eason's property. However, a North Carolina judge signed CPS's request to remove "all the children in the home."
Evans' oldest child, 9-year-old Jace, who she shares with Andrew Lewis, cannot visit Evans home per CPS orders. Evans mom, Barbara, has had full custody for the majority of Jace's life. However, CPS has halted Evans' visitation rights.
Eason has two children, Maryssa and Kaden, from previous relationships. Eason does not have custody of Kaden, however, Maryssa was in the house when Nugget was killed. Jenelle claimed Maryssa "immediately went into her bedroom and didn't come out all night until the next day." Ensley and Maryssa have both been removed from the home as well, but it is not clear where they have been placed.
CPS will not reinstate visitation rights until the investigation is complete.
What can Jenelle Evans do to get her children back?
North Carolina family attorney, Christopher Adkins, explained to HollywoodLife how Evans could regain custody of her children. He claims if the investigation turns out Eason did kill Nugget and Jenelle stays with him anyway, she could lose custody for good. To get the children back, Jenelle must prove to CPS that her home is safe and suitable for kids. CPS wants to guarantee there aren't any easily accessible guns, no drugs, and Eason is in an anger management program. Adkins also claims that the fathers of Evans' other children may be able to modify the custody agreement. Although it has not been confirmed, Evans possibly has visitation rights with the children outside of the home.