Jenna Marbles Net Worth: How This YouTube Star Became So Successful
Similar to the traditional entertainment world, YouTube entertainers often surge in popularity and quickly drop off the radar shortly thereafter. However, there are many stars — such as PewDiePie — that continued to grow a following long after their first viral videos made the rounds.
Though you may not know much about her, you may have heard of Jenna Marbles, the comedian and YouTube personality who continues to publish videos that earn millions of views despite having been on the platform for almost a decade.
Here's everything you need to know about the popular YouTube star — including her net worth and how she makes money online.
Who is Jenna Marbles?
Jenna Mourey (known publicly as Jenna Marbles) started her YouTube channel in 2010. A writer and aspiring comedian, she published popular videos about her life, offering dubious advice to a small number of viewers on topics such as how to avoid talking to people you don't want to talk to.
During the early years of her channel, Jenna worked as a writer and go-go dancer in Boston. She was eventually able to quit her jobs, move to Los Angeles, and make videos on YouTube full-time.
Now, she occasionally travels to colleges and universities as a featured speaker in addition to making videos, co-hosting a podcast, and streaming gameplay on the live-streaming video platform Twitch.
Her boyfriend, Julien Solomita, is also a YouTuber and Twitch streamer. Solamita is frequently featured on Jenna's channel both in front of and behind the camera. His channel features vlogs ("video blogs") and several short films and has 1.7 million subscribers.
The couple lives with Jenna's two dogs and Julian's Italian Greyhound and frequently feature the three "siblings" in videos on both of their channels.
How many subscribers does Jenna Marbles have?
Despite mostly staying out of mainstream news, avoiding major controversy, and keeping the same publishing schedule since 2010, Jenna has maintained her success. Her willingness to stay true to herself while keeping up with trends (and making "doing her own thing" part of her brand) has largely contributed to her steadily growing channel.
The content on her channel has evolved over the past eight years as she has. She began uploading videos with titles such as "How Girls Get Dressed" that might have been considered clickbait if that had been a common term back in 2010.
Now, she posts a variety of content on the Jenna Marbles channel — everything from creating Halloween costumes for her dogs to putting on 100 layers of makeup. Her most recent video is titled "Cutting Soap for My Dog While He Wears a Turtleneck." At least you know exactly what you're in for if you click on it.
Despite this gradual evolution and limiting her schedule to one video per week, Jenna has still managed to grow her subscriber base and establish her own unique brand of what she commonly calls "doing whatever the (expletive) I want."
It works, though. The channel has just under 19 million subscribers as of December 2018.
Jenna Marbles net worth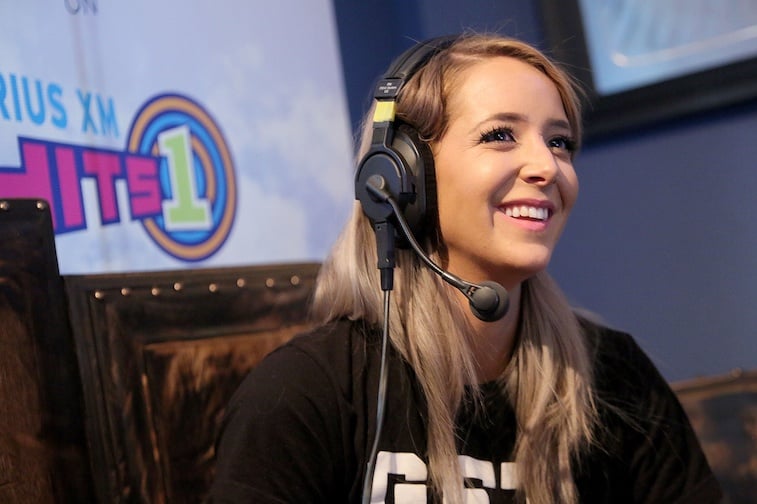 Celebrity Net Worth reports she is worth an estimated $8 million.
In addition to her YouTube channel, the Twitch channel she shares with Julien has over 230,000 followers. Videos on this platform play ads while viewers are watching. Followers can also subscribe to Twitch and its channels for a monthly fee, which also helps streamers earn income.
She and her boyfriend also co-host a weekly podcast, The Jenna & Julien Podcast, which is sponsored by brands who pay to have ads for their products read throughout each episode.
Jenna hosted a long-running weekly radio show on SiriusXM that featured top musical hits popular on YouTube that week, which earned her steady income for years.
How does Jenna Marbles make money on YouTube?
Per online advertising averages, a monetized video on YouTube typically earns, at the low end of the spectrum, $2 per 1,000 views. This means a video that accumulates 1 million views would typically earn $2,000.
If this industry standard reflects Jenna's Google AdSense earnings, her "A Full Face of Rhinestones" video — which has been viewed about 9.3 million times — would have earned $18,000 since it was first published. And this is just one of the hundreds of videos viewable on her channel.
In addition to revenue from Jenna Marbles videos, The Jenna & Julien Podcast also has its own YouTube channel that uploads video versions of each episode, which are also monetized.