Jennifer Aniston and Brad Pitt Secretly Meeting Up? They're Just Friends
Before there was Brangelina there was Brad and Jennifer. Brad Pitt and Jennifer Aniston were at one time, the hottest couple in Hollywood. After they abruptly ended their relationship, fans were heartbroken. Even after both Brad and Jennifer married other people, there were still a large group of fans that secretly hoped the two would get back together.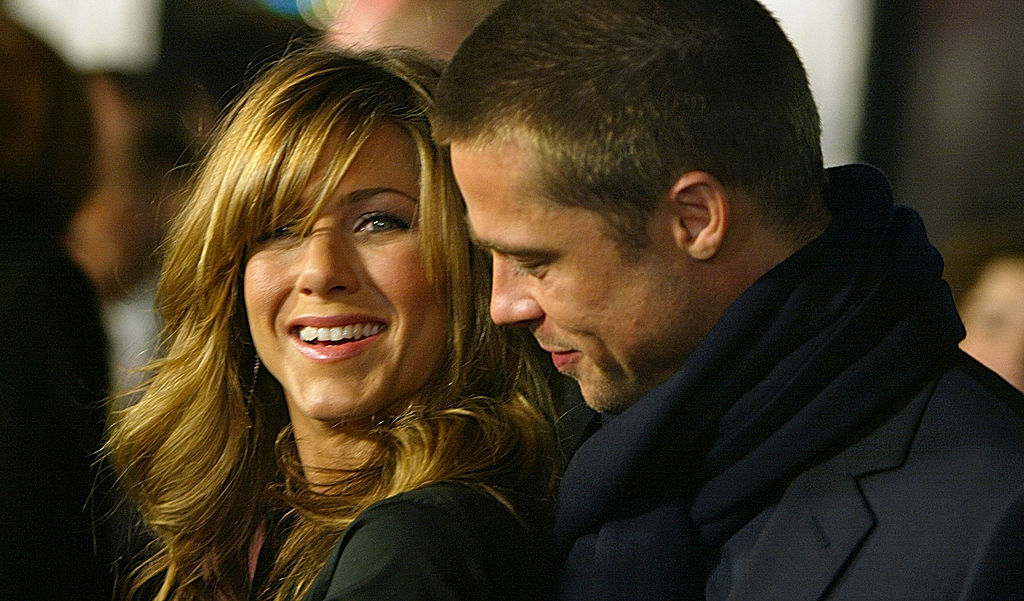 Now that the two are both single again, fans are crossing their fingers that they will finally be able to reconnect. Recently, it was rumored that Brad and Jen had a secret meeting. Many people are now starting to wonder if Brad and Jennifer's many fans will finally have their wish come true. So, is there any truth to the rumors? Could Brad Pitt and Jennifer Aniston actually be planning a reconciliation? Here is what we know.
How long were Jennifer Aniston and Brad Pitt married?
After dating for two years, Brad Pitt and Jennifer Aniston got married on July 29, 2000. The two were the hottest A-list celebrity couple for many years.
Then, in 2004, Brad started working with Angelina Jolie on the movie, Mr. & Mrs. Smith. Because Brad and Angelina had so much chemistry on the set of the movie, rumors immediately started to swirl that Brad was having an affair. Although both of them deny actually being romantically involved while Brad was married to Jennifer, Angelina did eventually admit that she fell in love with Brad while filming the movie.
The next year, after Brad and Jennifer had been married for five years, Hollywood's "it" couple announced that they were getting a divorce. Shortly after that, Brad and Angelina started dating, which only made the affair rumors even worse.
Is the media still obsessed with Brad Pitt and Jennifer Aniston's relationship?
The media had always been subtly pushing for Brad and Jennifer to get back together, especially after Brad announced he and Angelina were getting divorced in 2016. However, it wasn't until Jennifer announced her split from then-husband, Justin Theroux in 2018 that the media really started to zone in on the possibility of Brad and Jen's reconciliation.
Earlier this year, fans from all over the world were overjoyed when they heard the news Brad Pitt had attended Jennifer Aniston's 50th birthday party. There were a few rumors going around that Brad's presence may signify that he was trying to get back with the former Friends actress. But it was quickly revealed that a romantic reconnection was not in the cards. Many sources close to Brad and Jennifer said he was only at the party to show his support for her on her birthday and that the two were strictly just friends.
Are Jennifer Aniston and Brad Pitt secretly meeting up?
Since Aniston and Theroux's split, there have been countless rumors that Jennifer is trying to get back with Brad Pitt.
First, there was a rumor swirling around about how Jennifer and Brad were planning to meet in London while the actress was filming her newest movie, Murder Mystery. Then there were several rumors that stated Brad and Jen were secretly meeting up at various places, including Brad's beach house in Santa Barbara for a quick romantic getaway. There were even rumors the two had traveled to Cabo San Lucas, Mexico to rekindle their love.
It seemed like every other week there was a new rumor about how Brad and Jen were trying to escape the public and resume their relationship. However, Gossip Cop was able to successfully debunk every one of these rumors and confirm Brad and Jen have never gone away together since their divorce and they remain good friends that only talk occasionally.
Although it doesn't look like Brad Pitt and Jennifer Aniston will ever get back together, Cosmopolitan recently reported that Jen's friends are encouraging her to get back out in the dating scene. So, there is a good chance that we could be hearing about a brand new love interest in Jen's life very soon.