Jennifer Aniston and Justin Theroux May Be Split Up But Here's Proof They're Friendly
Jennifer Aniston became a household name for playing Rachel Green on Friends. The sitcom was undoubtedly one of the best things to come out of the 90s. When it came to social media, Aniston was stuck in the Friends era until recently: The actress is finally on Instagram.
Fans were thrilled to see the actress on the platform and Aniston was credited to "breaking" Instagram. Her first post, naturally, went viral. It was a selfie of Aniston with her former Friends castmates.
Aniston follows less than 200 people and one of them is her ex-husband Justin Theroux. Keen-eyed fans were able to see their connection on Instagram and deduce that even though these two are split up, they've still remained good friends.
Jennifer Aniston and Justin Theroux's relationship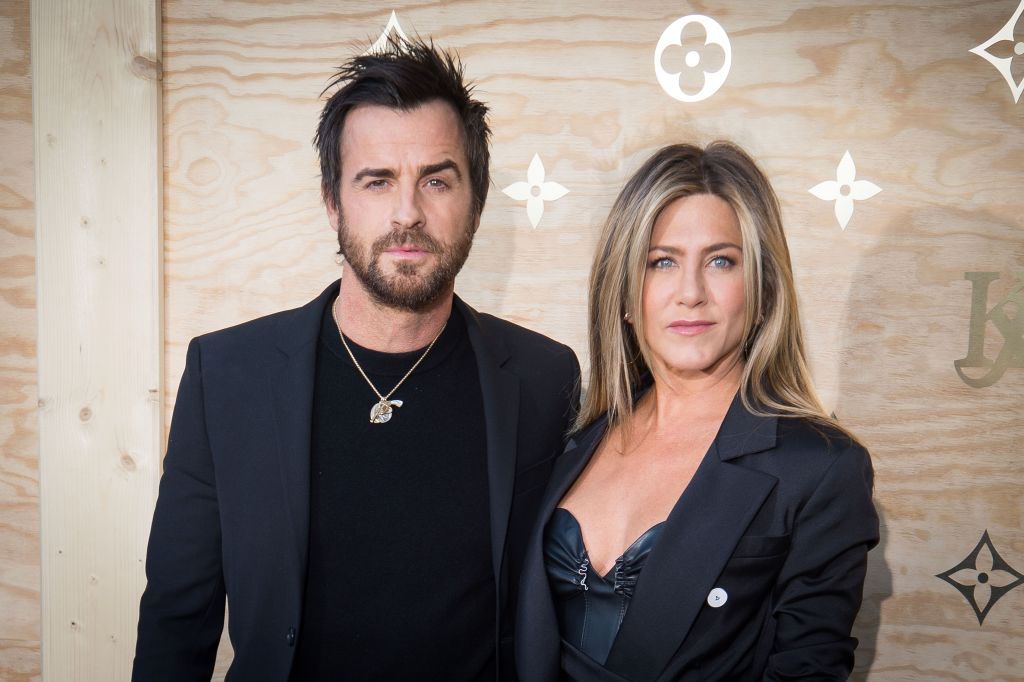 Aniston and Theroux have known each other for a long time, and they have friends in common. Theroux co-wrote Tropic Thunder with Ben Stiller, a friend of Aniston's.
Aniston met Theroux through Stiller in 2007, but he kind of freaked her out. She said she thought Theroux could be "like a serial killer," which is a weird thing to say about your future husband.
Even though Aniston eventually warmed up to Theroux, the two were just friends for a long time. Then, in 2012, they worked on Wanderlust together, and things got serious. So serious that they were able to brush aside some really big differences. They were married in 2015, but those differences began to matter more and more as the honeymoon phase of their relationship wore off.
Jennifer Aniston and Justin Theroux split up
Aniston and Theroux couldn't agree on where to live, and their lifestyles were just too different. Aniston prefers L.A. and has to constantly hide from paparazzi. Theroux has made a life for himself in New York City, and it's a pretty normal one. He didn't like being in the public eye, which is what happens when you marry an A-lister.
The two were adamant from the beginning that their separation was mutual and totally amicable. That's hard to believe for many fans since emotions tend to get the best of people — even in mutual separations.
In Aniston's case, it seems to be true. She and Theroux seem totally supportive of each other, even though their relationship didn't work out. Now we have even more proof that these two are really on good terms.
Jennifer Aniston and Justin Theroux are still close
Theroux was one of the first people Aniston followed with her new Instagram account, and he followed her back.
He also commented on her first photo. Theroux wrote: "Woot-Woot! 🙌♥️ #first" in response to her selfie with the Friends cast.
We don't know many people who would rush to publicly follow their ex on social media if they weren't on good terms. Their social media interaction is a clear sign that they're still close.
That's not the only proof we have that these two have an admirable relationship. They reunited over the summer to bury their rescue dog, Dolly. Theroux posted about it on Instagram, but this was before Aniston joined, so he couldn't tag her. There are pics of Aniston and Theroux holding hands, though. It was clearly an emotional time, so we're glad they could be there for each other.
Even though these two broke up, they're still #relationshipgoals, just like when they were together. They're the best example we've seen of how to break up and stay friends. Hopefully, now that Aniston is on Instagram, we'll get more insight into their sweet relationship.