Celebrity / Royal family / TV
Jennifer Aniston Just Overshadowed Meghan Markle and Prince Harry: Here's How
Jennifer Aniston broke an Instagram world record previously held by Meghan Markle and Prince Harry.
It's difficult to best Meghan Markle and Prince Harry at just about anything. After all, they're one of the most buzzed-about couples in the world. And they're literal royalty!
But Friends veteran and Hollywood mainstay Jennifer Aniston just broke a record that the Duke and Duchess of Sussex previously held: gaining the largest number of new Instagram followers in the shortest amount of time.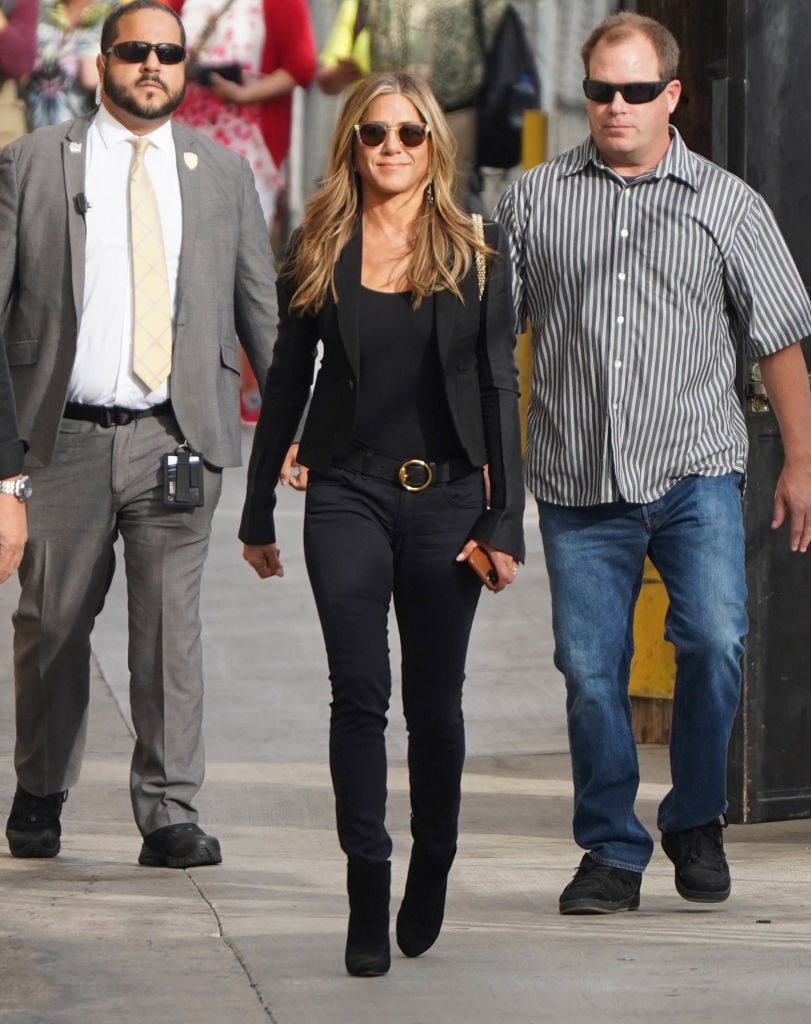 Aniston's Instagram broke a Guinness World Record
Aniston's new Instagram account almost literally broke the internet this week. She reached one million followers in just over five hours and even temporarily crashed the platform.
As fans flocked to her verified account and fellow A-listers like Oprah and Reese Witherspoon said hello, Instagram even got shut down for a bit as the site was overcrowded with millions of visitors. And the momentum didn't stop there: Aniston made it to 8.6 million followers in only 24 hours.
The Guinness World Records' official website announced that Aniston was the new record-holder shortly thereafter, writing: "Friends star Jennifer Aniston has taken Instagram by storm, joining the platform and rapidly setting a new record for the fastest time to reach one million followers in just 5 hours and 16 minutes."
The Duke and Duchess of Sussex broke the record first in April
Meghan Markle and Prince Harry launched their official joint account, @sussexroyal, in April, when Markle was still pregnant with Archie. The couple made Instagram history by getting a million followers in a little under six hours.
Their first post was far more formal than Aniston's, reading: "Welcome to our official Instagram; we look forward to sharing the work that drives us, the causes we support, important announcements, and the opportunity to shine a light on key issues. We thank you for your support, and welcome you to @sussexroyal."- Harry & Meghan
As of Oct. 18, 2019, the Duke and Duchess of Sussex have 9.7 million followers. Aniston has 13.6 million.
K-pop star Kang Daniel held the world record for the largest number of Instagram followers in the shortest space of time before Meghan Markle and Prince Harry, having achieved a million followers in a little under 12 hours.
Aniston started her Instagram with a 'Friends' reference
50-year-old Aniston, whose Insta bio reads simply, "My friends call me Jen," launched her Instagram with a reference to the classic 1990s show that made her an international A-lister and Hollywood icon: Friends.
The star posted a recent selfie with several of her Friends costars, including Courteney Cox, Lisa Kudrow, David Schwimmer, Matthew Perry, and Matt LeBlanc. The cast was all smiles. Aniston's caption read, "And now we're Instagram FRIENDS too. HI INSTAGRAM."
Former Bachelor contestant Kaitlyn Bristowe commented, jokingly asking Aniston if she "and Ross" were still together. Aniston replied, "well we're on a break," to the delight of Friends fans.
Since then, Aniston has made two more posts. In one, she wrote, "I swear I didn't mean to break it… Thank you guys for the kind, glitchy welcome," and in the other, she shared a childhood photo for #TBT next to a recent photo of herself in a similar pose. "In style, then and now," she quipped.