Jennifer Aniston Met With These Talk Show Hosts to Prepare for 'The Morning Show'
A new TV series, The Morning Show, will give a unique look at the drama behind the scenes of one fictional talk show. Jennifer Aniston stars in the show, which is coming to Apple TV+ very soon. Learn how she prepared for the role.
Jennifer Aniston is returning to TV
Everyone knows that Aniston began her career on TV, on the beloved NBC sitcom Friends. Since the series went off the air back in 2004, she has generally stayed away from the small screen, starring in films such as Marley & Me and Horrible Bosses.
But now, Aniston has a TV series on the way. She is one of a few big movie stars who make up the cast of The Morning Show. Due out on Nov. 1, 2019, the series is highly anticipated, as is Aniston's return to television.
What is 'The Morning Show' about?
Aniston stars in The Morning Show as Alex Levy, a morning talk show host who has been in the public eye for quite some time. However, after her co-host, Mitch Kessler, is fired for sexual misconduct, she has a new challenge to deal with: Reese Witherspoon's Bradley Jackson, who is gunning for her job.
"It's very timely," Aniston says of the show, which certainly makes sense in the wake of the Matt Lauer scandal. Of the concept, she says about morning shows and their hosts: "You wake up with them every morning. It's your comfort food. They send you off into your day feeling great about it, or not so great."
Here's who she met with to prepare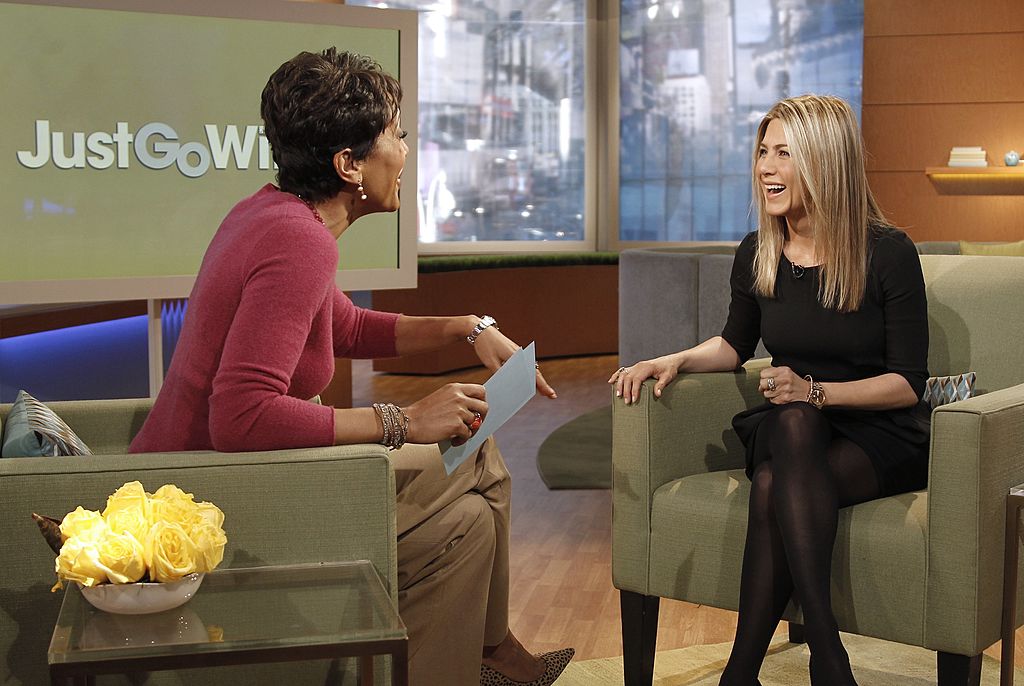 "I went and shadowed on GMA [Good Morning America]. Got there at seven o'clock in the morning," she told Jimmy Kimmel. "But it is a fascinating world. It's like an engine that revs up for these two hours from 5:00 to 7:00. It's like something you've never seen before. I was like, 'I don't need Adderall, this is my Adderall. "
Aniston called George Stephanopoulos and Robin Roberts "quite lovely," adding, "They were all just so gracious." She also said that "a lot of women were coming up and saying, 'You've got to tell them this is what happens and they don't let us do this,'" she said, whispering. "A lot of people, it's like they're in cages, like, 'Get me out of here!'"
Another famous host Aniston knows
Additionally, she met and had dinner with Diane Sawyer. "I've known her for years," she said. "Oh, she told me some good stuff," Aniston continued, but added, "I can't divulge too much."
When Kimmel pressed her, she said. "You'll watch the show and next time I see you I'll ask if you can pick out a Diane-ism." Aniston added, "I worship her. If I could emulate anyone, it's her."
She also talked about Instagram
The Morning Show was, of course, the reason Aniston came on Jimmy Kimmel Live!, but there was another pressing matter to discuss. She finally took the plunge and decided to join Instagram, and she practically broke the internet with her first post: A Friends reunion, naturally.
While some celebrities join and then simply abandon their accounts, or only use them for a particular project, Aniston seems poised to keep the momentum going. She told Kimmel she is "trying to build content." So far, she's been consistent and even has begun using Instagram Stories. She sounds like a great "friend" to have on social media.