Jennifer Aniston's Net Worth (And How Much She Still Makes From 'Friends')
Most of us came to know Jennifer Aniston when she played Rachel Green in the cult-favorite sitcom, Friends. As a single 20-something in New York City, her character struggled to figure out supporting herself financially and making it on her own.
In real life, Aniston is far from having the same financial problems as her character. Although her status as a Hollywood A-lister is well-known, her impressive net worth will leave you stunned. Plus, find out how much money she's still raking in from the success of Friends.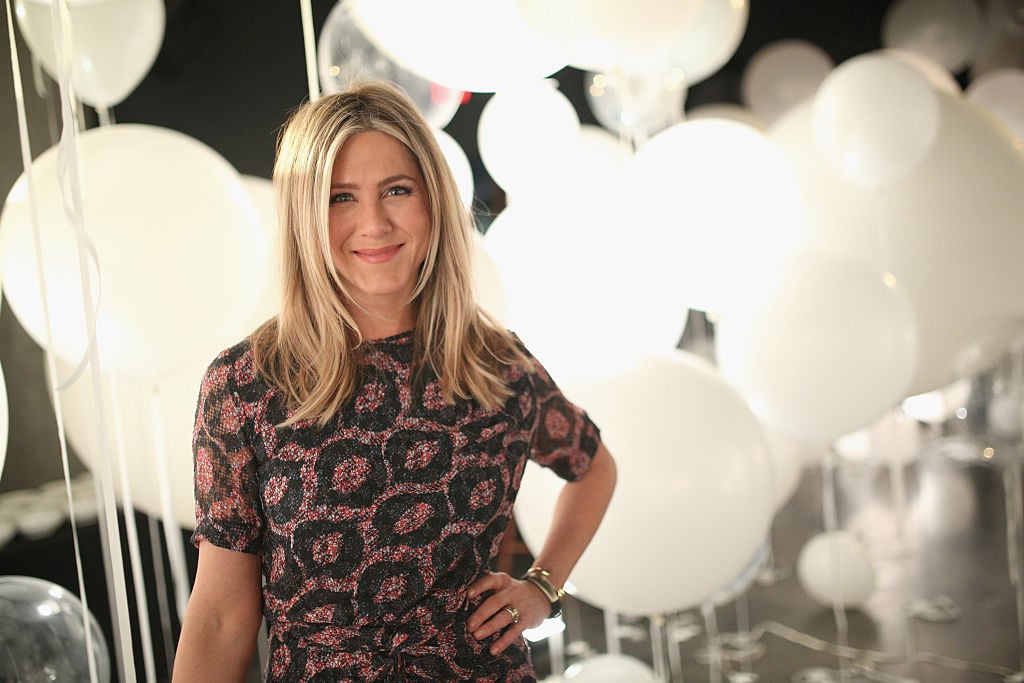 Her net worth is $220 million
As of 2017, Aniston is reportedly worth a whopping $220 million. During the same year, Forbes ranked her in second place on their list of the world's highest-paid actresses — right behind Emma Stone as No. 1.
Aniston, however, is no stranger to being included on Forbes' lists of successful celebrities. Since 2001, she's made their Celebrity 100 list, which takes into account "earnings and fame." In 2003, she managed to make it to first place.
She still makes $20 million per year from Friends
The last episode of Friends aired in 2004, but Aniston is still reaping the benefits of her starring role. Considering the show manages to bring in $1 billion annually for Warner Bros., USA Today reported that in 2015, each star was still making $20 million per year.
Over the course of the last two seasons, the stars each made $1 million per episode. As Heavy pointed out, the members of the Big Bang Theory cast are likely the only other TV actors who can relate to this kind of income.
Her movies have seen success in the box office
Aside from playing Rachel Green in Friends, Aniston hasn't always been known to sign on to the most critically acclaimed projects. But according to her net worth, she hasn't exactly needed to.
She starred in films such as The Bounty Hunter (2010), We're the Millers (2013), and Just Go With It (2011), none of which warranted Aniston to win any awards. They still managed to find success in the worldwide box office, with each respectively earning $136 million, $270 million, and $214 million, according to Heavy.
For her role in Friends, however, Aniston was nominated for (and won) a number of awards. Those include a Golden Globe, Screen Actors Guild Award, and a Primetime Emmy Award.
Endorsements are a huge source of her income
https://www.instagram.com/p/BcSG2AplmI7/?taken-by=smartwater
We may associate Aniston with Friends, but thanks to her successful endorsements over the years, we can't picture certain products without thinking of her. One product in particular that comes to mind is Smartwater, which Aniston has been a spokesperson for since 2007.
She's also signed onto a $5 million deal with Emirate Airlines, including digital and TV campaigns.
Aniston has been involved with a number of hair and beauty products, as well. She's partnered with L'Oreal and Aveeno, and even became part-owner of Living Proof. Her involvement with Living Proof lasted from 2012 to 2016, only ending when the company was acquired by Unilever.
She's even released six fragrances in partnership with Elizabeth Arden, but she's vowed against getting involved in cologne.
Money likely didn't get in the way of her divorce from Justin Theroux
We're still getting over the fact that Aniston and Justin Theroux announced their separation on Feb. 15, 2018. Even though the celebrity couple was only married for two and a half years, they were together since 2011.
Their engagement lasted for three years, which according to Life & Style, was thanks to their prenuptial agreement negotiations. And honestly, with Aniston's impressive net worth, we don't blame her for wanting to protect her assets.
It's not like Theroux is financially struggling, either, as his net worth is estimated around $20 million. While the details of the prenup reportedly put a strain on their relationship at the time, it hopefully made the financial aspect of their divorce easier to work through.