Inside Jennifer Aniston's Relationship with the 'Friends' Cast
It's no secret that the Friends cast were once tightknit off-screen. But, what do their relationships look like today? On screen, the six starring roles supported each other in the ups and downs of life. They were there for weddings (and all of Ross' divorces), births, job promotions, and more. And, today, some of them are still there for each other in big ways.
One cast member that has managed to keep her friendships with the starring cast strong? Jennifer Aniston. From Courteney Cox to David Schwimmer, Jennifer Aniston's relationship with the Friends cast is like that of best friends from high school. Keep reading to find out how the cast has managed to stay in touch over the years, plus what Jennifer Aniston's relationship with the Friends cast is like today.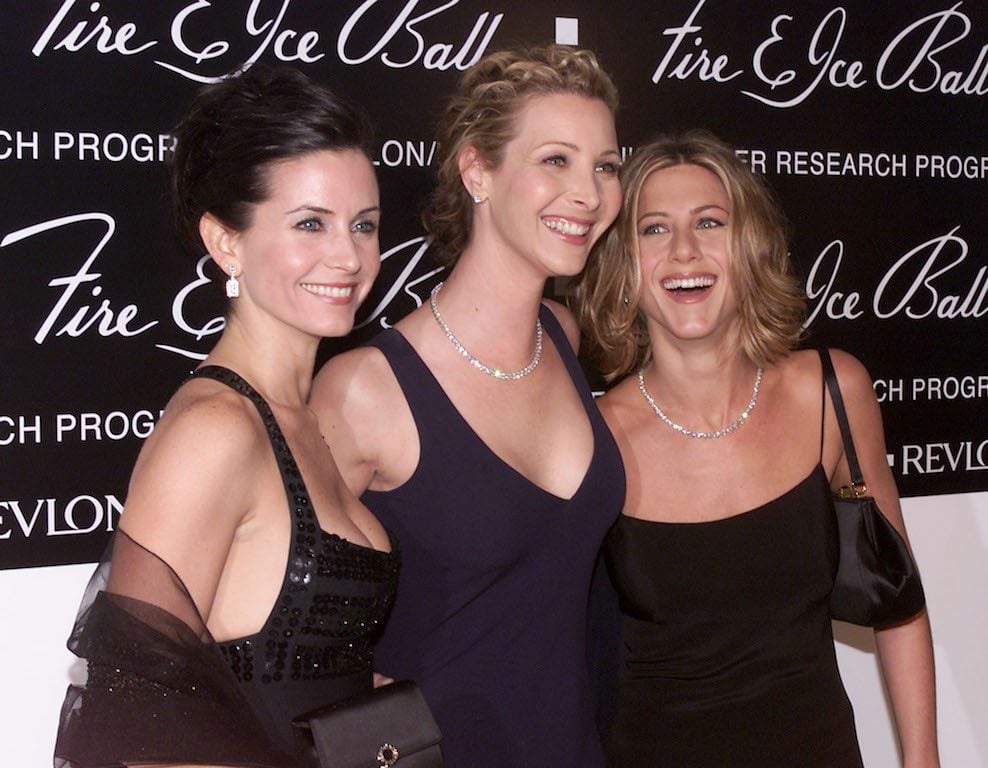 Jennifer Aniston's relationship with the Friends cast is still going strong. | Kevin Winter/Getty Images
Jennifer Aniston's relationship with the 'Friends' cast
Fans want to know: Is the cast of Friends still friends? While filming the series, the six starring actors were said to be the best of friends both on the show and off. And although the show has been off the air for nearly 15 years, some of them continue to support each other throughout all of life's milestones. Case in point: Jennifer Aniston is still close with some of her castmates and godmother to Courteney Cox's daughter, Coco Arquette.
Curious to know what Jennifer Aniston's relationship with the Friends cast is really like? Keep reading to find out.
Courteney Cox
Jennifer Aniston and Courtney Cox's relationship is perhaps one of the strongest out of the entire cast. On the show, they portrayed best friends that were there for each other no matter what. In real life, it's not all that different. In 2004, Courteney Cox named Jennifer Aniston godmother to her daughter, Coco Arquette. And, when she split from her first husband, David Arquette, Jennifer Aniston was there for her friend just like Rachel would have been there for Monica. According to reports, Jennifer Aniston will serve as maid of honor at Courteney Cox's wedding with long-time beau Johnny McDaid.
Courteney Cox has also been there for Jennifer Aniston throughout the years. When she and Brad Pitt split up, Courteney was there for her friend and offered her a place to stay. And, when Jennifer Aniston married Justin Theroux in 2015, Courteney Cox served as maid of honor. Also, Courtney Cox once took out an ad in the Hollywood Reporter to congratulate her best friend on winning the Showest Female of The Year award in 2005. The ad read: "Congratulations Jennifer. Your enormous heart makes you an incredible actress and beautiful friend. We love you. Courteney, David, and Coco."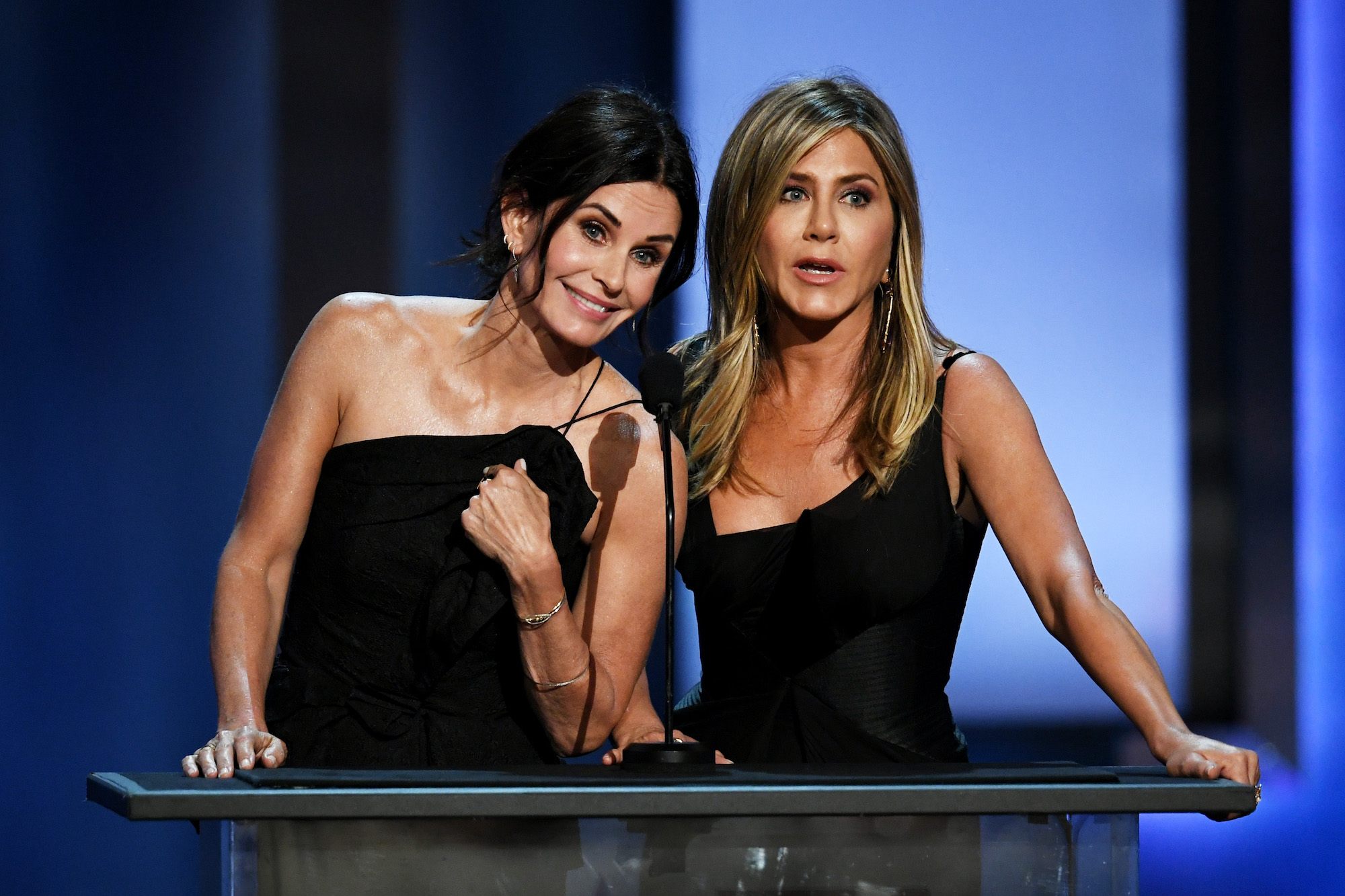 Matthew Perry
The Friends cast often admits to being best friends while filming the hit series. So it should come of no surprise that Jennifer Aniston and Matthew Perry were also close. Rumor has it, Matthew Perry and Jennifer Aniston might have even had a fling after the show ended in 2004.
Lisa Kudrow
Like Courteney Cox and Matthew Perry, Jennifer Aniston was also close to Lisa Kudrow. And, Courteney Cox recently revealed that the three starring ladies have a group chat. "Lisa, Jennifer and I all have a text chain," Cox said. "But to me it's too much pressure. I'm not into the group text chain. I don't really like it," she added.
Matt LeBlanc
Friends fans know that Joey and Rachel had one of the most intimate relationships on the show. They were not only best friends, but they were also roommates and — at one point — lovers. And although their on-air relationship didn't work out, Matt LeBlanc and Jennifer Aniston hit it off in real life. According to LeBlanc's father, the two used to make out in the dressing room. That said, both Matt and Jennifer's reps denied the claim.
Today, Matt LeBlanc still supports his friend. He was the first cast member to speak out about Jennifer Aniston and Justin Theroux's split, stating "I haven't spoken to Jennifer about it, but I'm sure she's doing OK right now. She's a big girl."
David Schwimmer
Rachel and Ross might have been each other's lobsters on the show. But, today they are just friends. The former co-stars are allegedly very close and have been spotted at restaurants and bars together in Los Angeles, California.
Check out The Cheat Sheet on Facebook!