Jennifer Lopez Revealed She 'Almost Blinded Jane Fonda' While Filming 'Monster-In-Law' Slap Scene
Jennifer Lopez almost injured Jane Fonda. 
That's what 49-year-old Lopez revealed in a video posted to her YouTube channel called "JLo REACTS to Monster-In-Law." 
Lopez who is now on her It's My Party tour in honor of her 50th birthday — she turns 50 on July 24 — starred opposite Fonda, 81, in the 2005 romantic comedy, Monster-In-Law, where Lopez played the woman marrying Fonda's onscreen son (Michael Vartan). 
Fonda's character spent the entire film trying to break up her son and future daughter-in-law's relationship, which culminated in the now-famous slap scene Lopez discussed in the video. Before she revealed behind-the-scenes details about the movie, although not before she praised Fonda. 
"Working with Jane Fonda was one of the highlights of my career," she said. "She is such a powerful presence and so in the moment. It is everything you dream of when you're coming up as an actress and you think about working with the greats," she added.
Jennifer Lopez 'almost blinded Jane Fonda' while filming 'Monster-In-Law' slap scene
The recently engaged actress, singer, and dancer then revealed how she almost injured Fonda on set during the slap scene. 
"She really, really went for it. So did I and then I punched her in the eye by mistake," Lopez said. "I was so afraid to hit Jane Fonda in the face or hurt her in any way. And really, her character was very much like her and my character was very much like me. I was so afraid of her," she added. 
She also revealed she and Fonda slapped each other until "the scene took on a life of its own," adding that the slaps weren't supposed to be part of the scene at all. 
Lopez revealed after shooting the scene Fonda had a blood blister on her eyelid because "my nail went up into her eye. I was mortified. I was just like 'I'm so sorry.'"
Although she felt so bad about hurting her co-star, Lopez had fun. "This was one of the most fun scenes I've ever done," she said in the video. 
Fonda and Lopez haven't starred in any films together since Monsters-In-Law but they've come together at events, such as the dedication ceremony of Lopez's star on the Hollywood Walk of Fame in 2013. 
Fonda attended the ceremony and gave a funny and heartfelt speech about her former costar. 
"She should have an entire block of stars. In my opinion, she's only scratched the surface in what she's capable of," Fonda said of Lopez.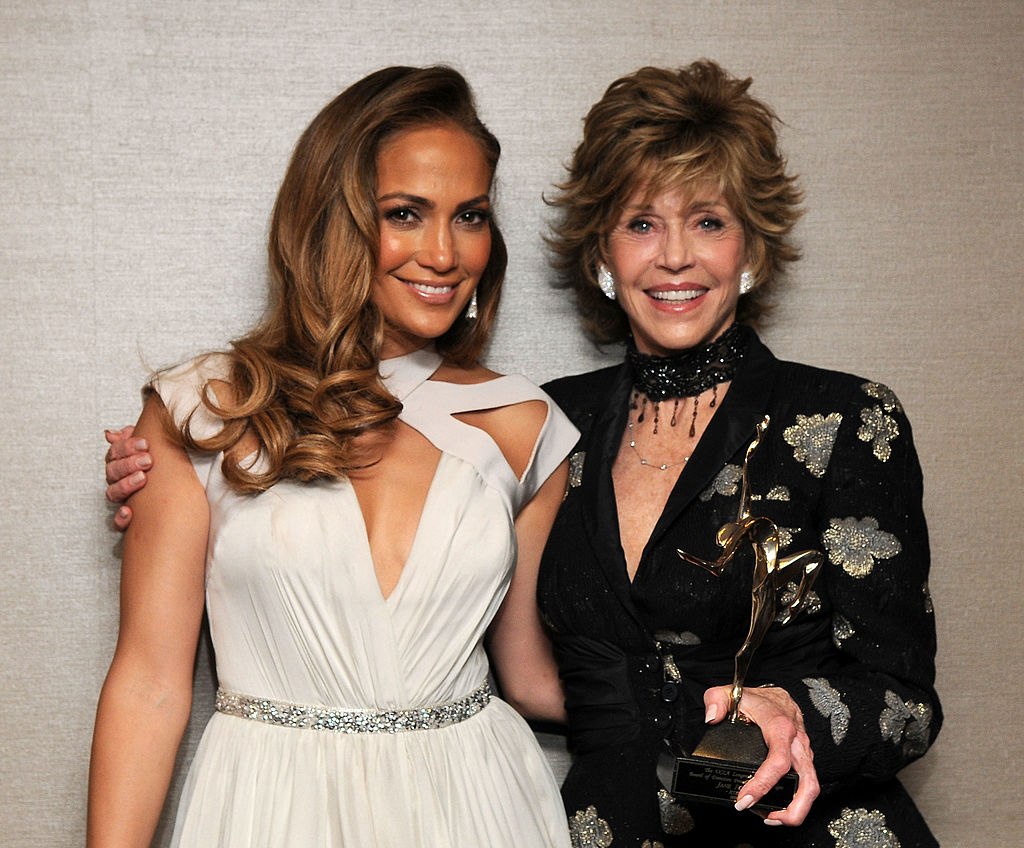 Similarly, Lopez presented Fonda with an ICON award on behalf of the University of California Los Angelas Longevity Center at their 20th Anniversary ICON Awards Gala in 2011. 
Jennifer Lopez still quotes 'Monter-In-Law' today
Aside from the hilarious story about almost hurting Fonda, Lopez revealed another interesting piece of information in her YouTube video. She said she still recites a line from the movie 14 years later. 
Neither Lopez nor Fonda delivered the line. The honor goes to Elaine Stritch, who played Gertrude, the former mother-in-law to Fonda's character. 
Gertrude puts Fonda's character in her place in one scene, a stark contrast to the character's behavior throughout the rest of the film.
"I think I still recite the line she says: 'And you used to drink red wine from a box.' It's one of [my] favorite things from a movie of mine ever," Lopez said.
"It's hard to steal a scene away from Jane Fonda when she's doing her thing, but Elaine came in, and like a veteran, just annihilated. It was such a great day for a little girl like me," she added. 
The "Medicine" singer made her love Fonda — Monster-In-Law — clear in the YouTube video. "She's such a gangster b—! I just love her."