Jennifer Lopez and Alex Rodriguez: Here's the Surprising Type of Wedding JLo Wants
The pairing of JLo and ARod is like a dream team come true for fans of both entertainment and sports. Both household names in their own right, Jenny from the Block first met superstar slugger Alex Rodriguez when he was playing for the NY Yankees. Each married at the time of their initial meet-and-greet back in 2005, the pair wouldn't come in contact with each other until a chance meeting over a decade later.
Details from their later encounter are sketchy when you consider the couple has two slightly different versions of their next meeting that would later lead to a love affair and eventual relationship. According to Lopez, she recognized the baller at a restaurant in Beverly Hills and decided to strike up a conversation with the Yankee's former third baseman.
The shoulder tap that led to a first date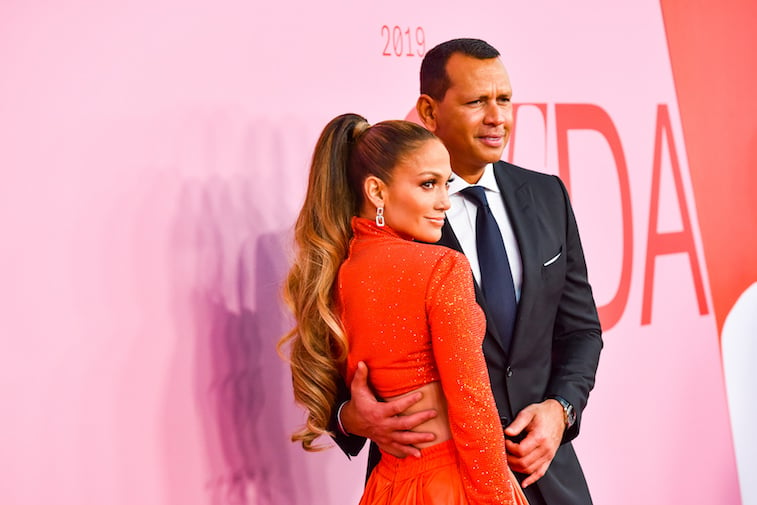 Jennifer told Vanity Fair in October of 2018, she was "compelled" to reach out to Rodriguez but rather than yelling out his name across a crowd, she approached him outside of the eatery instead and recalls:
"I could literally have just walked away but I walk over and tap him on the shoulder and say 'Hey'… It was just one of those things where you feel compelled to do, something you wouldn't normally do."
When Alex described this encounter with Jennifer to Ellen on her popular daytime TV show, the athlete shared he initially didn't know who had tapped him on the shoulder. He told DeGeneres he "had no idea" who Lopez was since she was dressed similar to her character as seen on Shades of Blue and not as a singer.
However, he quickly recognized the actress after she said, "It's Jennifer," the two chatted briefly and hooked up later for their first date. Ellen had a third version of this meeting where Lopez approached Alex at his table and began talking to him.
However this couple reconnected, they're now happily engaged and making wedding plans.
The third time's a charm for Jennifer
For both Alex and Jennifer, each went through a painful and well-publicized split from their then-spouses Cynthia Scurtis and Marc Anthony respectively. In the case of Lopez's lengthy marriage to the Latin crooner and pop-star, their decade long union resulted in a pair of beautiful boy-and-girl twins, Maximilian David and his sister Emme Maribel Muñiz.
This was her third marriage and recently the Today show reported her first three weddings shouldn't "really count" since she was so young at the time of her both her first two nuptials. According to Lopez, the relationship she currently shares with fiancé Rodriguez has all the right stuff and the correct reason to get hitched is "when you find somebody who really makes you better."
Going to the chapel and they're gonna get married
While there are conflicting reports on whether or not the two should have a big, blow-out marital affair or a small ceremony, Jennifer may have recently laid to rest some of these rumors. Lopez said since she's never been married in a church, she's leaning towards a larger service held on hallowed grounds. In terms of a timeline leading them down the aisle towards the altar, Jen says, "Soon. Not soon-soon, but next year."
Big or small, while the vast majority of fans backing this blessed event for one of today's hottest "it" couples, we won't be seen on their invitation roster. Hopefully, the general public will be privy to some pictures, social media posts, press coverage or videos coming from this union.
JLo is still stunning at forty-nine and retired ARod is barely Jennifer's junior at forty-three, so it's still conceivable some of us hopeless romantics may be watching for a baby bump to appear in the future after their wedding bells have ceased to ring.