Jennifer Lopez Loves Her Son Max's Special Bond With Fiancé Alex Rodriguez
Jennifer Lopez and fiancé Alex Rodriguez are clearly smitten with one another. They've been dating since 2017 and got engaged two years later with a drop-dead gorgeous engagement ring to prove it.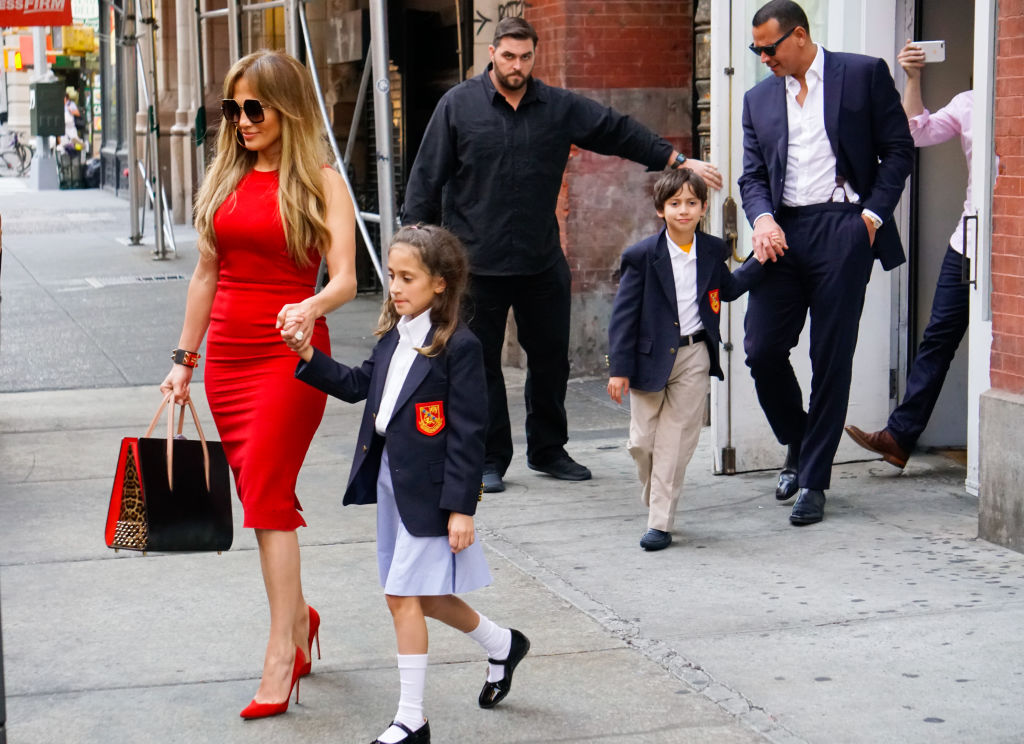 The two are committed to one another, and just as importantly, to each other's children. The 50-year-old actress and singer recently sang her partner's praises for how beautifully he and her son have bonded.
Here's what she had to say.
A-Rod's idea of a dream date came true
Way before they began dating, in 1998 to be exact, Rodriguez was with the Seattle Mariners and the shortstop was asked at the time who his dream date would be. Without missing a beat, Rodriguez said, "Jennifer Lopez. Hopefully, you can find me a date with her."
The date not only happened but eventually, the two began seeing each other exclusively and are engaged, although a wedding date has not been set.
Speaking with Vanity Fair in 2017, Lopez described her awkward, yet great, first date with the 44-year old. "He was sitting there in his white shirt, very confident and manly, but then he was just so talkative! I think he thought I was going to be this loud person, but I'm not. I just listen."
"So he's talking, talking about his plans, about how he had just retired from baseball, about how he saw himself getting married again, all these things you wouldn't normally talk about on a first date. . . Then I knew he was nervous because he asked me if I wanted a drink. I said, 'No, I don't drink,' and he asked if I minded if he had one. He was nervous, and it was really cute."
Rodriguez's kids are crazy about Lopez
The former Yankee told Access Hollywood in 2017 about how much his girls love Jennifer Lopez. It can be a challenge when a couple starts a new relationship and each has children. The adjustment to a new person in a parent's life can be rough for the kids involved. Plus, getting along with the other partner's children isn't always easy. In this situation, however, all parties seem to be genuinely happy.
"Jennifer is one of the smartest human beings I've ever met," Rodriguez said. "Everyone knows she's as hardest working human out there. But she's an artist who can teach and communicate and . . . the fact that my girls get to benefit and learn from someone like that – I'm very thankful."
A-Rod says he's especially pleased that his and Lopez's children have become such fast friends.
"Max and Emme are twins, boy and girl, beautiful children, and [Rodriguez's girls] Natasha and Ella are 12 and 9, and they've merged incredibly well, I mean, they love each other, they like to play together, they have a lot in common, they're all very supportive."
Here's how Rodriguez and Max bonded
It's never a guarantee that kids will take to their parent's new partner eventually, or even at all. The Selena star says that in their case, she's so happy to report, her kids love the former baseball pro.
Appearing at Oprah Winfrey's "2020 Vision: Your Life in Focus" Tour in Los Angeles this week, the "Jenny From the Block" singer spoke to Winfrey about Max's special bond with Rodriguez.
"Max is the one who always gets in trouble in the house." Lopez said.
She shared a conversation she had with Max, when the then-9-year-old told her he loved Rodriguez because he didn't lose his patience with him so easily as everyone else in the family seemingly does.
"And he's like, 'he's the only one who never gets mad at me,' " Lopez continued. "Like he had so much patience with him because he's like, he's all over the place and he's the most beautiful boy and the most loving boy. But he will knock this over in a second. You know what I mean? All you hear through the house is 'Max!' all the time. And Alex had this amazing patience with him."
Read more: What Does Jennifer Lopez Eat For Breakfast?