Jennifer Lopez Shares the Marriage Advice She Received From Ruth Bader Ginsberg
Fans are eagerly awaiting to hear a wedding date announcement from Jennifer Lopez and Alex Rodriguez. After their engagement this past March, the two have been relatively quiet on the timing of their upcoming nuptials.
Despite nothing on the calendar at the moment, Lopez has been receiving some words of wisdom on the subject of matrimony, sometimes from unlikely advisors.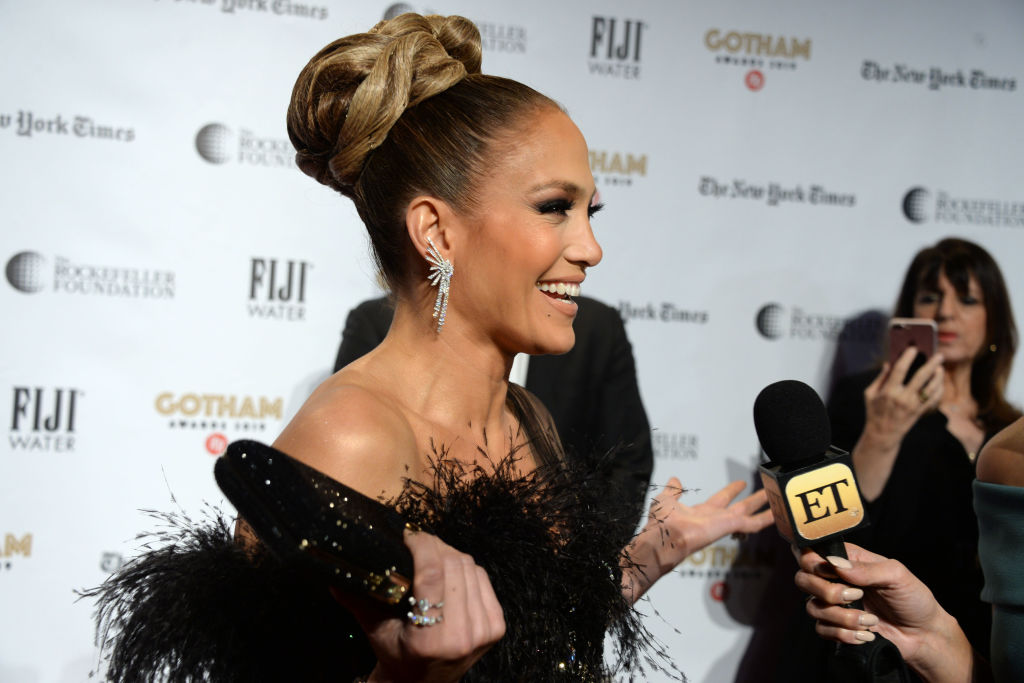 Not her first time down the aisle
The mega star has said 'I do' a few times prior to meeting Rodriguez. Yet even though J-Lo has officially – and legally – tied the knot three times before, she recently commented that she doesn't necessarily hold those marriages as valid.
"I've been married three times. And once was nine months, and once was 11 months," Lopez said in a behind-the-scenes concert tour video according to the Today Show. "So I don't really count those."
Married to Ojani Noa from 1997 to 1998, Chris Judd from 2001 to 2003, and singer Marc Anthony – with whom she has two children – from 2004 to 2014, Lopez revealed she walked down the aisle for the wrong reasons.
"I was very young the first two times I tried to get married. I would say try to get married," Lopez said according to the Today Show. "It seems like in this life, you're always surrounded by people, you're never lonely, but it's very lonely. So you always want somebody with you. Somebody. And so, I felt like if I got married I felt like I would always have somebody, but that's not how life works. That's not how it goes. It's a bad reason to get married, not the right reason, it's the wrong one."
Supreme advice
Now that she's planning her big day to wed Rodriguez, Lopez recently shared that she got some advice from someone who truly knows of what she speaks. Supreme Court Associate Justice Ruth Bader Ginsberg, who has been married to husband Marty for over 50 years, gave Lopez some tips on having a happy marriage.
"She said, 'It's good to be a little deaf sometimes.' And I was like, 'Oh okay,'" Lopez told Tony Dokoupil in an interview for CBS Sunday Morning. "She's like, 'An unkind word, people are not perfect. Sometimes, you know, you just have to let it go.'"
The film star revealed she and her fiancé take the advice to heart, even quoting the wise words to each other. "[And] often Alex and I will now reference, like, RBG – like, stay calm, stay calm," the singer revealed. "You know, that's the superpower. When everything gets crazy or people get out of control when there's, like, heightened emotions, don't go there with people. Just stay calm."
Another big event
Lopez is slated to perform at the Super Bowl Halftime Show, along with singer Shakira. The Hustlers star revealed the opportunity is something of which she's always dreamed.
"It's like winning the Oscar! It's the biggest show that there is," Lopez said. "It's just a fantasy for all musical artists… to have that 12 minutes of an amazing show. There's just something exhilarating about it."
Planning on bringing an international flair to the show, Lopez shared that she and Shakira are melding their cultural backgrounds into the performance. "We both just started kind of rehearsing our own songs for right now," she said, sharing that there will be a "combination" of English and Spanish in the production. "We're both Latin artists, we bring that flavor."
Between her Super Bowl appearance and her upcoming wedding to Rodriguez, fans of Lopez have a lot to look forward to!