Jenny Slate Talks Ex Chris Evans: He Was "Really Vulnerable"
Chris Evans – the man famous for portraying the lovable and righteous Captain America in the Marvel Cinematic Universe – is one of Hollywood's most eligible bachelors. Evans seems like one of those "good guys;" he's a gentleman and a scholar. And if the way he speaks about his exes (and they talk about him) says anything about who he is as a person, this one's a keeper.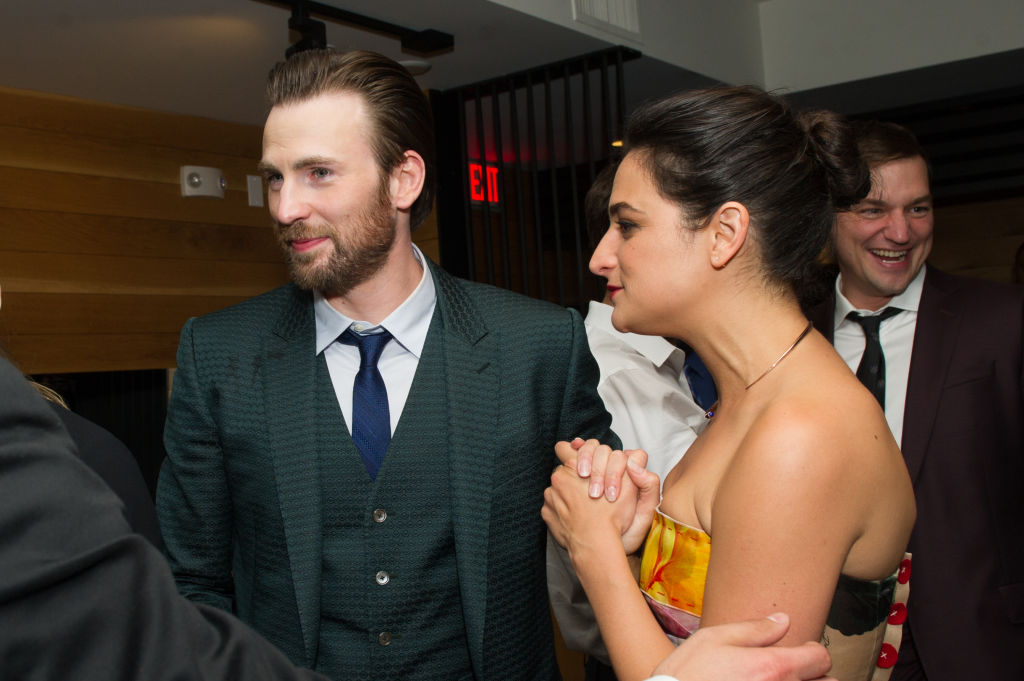 Chris Evans most recently dated Jenny Slate, the comedian-actress known for playing Mona-Lisa Saperstein on Parks and Recreation, and they engaged in an on-and-off again relationship after striking up a romance on the set of Gifted.

Before dating Slate, Chris Evans dated Jessica Biel, Minka Kelly, Lily Collins, and more A-list celebrities. However, it seems like Chris Evans still has yet to find "the one" girl he's meant to be with. However, according to Jenny Slate, though they were not destined to be together, Evans is definitely a keeper…and an emotionally aware one to boot.

Jenny Slate on her past relationship with 'Avengers: Endgame' Star Chris Evans

Jenny Slate sat down with Vulture to discuss her career, her relationship with Chris Evans, the kind of man Chris Evans is, and why, in the end, the two could not make their relationship work.

Speaking on behalf of her time spent With Evans, Jenny Slate told Vulture,

"What's the same about us is not just that we're from Massachusetts, which was such a delight, but Chris is truly one of the kindest people I've ever met, to the point where sometimes I would look at him and it would kind of break my heart. He's really vulnerable, and he's really straightforward. He's like primary colors. He has beautiful, big, strong emotions, and he's really sure of them. It's just wonderful to be around. His heart is probably golden-colored, if you could paint it."

While Chris Evans and Jenny Slate did not wind up together, it's clear that he left an everlasting impression on the comedian, and a good one too. It appears, based on Slate's words, that Evans is a gentle soul with a big heart.
So, while Evans may play the rough and tough Captain America on screen, it appears that Evans' heart may bruise easily in real life, which is by no means a bad thing. Possessing "big, strong emotions" is what seemed to draw Slate to the actor in the first place.

Jenny Slate reveals some of the reasons why her relationship with Captain America's Chris Evans fell apart.

Slate goes on to explain the difficulties that came with dating one of the biggest celebrities there is. She explained that while she can still sit in the corner of a coffee shop, he cannot. She also went on to discuss the nature of dating someone who is so severely objectified in pop culture.

Slate told Vulture:

"If you are a woman who really cares about her freedom, her rights, her sense of being an individual, it is confusing to go out with one of the most objectified people in the entire world."

Slate continued to explain that as much as she loves Evans, they are very different people, which ultimately, would be the basis of their undoing. Not to mention, when Slate started dating Evans, she had just recently been divorced. So, she did not have much time to grieve that loss before hopping into a relationship with Evans.

While Chris Evans and Jenny Slate both greatly admire, respect, and still love each other, it seems that this relationship just wasn't meant to be, despite Evans' "golden-colored" heart and emotional vulnerability.