'Jeopardy!' Host Alex Trebek Worries He's a Burden On His Wife, Jean Trebek — The Touching Way She Reassures Him
Alex Trebek has put on a strong face through his battle with Stage 4 pancreatic cancer. He continued hosting Jeopardy! and recorded video updates about his treatment. In private, Trebek admits things have been a little bit tougher on him and his wife, Jean Trebek.
RELATED: 'Jeopardy!': Ken Jennings Is Narrating the Audiobook of Alex Trebek's Memoir – 'Your Pronunciation Has To Be Impeccable'
Trebek spoke with T.J. Holmes of Good Morning America about his new book The Answer Is…: Reflections On My Life on July 20. During the interview, he revealed some of the most difficult moments for him and his wife.
Alex Trebek is making progress with his cancer treatments
Trebek is undergoing an experimental immunotherapy. The data is showing signs of improvement on that front.
They do a blood test to see what my CA 19 numbers are. CA 19 numbers are an indicator of how your pancreatic cancer is progressing. Eight weeks ago, the numbers were at about 3500. Now they're below 100. So I'm going in the right direction. The doctors have said they have never seen a chart like mine because there are peaks. I said, 'What do you mean you don't see that that often? What do you usually see?' They usually see it going up. I'm a bit of an anomaly.

Alex Trebek on Good Morning America, 7/20/2020
That sort of good news fades away when Trebek experiences fatigue and pain.
"There are good days and there are bad days," Trebek told Holmes. "I take into account the bad days. Now the pessimist in me is coming out as opposed to the optimist."
'Jeopardy!' has helped Alex Trebek stay well
Even though Trebek himself is self-critical, most fans have not complained about his hosting abilities. Trebek says Jeopardy! actually motivates him to tough it out.
"I'm good at faking it but there have been tough moments," Trebek said. "I don't know what it is, but when it's time to go, it's time to go. Let's do it. Get out there, suck it up, make it happen. It's something that I can't explain intellectually. At a gut level, without even thinking about it, it just happened. I suddenly wake up and I'm able to perform and handle the show because I like it. It's a good job."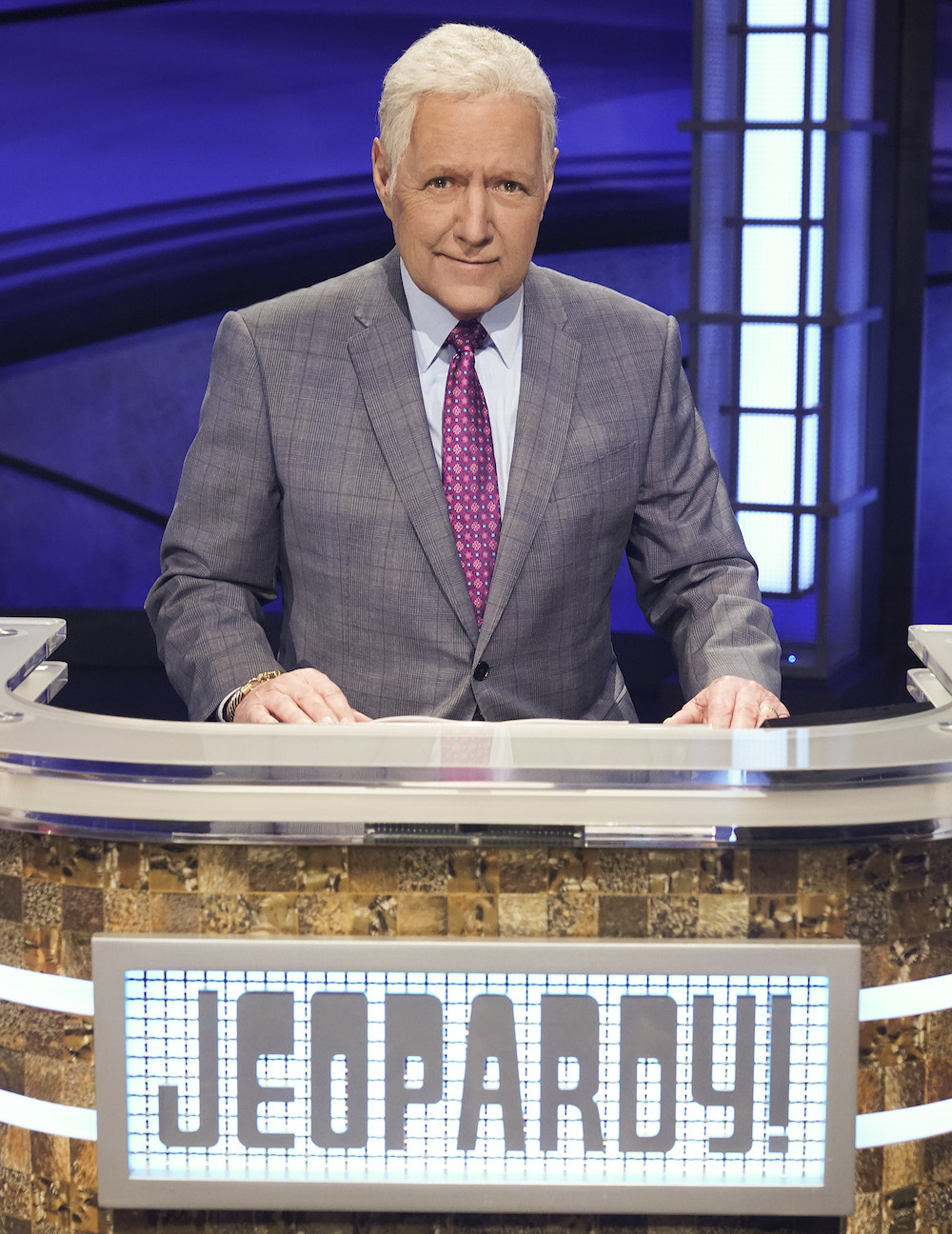 RELATED: Alex Trebek on How Much He Was Paid For His Memoir, 'The Answer Is…' – 'It Wasn't John Bolton-Type Money'
That's why it has been particularly hard to see Jeopardy! shut down due to the coronavirus (COVID-19) pandemic.
"It sure as hell would be nice to get back to work," Trebek said. "I miss it. It's been part of my life, a very important part of my life for 36 years."
Why he worries he's a burden to Jean Trebek
Trebek told Holmes about his darkeset moment. It came out of a feeling of regret that Jean had to care for him.
RELATED: 'Jeopardy!': Lucille Ball Played a Major Role in Having Alex Trebek Hired as Host of the Quiz Show
"There was one day a few weeks ago when Jeanie asked me in the morning how do you feel and I said I feel like I want to die," Trebek said. "It was that bad. I apologized to her and explained that it has nothing to do with my love for her or my feelings for her. It just has to do with the fact that I feel like I'm a terrible burden to her and that bothers me tremendously."
How Jean Trebek reassured Alex Trebek
The way Jean has stuck by Alex moved the Jeopardy! host to tears.
RELATED: 'Jeopardy!' Is Airing Alex Trebek's Very First 1984 Episode, Mustache Included
"She says, 'You're not a burden,'" Trebek said. "She's a saint. But she has so much goodness in her that she is always giving out, always putting out to help me get over difficult moments and there have been some difficult moments. I'm just in awe of the way she handles it."