Robin Roberts Remembers Alex Trebek on What Would Have Been His 81st Birthday – 'Let's Celebrate Him'
Jeopardy!'s Alex Trebek was fondly recalled by the show's current guest host Robin Roberts on what was his first birthday after his death in Nov. 2020.
On Trebek's July 22 birthday, the GMA co-anchor opened the game by first paying tribute to the greatly missed quiz show host.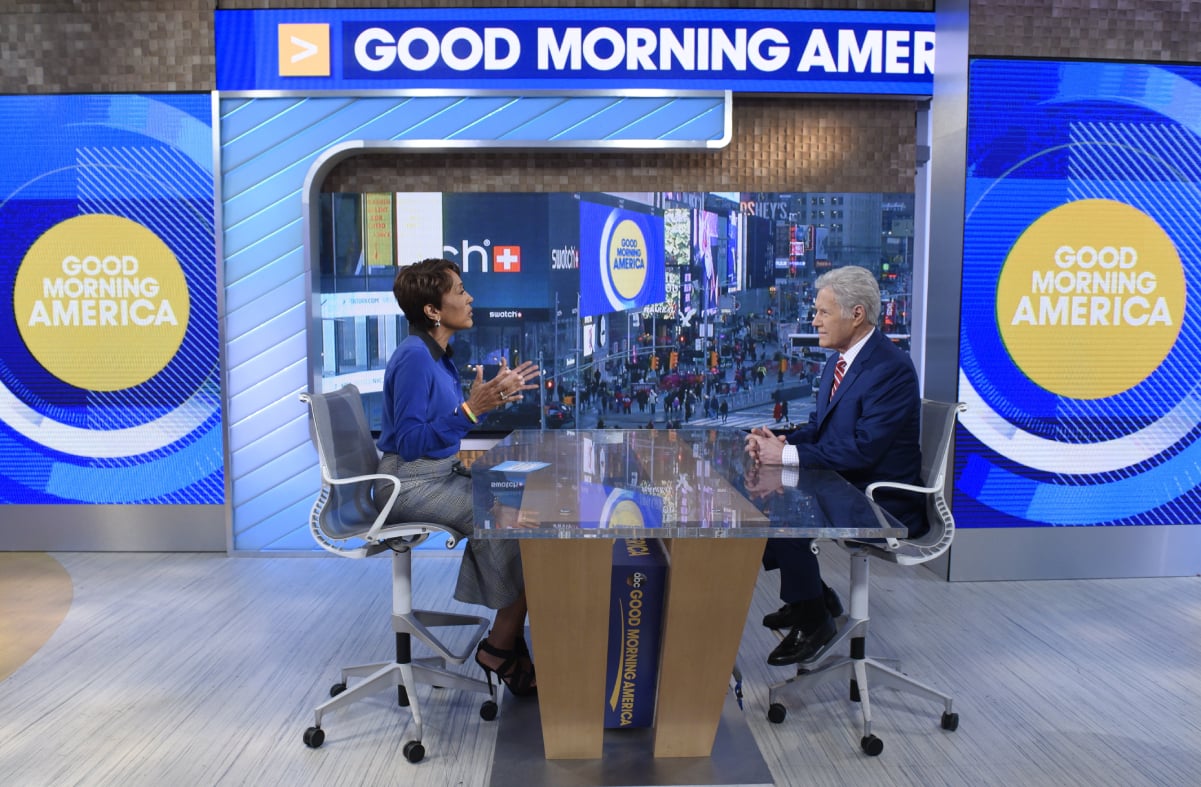 Roberts' charity on 'Jeopardy!'
On Instagram, the show heralded Roberts' arrival writing, "@goodmorningamerica's @robinrobertsgma is guest hosting this week! As part of her appearance, Jeopardy! will donate to her chosen charity, @bethematch."
Be the Match is an organization that helps those seeking bone marrow donors. "It's a bone marrow registry," Roberts said. "A stem cell transplant saved my life in 2012. [I'm] grateful that my sister was the donor. I have been working with [Be the Match] since 2012 and to know that you can save a life, just a little swab, and you can become a donor."
Her tribute to Trebek
Remembering Trebek on his birthday was an emotional moment for Roberts. The GMA co-anchor had gotten to know Trebek over the years and the two bonded over their shared fight against cancer. Roberts in 2007 was diagnosed with and treated for breast cancer.
"Today is a special day," Roberts said at the top of the game. "It's July 22 and would have been Alex Trebek's 81st birthday. He was a kind, intelligent and philanthropic man, which is why I am incredibly proud to say we've raised nearly $100,000 for Be the Match, a wonderful charity that is dedicated to helping every patient get the life-saving transplant they need. Alex loved this game, so let's celebrate him and his legacy by playing the game he loved."
Roberts also said of Trebek on her final game on the quiz show, "I had a great respect for Alex Trebek, long before stepping in as a guest host. But having now been here for the week, it has exceeded what I thought of him. I began the week saying his spirit is still very present, and that's because of all the people behind the scenes who carry on his legacy and love for you who watch and play.
The host was remembered by Cyndi Lauper for a hilarious 'Final Jeopardy!' response
Also on the anniversary of his birth, Trebek was celebrated by singer Cyndi Lauper who remembered one of the show's funnier moments involving Kinky Boots, the Broadway musical on which Lauper composed the score.
In the clip posted by Lauper, it's 2015 and the game in question is in its Final Jeopardy round. The clue is "A Christian hymn and a Jewish holiday hymn are both titled this, also the name of a 2009 Tony-nominated musical."
The game's returning champion Choyon Manjrekar amusingly guessed Lauper's Kinky Boots to which Trebek, thoroughly amused, commented "Kinky Boots! Yes indeed. Whenever people go to temple or go to church, they sing Kinky Boots!"
Lauper tweeted a happy birthday message in Trebek's honor and recalled the game as well. "Remembering #AlexTrebek on his 81st Birthday. This was a funny moment," she said.
It was a funny moment, which Trebek characteristically handled with a good dash of humor.