'Jeopardy!' Writers Have a Simple Trick for Making Daily Doubles Easier or Harder
A classic when it comes to game shows, Jeopardy! is all about testing contestants' knowledge. On the air for decades, the award-winning program is as popular as ever. Fans play along at home while competitors answer rapid-fire clues given to them by longtime host Alex Trebek. 
When it comes to the show's iconic game board the TV personality expertly navigates, who writes the clues? That would the team of writers who work behind the scenes to develop every category and clue. As for the signature Daily Double, the writers have a straightforward method for making it not too hard, not too easy, but just right. Keep reading to learn how the Jeopardy! writers craft Daily Doubles.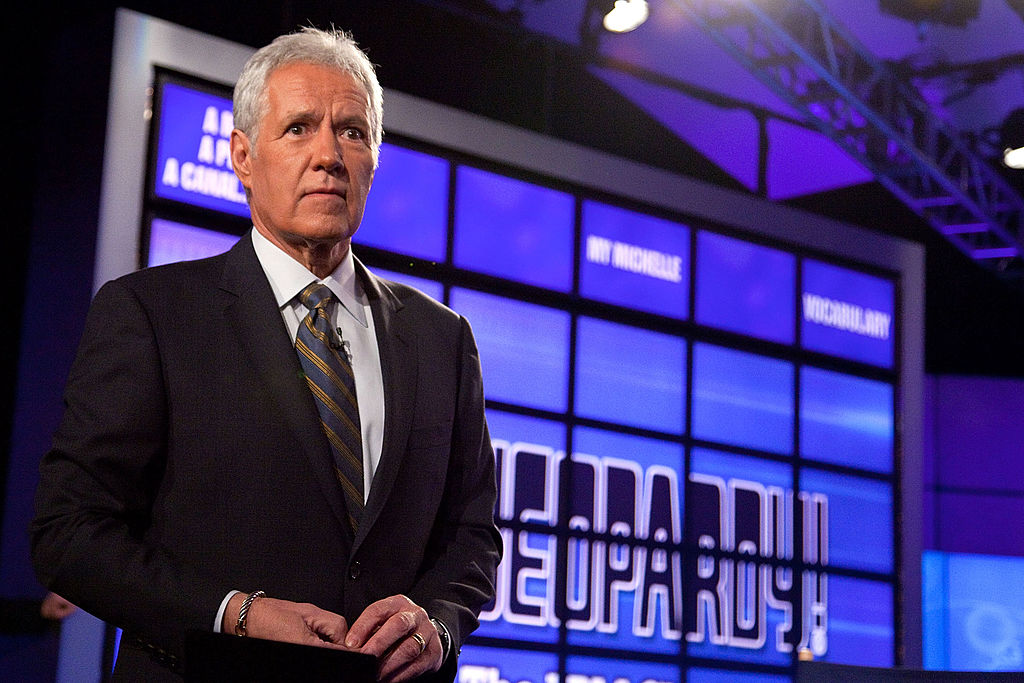 'Jeopardy!' writers come up with 14,030 clues every season 
Given that literally thousands of clues that have to be written for the show, Jeopardy! writers have to always be thinking about clues. According to the official Jeopardy! website, writers are tasked with producing categories and clues for 230 games each season.
When all is said and done and Trebek has dished out clues to contestants, the writers will have produced a staggering 14,030 clues. What does that look like on a daily basis? Head writer Billy Wisse wrote on the official the Jeopardy! website, a writer "should typically be able to come up with two to three categories (14 to 21 clues)," although it might be less depending on what's going on that day. 
They look for possible Daily Doubles on the game board
Hidden on the game board is a clue deemed a Daily Double. The way it works is that whichever contestant happens to select the Daily Double may respond to the clue risking as little as $5.
RELATED: 'Jeopardy!': Who Is Alex Trebek Outside the Game Show?
According to the official Jeopardy! website, writers comb through each category in the game looking for a possible Daily Double. The only catch? To be marked a Daily Double, there must be two parts the contestant has to get right. 
'Jeopardy!' writers add or remove words to adjust difficulty of Daily Double 
A higher dollar amount on Jeopardy! means a contestant will have to answer a more challenging clue. For Daily Doubles specifically, the writers have a simple way of making them easier or harder. What's their method? Adding or removing a single word. 
"A too-easy clue can be made more difficult by simply removing a word," Wisse shared on the show's website. "Conversely, a too-difficult clue can be made easier by adding a word."
RELATED: 'Jeopardy!': The Red Phone Audiences Don't See and Why It's Vital to the Show
Straightforward, right? 
How 'Jeopardy!' writers decide whether or not a clue is too difficult 
Ever watch a game of Jeopardy! without answering a single question correctly? That's exactly what the writers don't want to happen because it's not fun nor does it make for entertaining TV. To make sure a game isn't too challenging, they make it a habit to check clues for difficultly. How do they do that? Quiz each other. 
According to Jeopardy! head writer Michele Loud if a writer isn't sure about a clue's level of difficulty, they bounce it off each other to see if someone knows the answer. 
"If none of the writers can correctly answer it, we feel like, 'Well, how can anyone else have heard of it?' If it's too obscure for all of us in the room, there's no point in asking it," she said. 
The next time Jeopardy! is on and Trebek reads a clue or a Daily Double, know that a lot of work went on behind the scenes.  
RELATED: Alex Trebek Reveals He's Rehearsed His 'Jeopardy!' Farewell: 'Leave Me 30 Seconds at the End'