Exclusive: 'The Voice' Department Head Hairstylist Jerilynn Stephens Talks Her Award-Winning Career and New Book
Seven time Emmy-nominated hairstylist Jerilynn Stephens created 'The Voice' contestants stunning looks. Keep reading to learn about her career and new book.
Seven-time Emmy-nominated hairstylist, Jerilynn Stephens, is responsible for all the standout hair looks seen on NBC's popular singing competition, The Voice. She is also department head hairstylist for other top-rated shows including Shark Tank, Lip Sync Battle, Songland, and different award shows including the 2017 and 2018 iHeart Radio Awards.
At 25-years-old, Stephens went to beauty school and realized hairstyling was her purpose in life. Therefore, the Hollywood hairstylist is passionate about helping others also find their meaning, so she shares her Five 'F' Words to turn dreams into reality. After speaking at several conferences, Stephens decided to put her practice in a book, "The 5 'F' Words to Manifesting Your Life."
How did the hairstylist get her break in the industry, and what are those five words? Keep reading to find out.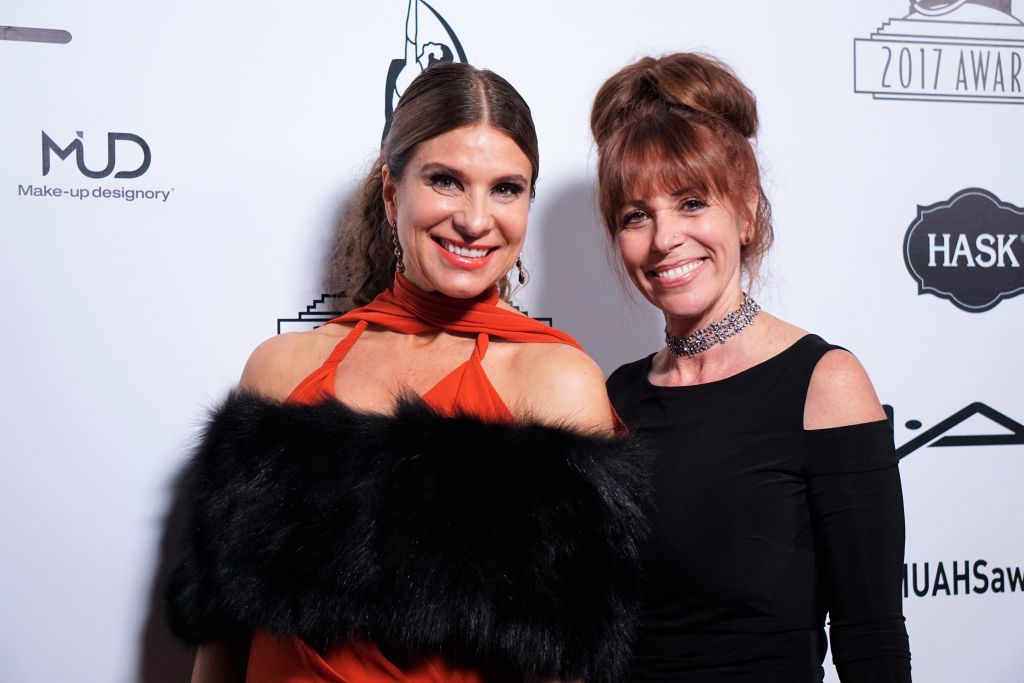 Jerilynn Stephens' background and family life
Originally Jerilynn Straitiff from Northern Michigan, Stephens currently resides in Los Angeles, California, with her husband of thirteen years, Danny, and 11-year-old son, Eli. Due to their allergies to cats and dogs, they have two potbelly pigs, Ricky and Lucy, as pets who are part of the family.
Jerilynn Stephens' award-winning hairstyling career
When she was 25-years-old, Stephens decided on a whim to attend beauty school. The future hairstylist discovered her true dreams and purpose in life attending classes because she realized she loved making people feel great and look their best.
Stephens first started her career in Seattle in 1995, before moving to Los Angeles six years later. Her first gigs as a Hollywood hairstylist came in 2003 as a key hairstylist for Hallmark movies including Home for Christmas and Fielder's Choice before meeting make-up artist, Darcy Gilmore.
The artist asked Stephens to work on ABC's business television series, Shark Tank, in May 2011, and the hairstylist has led a team from Season 2 until now. Gilmore also referred her to NBC's The Voice where she began as a hairstylist in the first season.
Stephens then moved up to key hairstylist for Season 3-8 before landing the Department Head Hairstylist in Season 9, where she currently leads a team of about five people. Over the course of her 25 years as a hairstylist, she has worked on over 50 television and productions. Stephens also served as Department Head Hairstylist for a combined eight television and award shows including Lip Sync Battle and the 2017 MTV VMA's.
Since 2012, Stephens' stunning hairstyles have racked up an impressive seven Emmy Award nominations and won the 2014 Artisan Award for Best Contemporary Hair Styling – Television and New Media Series on The Voice.
Jerilynn Stephens' 5 'F' Words
In addition to styling hair for some of the highest-rated shows on television and raising a family, Stephens is also a motivational speaker with an upcoming book release. Passionate about giving back to the industry, Stephens has begun sharing the five "f" words to manifesting one's dream into a reality which includes feel, fearless, figure, faith, and focus.
According to Stephens' blog, she manifests her words into actions by using those words; therefore, she's extremely cautious about what she says. Recently, Stephens spoke at Premiere Orlando, one of the biggest hair and beauty conventions, and received positive feedback from listeners who took her advice and used those five words to achieve their dreams.
The Hollywood hairstylist has a book scheduled for a November 2019 release which details her practice of the five "F" words.