Jerry Seinfeld Says This Was His Sitcom's Funniest Scene
Although the hit '90s show Seinfeld featured multiple laugh-out-loud moments in every episode, Jerry Seinfeld has pinpointed what he believes to be the funniest scene of them all. The moment occurred at the end of Season 5's "The Marine Biologist."
In this episode, the 78th of the sitcom, Kramer acquires 700 Titleist golf balls and decides to practice his swing by hitting the balls into the ocean. In the meantime, to impress a female friend, George pretends to be a marine biologist. Everything potentially blows up in George's face when he is called upon to use his supposed skills to save a beached whale. The last scene of the episode is the one which Seinfeld believes to be the show's funniest, as seen here:
With the friends gathered in their usual booth at the diner, George recounts the story to Jerry, Elaine, and Kramer. He reveals he was thrown on top of the whale where he could see something was obstructing the mammal's blowhole: a golf ball. Amid looks of astonishment on everyone's faces, Kramer finally asks, "Titleist?" and then responds that he got a "hole in one."
"We got very lucky," Seinfeld said of writing the scene. "Larry [David] and I came up with it the night before we were shooting. We wrote it late at night, and Jason memorized the whole speech in one day."
Seinfeld made his comments about the episode and writing the scene at a New Yorker Festival interview Friday night. "The hardest thing in comedy is to have the biggest laugh at the end, and it's the most satisfying thing," he said of the scene.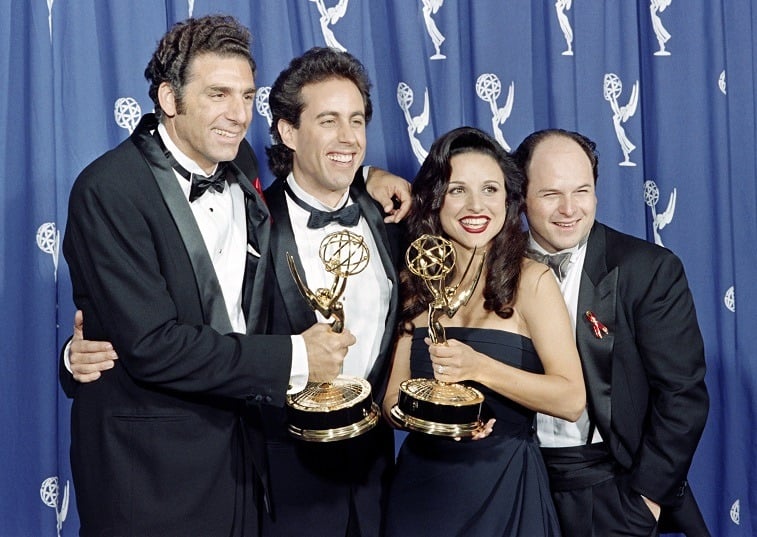 Seinfeld also shared regrets during the interview on the show's finale, which aired on May 14, 1998. It was reported as the fourth most watched regular series finale in U.S. TV history. The one-hour episode received mixed reviews from viewers after it pulled in characters from the past, eventually settling on a plot where the four main characters are imprisoned for breaking a "Good Samaritan law."
"I sometimes think we really shouldn't have even done it," Seinfeld said. "There was a lot of pressure on us at that time to do one big last show, but big is always bad in comedy."