'Jersey Shore' Stars, Pauly D and Vinny Guadagnino Are Getting Another Spinoff Show
Pauly D and Vinny Guadagnino are the Jersey Shore cast members who are still single. They went on to have a dating reality show because of this.
Now the duo is back with another spinoff. Find out what will be shown in the new show and more.
They recently starred in 'Double Shot at Love'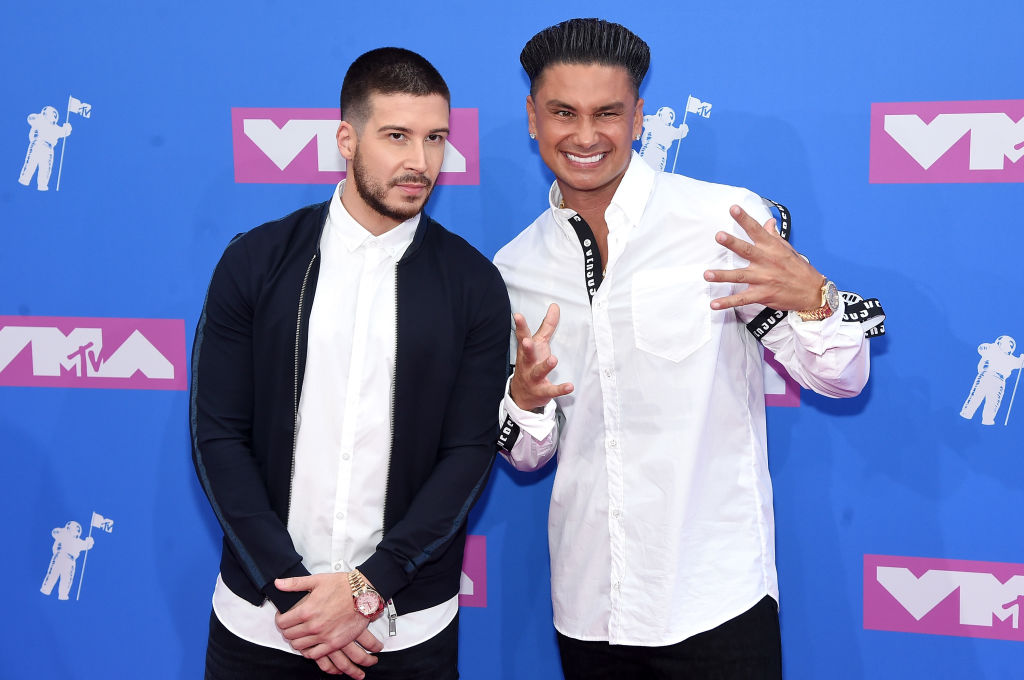 The reality stars recently had a dating show where they tried to find love. Guadagnino picked Alysse Joyner in the end.
Their relationship ended by the time the finale aired. "Unfortunately,Alysse and I weren't allowed to see each other publicly after filming for 5 months until the finale aired to not spoil the ending.Very weird situation to be put in after the finale.I struggled to keep it alive through text.Still think she's amazing.Wish her the best," Guadagnino tweeted.
Pauly D decided not to pick anyone. He did keep in touch with finalist Nikki Hall, but he blocked her.
"It was just a lot," he said on the show, according to People. "The paragraphs and stuff, it was just a lot." Hall claimed there was another reason he blocked her.
She said that it was because she didn't fly to Vegas. "Bro, you blocked me because I was at work and I said I'm busy," Hall said.
They have been working in Las Vegas
Pauly D and Guadagnino have kept busy other ways. Guadagnino joined the male striptease dance troupe, Chippendales.
"People think that it's easy being a stripper, but it takes a lot of work, a lot of dedication, and a lot of sacrifice," he said on Jersey Shore: Family Vacation. "I have been training like Rocky to become the stripper keto guido."
Some of their cast members have gone to support him. Jenni "Jwoww" Farley joined him on the stage.
"Jenni's like my sister, but right now I am the keto torpedo, and I'm going to f*cking sexualize Jwoww," he said.
Pauly D has also had a Las Vegas residency at Drai's Beachclub. Now we will get to see more of their Las Vegas lifestyle.
Their new show is 'DJ Pauly D and Vinny's Vegas Pool Party'
The duo will be back together again in Las Vegas. It sounds like they will be working hard and playing hard there.
The show's title is DJ Pauly D and Vinny's Vegas Pool Party according to People. It follows them "as they takeover Las Vegas and give their friends a shot at the Vegas life."
Its log line is "Between Pauly D's successful DJ residency and Vinny entertaining the masses on the strip, the two will help teach their friends the definition of work hard, play hard in the infamous Sin City."
The show is expected to premiere in 2020 on MTV. This wouldn't be the first time we've seen the stars in Vegas.
The cast was in Sin City during a season of Jersey Shore: Family Vacation. They have since left for Los Angeles and they sometimes film at Jersey Shore.