Jessa Duggar Defends Her Little Sister After Critics Slam Joy Duggar for Missing Her Son's 1st Birthday
Jessa Seewald, along with the whole Duggar family, has always had a strong relationship with her siblings. And recently, when little sister Joy Forsyth came under attack for missing her son's first birthday, Jessa was there to defend her. Here's what critics had to say about Joy's decision — plus how Jessa came to the rescue.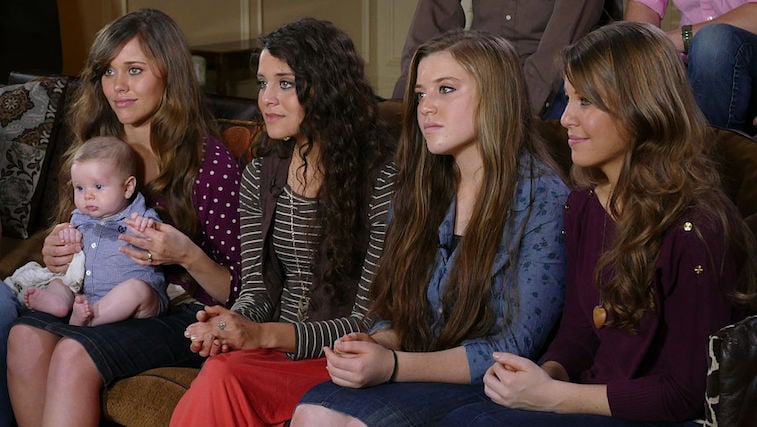 Forsyth and her husband welcomed a baby boy last year
Forsyth and her husband Austin tied the knot in May 2017, when Forsyth was only 20 years old. So far, she's the youngest Duggar to have married. She and her husband had broken a few rules prior to getting married (including a full-fledged hug when he proposed), and they've always done things their way as a couple. The two were initially supposed to get married in October 2017, but they decided to move up their wedding date to May 2017. And nine months later, they welcomed their first child together — a son named Gideon Forsyth.  
The couple decided to take a trip together over their son's first birthday — and critics were quick to fault them
Forsyth is a still a new mother, so it's not always easy to get the hang of things quickly. But this week, she experienced her first real mom-shaming incident when she missed her son's first birthday to take a weekend trip with her husband. Forsyth posted a photo with her hubby captioned, "Getting to spend the weekend with my favorite person! Just the two of us!!" She also noted that Austin's parents were watching their young son. Although the post looked harmless, it unleashed a whirlwind of negativity from some followers.
"… I don't understand how you could not be home for your son's birthday… You could have chosen any other weekend for a getaway," one user wrote. Another user commented, "Isn't it your son's 1st birthday?" People seemed unforgiving that the couple wasn't with Gideon on his special day.
Jessa Seewald came to her sister's side to defend her missing her son's big day
Jessa Seewald noticed the negative comments on her sister's Instagram post and took to the post herself to confront all of the haters. She noted that the couple was heading back that day to celebrate with their son and that Forsyth has the right to celebrate the "most physically and simultaneously most joyous day of your life." She then went on to say that parents take first birthday parties more seriously than the children, considering the baby doesn't even remember it. Other members of Forsyth's family, including Jill Dillard and Anna Duggar, commented on how much they loved that the two were getting away.
Other people defended Forsyth's getaway with her husband as well. "The best thing parents can do for their children is to have a good marriage," one user commented. "… Y'all are doing everything right, trolls will be trolls," another user wrote. The couple later posted a photo with their baby boy celebrating his first year of life. Forsyth's photo shows that no matter how hard celebrities try to be good parents, there are always people judging their every move.
Check out The Cheat Sheet on Facebook!