Jessa Duggar Just Took Herself Completely Out of Her Instagram Profile Photo
Fans of the Duggar family have been keeping up with their favorites ever since Jim Bob and Michelle Duggar introduced their huge family to reality TV. And now that so many of their kids are all grown up, married, and having children of their own, the focus has completely shifted. Thanks to TLC's Counting On, we get to see what a number of the older Duggar children are up to. And Jessa Duggar still remains a fan favorite who's featured on the show.
Jessa just had her third child with husband Ben Seewald. And while she used to regularly post to Instagram, fans noticed she hasn't posted any new photos of herself lately. Not only that, but she just changed her Instagram profile photo completely so that she's no longer featured. Here's what happened.
Jessa Duggar hasn't posted any photos of herself in months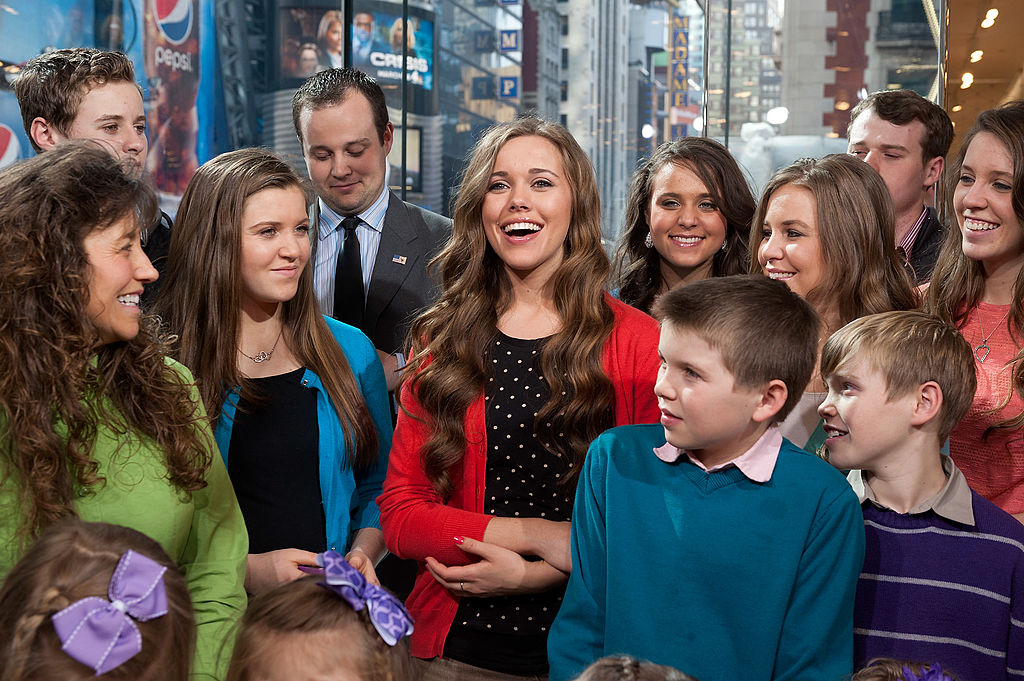 Plenty of the Duggars are featured on TLC, but they're still quite active on social media and have gained a serious following. And one of the most active internet users seemed to be Jessa Duggar. Jessa's frequently found posting photos of her sons, Spurgeon and Henry, and now that she's had her third baby, Ivy, her followers are getting many photos of the little girl, too. Oddly enough, it seems Jessa took an Instagram hiatus for quite awhile prior to her recent photos. And she hasn't added any photos of herself, either.
After many fans questioned if Jessa's OK, the Duggar Family Instagram added a photo of her husband, Ben, and answered the query. "She is doing great! Busy taking care of her little ones!" they wrote on this post.
Since then, Jessa was also recently showing off some of her favorite outfits on her Instagram Story — but she has yet to add any photos of herself to the 'gram aside from TLC promotional content.
Fans have occasionally seen her in family photos from other Duggars
Jessa may not feature herself on her Instagram, but that doesn't mean she's disappeared completely. Joy-Anna Duggar added a family photo at the end of August that features Jessa and Ben in Jim Bob and Michelle's house. And we can't forget that Josh Duggar's wife, Anna, also posted a photo for Michelle Duggar's birthday that shows Jessa's doing quite well.
And just because Jessa isn't posting photos of herself doesn't mean she's finished interacting with her friends and family on the social media platform. Recently, Jana Duggar posted about her travels to Texas — and Jessa added her own funny commentary to one of Jana's posts about coffee. Fans certainly didn't miss (and absolutely loved seeing) the elusive Duggar act like her usual funny self on her sister's Instagram, too.
Jessa just changed her Instagram profile photo to her husband
Jessa just added a few new photos of her kids to her Instagram. And prior to that, she also posted several photos of husband Ben sporting a serious mustache and beard. Oddly enough, Jessa just changed her Instagram profile picture from a photo that features her to a photo that exclusively features Ben and their daughter, Ivy.
Since fans keep wondering why Jessa won't post any new photos of herself, changing her Instagram profile picture to Ben continues to add to the mystery. As for Ben's Instagram, his profile photo is still one of him and Jessa, though it seems he barely posts to Instagram, as his last post was from 2017.
Is Jessa self-conscious regarding her post-baby look now? Or is she just featuring her family more than ever because that's her focus rather than herself? We'll have to see if anything is mentioned in the upcoming season of Counting On.
Check out Showbiz Cheat Sheet on Facebook!