Jesse Eisenberg's 6 Greatest On-Screen Roles
One of the big action flicks slated to hit theaters in 2015 is a comedy starring Jesse Eisenberg (The Social Network) and Kristen Stewart (Twilight) in American Ultra. Eisenberg plays a stoner working at a gas station, who is also secretly been made into a sleeper cell by the government with special agent skills included.
The film so far looks to be a strange combination of the plot of the Bourne trilogy and Chuck, made using the same comedic style as Zombieland and Pineapple Express. Jesse Eisenberg has had an interesting career, and his roles have begun to cement into a common sort of comedic character, but one that has mildly changed as time goes on.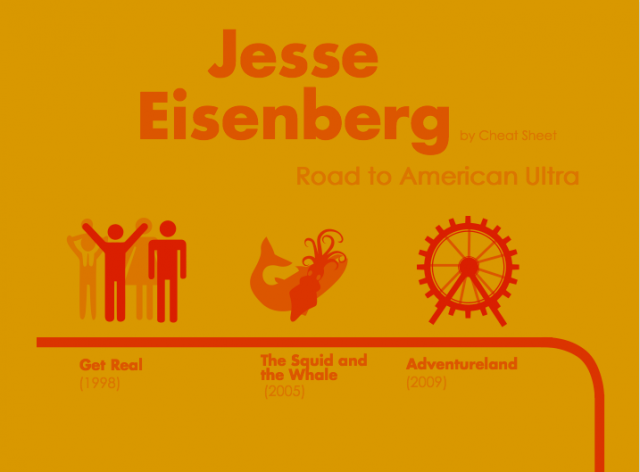 Eisenberg's first big role came in 1998 with a leading role on the TV show Get Real, costarring a young Eric Olsen and Anne Hathaway. He played Kenny Green, a member of a large and troubled family, for the season the show was on air. From there, he moved on to other small film roles and eventually was cast in larger parts like in The Squid and the Whale, a film about divorce, or his part in The Hunting Party.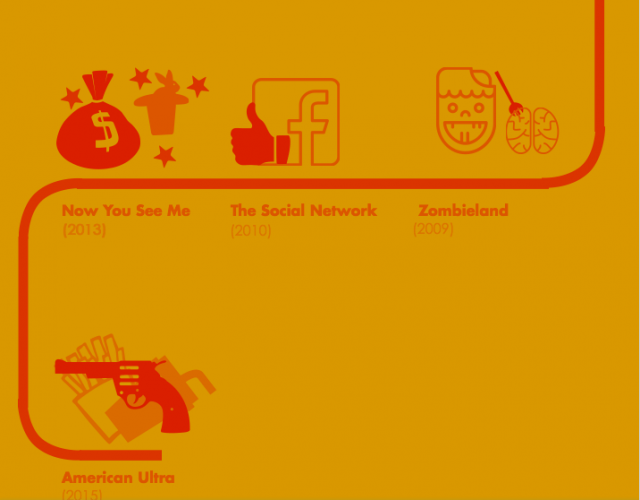 He then went on to star in one of  his better known parts in Adventureland in 2009, a movie about a young college graduate's first real job in a down-and-out amusement park with rotten concession stand food. As with American Ultra later this year, his love interest was played by Kristen Stewart, so it won't be his first time hitting theaters with her as his counterpart.
Zombieland came out that same year, starring other big names including Woody Harrelson, Emma Stone, Abigail Breslin, and even Bill Murray for a short cameo. Eisenberg played a slightly uptight and antisocial nerd in that film and in Adventureland, a character he does well. His comedic timing in both films has carried over in other work, and it looks likely that he'll take on a similar role in the upcoming American Ultra.
In The Social Network, which came out in 2010, he showed his ability to take on a more serious role, portraying the journey Mark Zukerberg and his partners went through in coming up with Facebook. However there's an obvious trend that he returned to in Now You See Me, co-starring once more with Woody Harrelson in a comedic role, playing magicians who pull a major heist within a heist, all while sticking to the story that they're magical.
There are a few trends to the work that Eisenberg has done thus far; the type of comedy he does, the people he works with, and the lighthearted nature of much of his work. This latest project departs from previous work in some ways, but retains familiar aspects. One difference in this movie will be him being a stoner, and another will be the more action-packed nature of the film. In an interview with Collider, he discussed the fact that he'd had to do some training to prepare for the action scenes in the film.
"I was in Michigan working last month, so they hired these great guys, and every day off I had was working with them," said Eisenberg. He also talked about the long hair, which is certainly a change. "I wanted just to war longer hair and a wig, because the character is somebody who would not have gotten a haircut in several years. He's somebody who has just immersed himself in nothing, in his own laziness and enjoying his own laziness."
Stewart spoke in the same interview about their previous work together, and her happiness at being on the same project again. "I've sort of declared that we should definitely make a movie every five years. So in keeping with that, I jumped on this one," said Stewart.
It looks likely that American Ultra will have a lot in common with past films — which may actually be a good thing given past success — while also hopefully having enough unique material, a fast enough moving pace, and strong enough comedy, to keep viewers invested.
More from Entertainment Cheat Sheet:
Follow Anthea Mitchell on Twitter @CSAntheaM
Want more great content like this? Sign up here to receive the best of Cheat Sheet delivered daily. No spam; just tailored content straight to your inbox.z