How Many Kids Do Jessica Biel and Justin Timberlake Have And How Long Have They Been Married?
Jessica Biel and Justin Timberlake are one of Hollywood's most-loved couples. The actor and actress always seem to show each other love on the red carpet, and their marriage has been pretty much scandal free. How long have these two love birds been together, and how many kids do they have?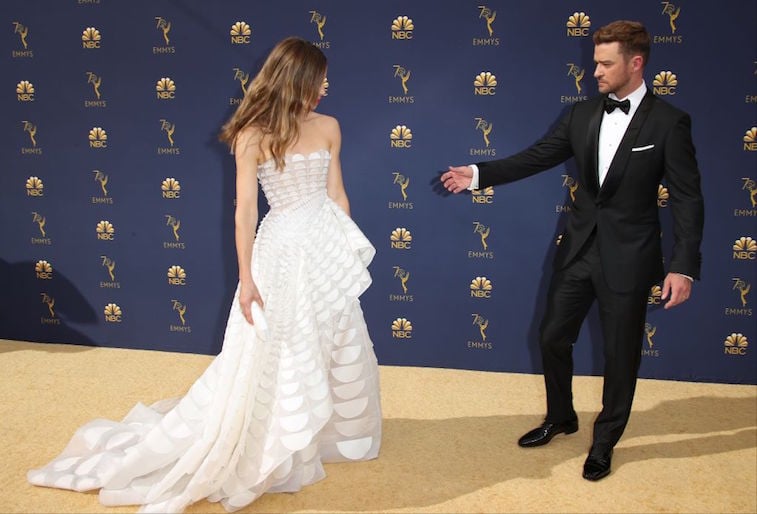 The couple first began dating back in 2007
Biel and Timberlake first caught the other's eye back at the Golden Globes in January 2007. According to reports, the two were clearly flirting, though they had only just met. Biel's friend and 7th Heaven co-star Beverly Mitchell later said she was present for their introduction and it was "very, very sweet." The couple took their relationship public in May 2007; they didn't waste too much time keeping things from the paparazzi. But Biel did once say that having paparazzi constantly following their relationship was "difficult" and "bizarre." Timberlake later spoke to Oprah about his new relationship, saying that Biel smells "lovely."
They were engaged in 2011 and wed in 2012
Biel and Timberlake might be in a happy marriage, but things weren't always perfect. They dated for around four years before splitting up in March 2011. Fans were shocked, since the two seemed perfect for each other. The breakup was reportedly mutual, but afterward, Timberlake said that Biel was the most significant person in his life. Thankfully, the split didn't last. They were spotted together during the summer of that year and rekindled things toward the end of 2011; Timberlake then proposed in December. The couple had an intimate wedding in 2012 in Italy, and Biel wore a pink dress while Timberlake serenaded her as she walked down the aisle. They've now been married for seven years.
The couple share one son together
Timberlake and Biel's pregnancy announcement came in 2015 when Timberlake posted a photo of Biel's pregnant belly on his birthday. He said the two didn't know what they were having and didn't plan to find out. In April 2015, the couple welcomed a son named Silas Randall Timberlake. Though they don't have any more kids, Biel and Timberlake both said in 2018 that they were ready to expand their family. "I think it would be amazing to have a bigger family," Biel told ET. Before that, Timberlake had said he wanted the two to have as many kids as they can.
Has Biel's vaccination stance affected their relationship?
Biel recently came out and lobbied against a bill that would restrict vaccination exemptions in California, leading many to believe that she must be anti-vaccines — but that isn't really the case. Biel joined Robert F. Kennedy in lobbying against the bill, and Kennedy said that she is for "safe vaccines" and "medical freedom." There were rumors back in 2015 that Biel and Timberlake weren't planning to vaccinate their kids, though Biel never commented on the situation, leading some to believe that the suspicions weren't true. However, Biel wrote on social media that she isn't necessarily against vaccinating, but rather just for people having the choice to vaccinate their kids or not.
It's unclear if her stance on vaccination freedom has affected her relationship with Timberlake. Timberlake has never outwardly spoken about how he feels about vaccinating, but it's assumed that he supports his wife in her decision to go directly to state legislature to lobby against the bill.
Check out Showbiz Cheat Sheet on Facebook!