Jessica Simpson's Funniest Pregnancy-related Instagram Posts
Jessica Simpson is an American treasure. Not only is the songstress known for her epic voice, but the blonde bombshell is perhaps the most relatable celebrity in existence. Simpson has never shied away from sharing the ups and downs of her life. From questioning whether Chicken of the Sea is chicken or fish, to documenting the perils of pregnancy, Simpson is letting it all hang out, and we love it.
Most recently, the pop singer has taken to Instagram to share the pitfalls of pregnancy. Every post is hilarious, but some are more relatable than others.
Broken toilet seats are a possibility
Simpson recently took to Instagram to warn her followers that toilet seats are no match for a pregnant belly. Pictured holding the back of a toilet seat, wearing a giant frown, Simpson warned her fans to never lean back while heavily pregnant.
The star surely replaced her seat, but fans were happy to relate to the moment. One commenter noted that the same had happened to her while pregnant. She hashtagged the comment noshame.
Simpson attempts to squeeze between cars
Pregnancy sure adds a good amount of girth to the waistline, and no one knows that better than Jessica Simpson. She recently posted a photo of herself attempting to squeeze between two cars parked precariously close to one another. Clearly, the belly was standing in the way of her freedom.
While Simpson's commentary has been hilarious thus far, commenters haven't all been supportive. Several people have questioned the songstress' fashion sense and weight gain during her latest pregnancy, but she isn't letting it get her down.
Pregnancy does terrible things to your feet
In January Simpson took a snapshot of her foot. Swollen and looking uncomfortable, she added a throwback photo of her legs pre-pregnancy. The star is well known for her long, lean legs. Perhaps she wanted a reminder of what they looked like before the bump, but regardless fans questioned whether or not she was okay.
Swollen ankles during pregnancy are not uncommon, but they can also be a symptom of preeclampsia. According to Today's Parent, mild swelling of the ankles is entirely normal in most cases and does not indicate a problem. Sudden swelling of the face and hands, however, is a cause for concern.
When is Jessica Simpson due?
Simpson who is already the mother of 2 is expecting another baby girl sometime in the spring. Simpson did not reveal her due date but announced the pregnancy in September 2018. In her Instagram posts she appears to be far along in the pregnancy, so anytime in the early spring is likely.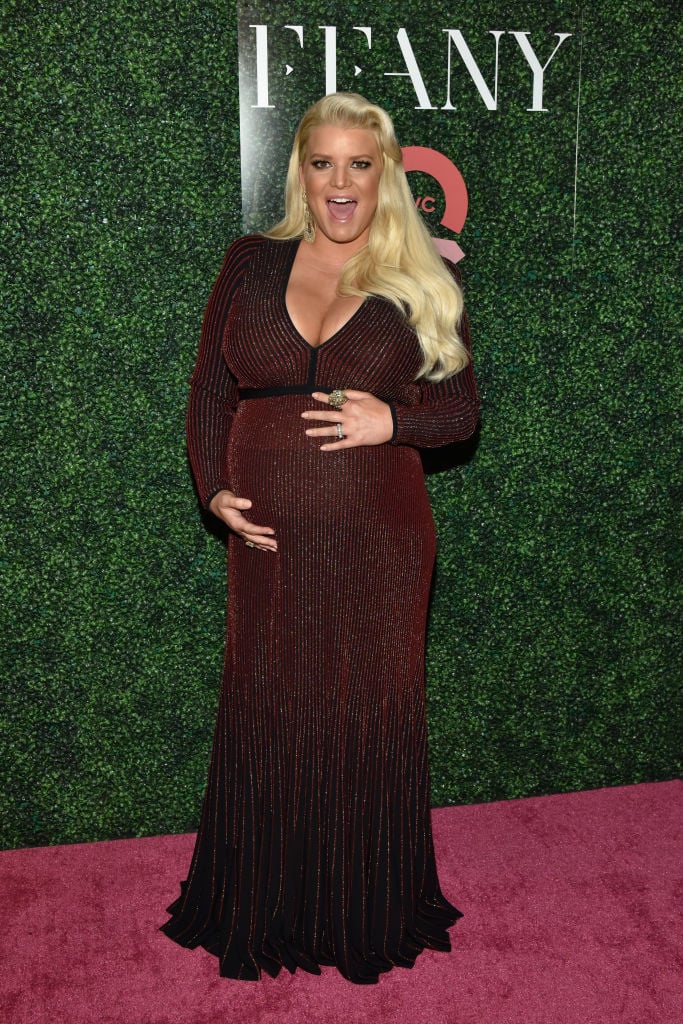 Simpson married her husband, Eric Johnson in 2014. According to Women's Health, the pair met in 2010 and have been inseparable since. The couple shares two children. Maxwell was born in 2012 and Ace joined the family in 2013.
Simpson was previously married to Nick Lachey from 2002 to 2006. The pair starred on a reality television show about their marriage.