Jill Duggar and Her Sisters Post Touching Tributes to Their Grandma After Her Passing
The Duggar family is mourning the loss of Mary Duggar, mom of Jim Bob Duggar. She died suddenly on June 9. News of the 73-year-old's passing was announced on the family's Facebook page.

"We are so sad to share that Grandma Duggar (Mary) passed away Sunday afternoon, June 9th, 2019 … Mary found great joy in sharing her love for Jesus and her own story of how at age 15 she asked Christ to forgive her for her sins. It was at that time she committed the rest of her life to live for Him, a commitment she kept with devotion. She loved to share with others how they too could be forgiven of their sins, live a fulfilling life as a Christian, and one day spend eternity in heaven," read the tribute post.

Mary Duggar was married for 50 years to J.L. Duggar, who died in 2009. In addition to Jim Bob, she is survived by her daughter Deanna and her 21 grandchildren and 13 great-grandchildren. She also had a successful career as a real estate broker.

Jill Duggar remembers her grandmother

On Sunday, Jill Duggar took to Instagram to remember her grandmother.

"My heart breaks," she wrote before going on to describe Mary as "an amazing woman of God and such a great example to so many! … She was a feisty, incredible woman who always took the time to talk about Jesus with everyone she knew! I know she was ready to check outta here and get her new body in heaven before the old one started giving her too much trouble! We miss you so much!!"

Jinger and Joy-Anna also shared their memories of Grandma Mary

Jill's sisters also shared some of their memories of their grandmother on social media. After saying that "our hearts are broken, yet at peace, knowing that she is now in glory with her Savior," Jinger Vuolo reflected on her grandmother's lively personality.

"She was the best grandma, counselor, friend, woman of faith, bargain shopping buddy, McDonald's fish sandwich lovin' lady, who was always up for an adventure — whether across town or across the world!" Jinger wrote.
Joy-Anna Forsyth called Grandma Duggar "a strong woman, role model, godly counselor … and my favorite person to watch 'The Price is Right' show with."
Sadly, Grandma Duggar's passing means she will not be able to celebrate another shared birthday with the newest member of the Duggar family, Jessa and Ben Seewald's daughter Ivy Jane. Ivy Jane, who was born on May 26, has the same birth date as her great-grandmother.
Anna Duggar also paid tribute to her grandmother-in-law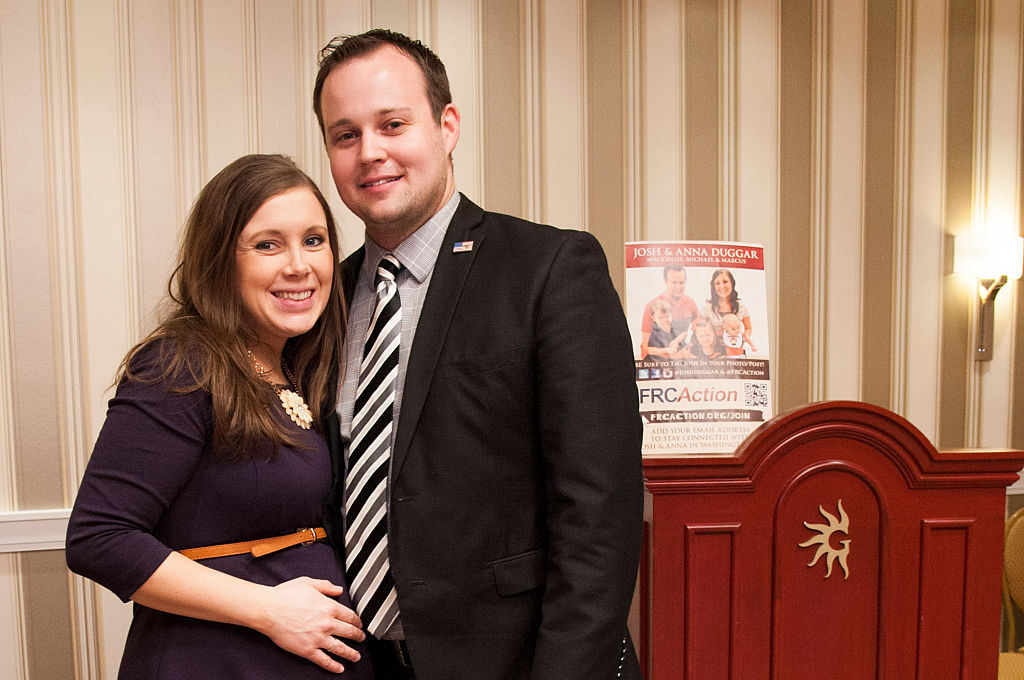 Josh Duggar's wife Anna also paid tribute to her grandmother-in-law on Instagram. The mom of five (with another on the way) shared some photos of Grandma Duggar with her great-grandkids. Anna described her as "an awesome woman of faith and such a loving example of God's love."

"She was a true soul-winner and loved everyone she met, telling them to turn from sin and trust Jesus for salvation!" Anna went on to say. "Miss her soooo much and we cherish each moment we were blessed to spend together! Lots of tears being shed here — grateful for all the prayers!"
Check out Showbiz Cheat Sheet on Facebook!